Mat Kearney @ Stubb's – Austin, TX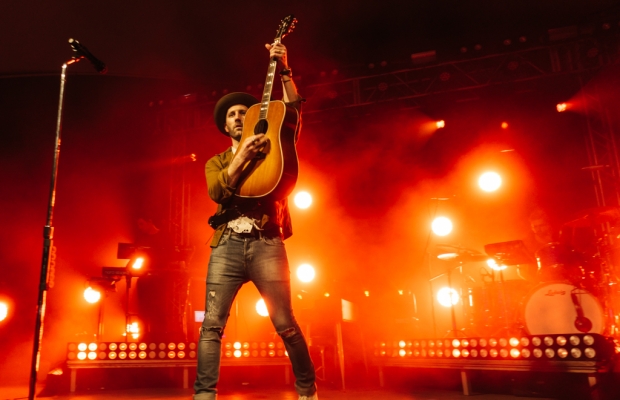 April 5th, 2018
Nashville, TN, is known to produce some of the greatest musical talent in the United States, and Mat Kearney is no exception. The Eugene, Oregon-born folk/rock singer and songwriter has been honing his professional music career for nearly 13 years now, yet you would think he's been around for much, much longer. His upbeat, warm and rich tones and beats provide a unique style and sensation in an overly saturated genre of folk rock.
There's not much history of his amateur career in music; the major milestones were directly in his early professional career with his first album, Nothing Left to Lose, in 2005. His album tour brought him on the same stage as John Mayer, Train and Sheryl Crow, and more.
The City of Black and White came shortly after in 2008; the same smooth voice, warm acoustic guitar and a mix of electronic piano was often found in a great deal of his songs from this album and more. It could be said that this album really solidified how Kearney would carry his career forward and keep himself ahead of the folk rock curve that was ever-growing.
2011 brought Young Love, 2014 was the year of Just Kids. Throughout his career, and most notably recently, Kearney has released several singles, rather than full albums, such as Hey Mama and Heartbeat. These singles also tended to perform the best on the billboards, topping Adult Pop and Christian Rock genres for quite some time.
Part of Kearney's claim to fame comes from his songs being used in quite a bit of television media: NCIS, Scrubs, One Tree Hill, Grey's Anatomy and many more shows have used his music at some point.
And in Austin, TX, no television show was being shot at the time of his performance, but his show was nonetheless cinematic. While Kearney doesn't sing soul rock, you can certainly feel his soul on every guitar string strum and every word sang. Kearney kept the backyard of Waller Creek Amphitheater at Stubb's BBQ warmer than a summer night in South Texas.
Opening for Kearney was Filous and Andrew Belle. Filous, an Austrian-based remixer, received a DM on Twitter not too long ago from Kearney to create music with him and also tour on this current mix of cities, to which Filous easily agreed. Belle, who works well with the similar background of songwriting and performing like Kearney is known for. While Belle is physically and musically-younger and therefore has a more pop-feel to his music, he kept the same gusto and tempo of excitement and energy Kearney is known for without out-performing him.
Songs like Kings & Queens, Face to Face, and Just Kids from his more recent work kept the crowd purring with excitement. Kearney can keep a great mix of movement across the stage without sacrificing on sound quality from either his guitar or vocals, which is something many folk artists tend to try but never find that happy medium. While Waller Creek doesn't tend to give artists much of a stage to travel on, Kearney made the best of it and kept the crowd's eyes on him.
Kearney will be finishing up his current tour, CRAZYTALK, on April 8th, to celebrate his newest album coming shortly, also titled CRAZYTALK, which is expected to be released on May 4th. You can listen to Memorized from his new album now. It incorporates the same tones you'd expect from previous albums, but adds a lot of electronic features thanks to his new partnership with AFSHeeN, who has worked with top electric-pop starts in the past.
Mat, keep strumming, keep writing, keep making music.