MICHAEL FRANTI & SPEARHEAD @ CONCORD MUSIC HALL – Chicago, IL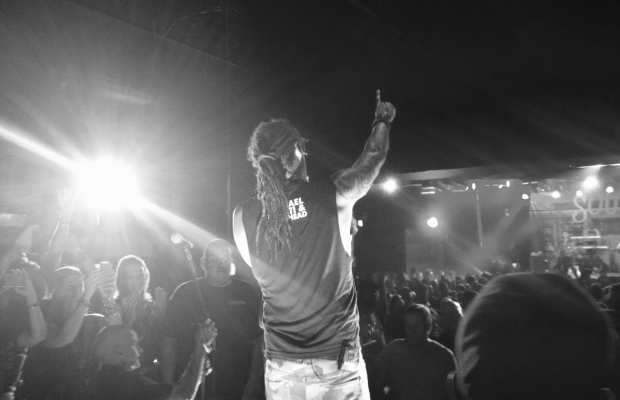 June 28, 2016
Michael Franti has a presence about him that is simply monumental, and it's not just because he is 6 foot 6. This man carries a confidence and purpose with him that radiates like the rays of the sun. As soon as he took his first step onto the stage, the energy and feeling throughout the entire crowd changed. What must have been a sold out crowd was now enthralled with a man that clearly came on stage with a mission; to pump life, love, and good vibes into the hearts of his fans.
Positive energy immediately filled the room as Michael and Spearhead opened with "Hey Hey Hey" off of their album The Sound of Sunshine. This was my first live experience with Franti, and I will say that this front-man is easily one of the most down to earth musicians I have come across.The raw talent, coupled with unbelievable chemistry of the entire Spearhead crew proved to be a righteous combination as they absolutely crushed their first few tracks. This group  kicks out hard beats underneath excellent melodies and driving chord progressions, all while keeping a reggae vibe and a soothing musical touch.
I was caught off guard the first time I saw Michael sift his way through the crowd with guitar in hand and headset mic on, but as the night went on he really made it feel like he was part of the audience and that we weren't just there to see someone perform; we were there to sing and celebrate as one. With fans spread out in every section of a two story venue, it was pretty incredible to see a star like Michael Franti make his way to every area laughing and high-fiving everyone as he passed.He ended up in the back of the venue where they set up a mini stage for him, which for a few tracks gave those in the far back of the venue a front row view; I just happened to be one of those lucky few. I don't normally get star struck, but as Michael grabbed my hand and made eye contact with me, I can say my mind was pretty well blown. This man has a look in his eyes and a truth behind his smile that resembles stories of all the greatest heroes, civil rights activists, and spiritual leaders throughout history.
About half way through the show, Michael's wife Sara Agah came onto the stage to discuss their "Do it for the Love" foundation which gives terminally ill people the ability to experience the healing power of music and see their favorite musicians live and in person. Check out the video here. This man has dreams beyond just his musical career. This man has plans to change the world, and in many ways, he already has. The most inspiring part of this foundation and everything else Michael has done, isn't what he has accomplished, but how inspiring he is and what he drives others to do with their lives.
I still very clearly remember the first time I heard one of their earliest albums Stay Human, because of his deep and soulful lyrics and his meaningful spiritual approach within his music. I think that album left some seeds deep inside my subconscious. From a young age, this artist has helped me understand and wrap my head around a lot of hard topics like war, hunger, corruption, violence, and drugs, while always maintaining a kind and caring message underneath.
Ending the show arm in arm with total strangers as Michael and his band wholeheartedly played through "Imagine" by John Lennon and "Three Little Birds" by Bob Marley, was something of a spiritual experience to say the least. The world needs more musicians like Michael Franti. If you haven't had a chance to see him live, make it a point to do so.