MOUTH OF THE ARCHITECT @ REGGIE'S MUSIC JOINT – Chicago, IL
By Steve Nawrocki on August 15, 2016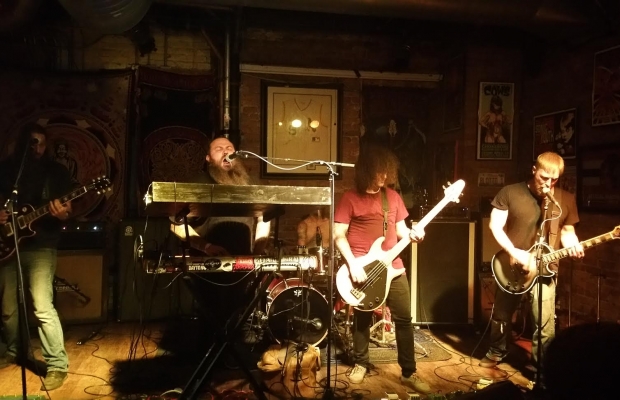 AUGUST 12, 2016
The mightily monstrous collective known as Mouth of the Architect have returned. On the verge of releasing their first new album in three years, the band brought their cacophonous brand of post-metal madness to Reggie's Music Joint to reacquaint themselves with Chicago and to road-test some new songs.
The visceral violence of the band's signature sound was at maximum force, with the raucous triple vocal attack of guitarist Steve Brooks, keyboardist Jason Watkins, and guitarist John Lakes producing schizophrenic fits of audio dementia. This was on full display in "Sharpen Your Axes" from the album Dawning, as a paranoia inducing guitar line slithered over the shuffling beat of drummer Dave Mann and the buzzing bass of Evan Danielson. A clean vocal wailing hovered until it devolved into a guttural chanting of the song title, leaving the audience simultaneously floored and ready to jump into battle.
A number of songs were debuted from new album Path Of Eight (out October 7th on Translation Loss Records), which featured some progressive rock influence blended in nicely with the disarray. New song "Drown The Old" was the perfect introduction to this mishmash of styles as Watkins' keyboards created an otherworldly atmosphere surrounding the delicate guitar plucking of Lakes and Yes inspired vocals of Brooks before giving way to the monolithic stomping groove of Mann and Danielson. It is a transcendent mix of styles that brings new life to a post-metal scene quickly becoming oversaturated and stale.
The evening was brought to a jarring close with "A Beautiful Corpse" from the album Quietly. Irony abound, as the band did not go quietly into the night, but rather with a discordant dirge replete with soul-scarring feedback and a brutal bellowing refrain of "sweeter than honey and lies" before fading and leaving the room awash in soaking dissonance.
Preorder the new Mouth Of The Architect album, Path Of Eight HERE.
Features

Nicci Allen | February 26, 2020

LAMB OF GOD @ HOUSE OF VANS– Chicago, IL February 14th, 2020 Review: Dan Scheiman Photos: Nicci Allen What better way to celebrate Valentines Day, than an intimate winter...

Featured Photographer

Joe Hendrickson | February 18, 2020

Machine Head @ The Metro – Joliet, IL February 15, 2020 Review & Photos by Joe Hendrickson Machine Head made a stop at The Metro on their Burn My...
ABOUT ONSTAGE REVIEW

On Stage Review is a collaboration of passionate and enthusiastic music lovers coming together to give you an inside look into some of today's hottest and most intriguing artists.

We'll dive into their lives and careers on and off the stage and give you an up close perspective few get to see.

Facebook

ADMIN
Copyright © 2017 ONSTAGE REVIEW.com. Site by FM Imagery.