MYLES KENNEDY AND CO. w/ WALKING PAPERS @ Concord Music Hall – Chicago IL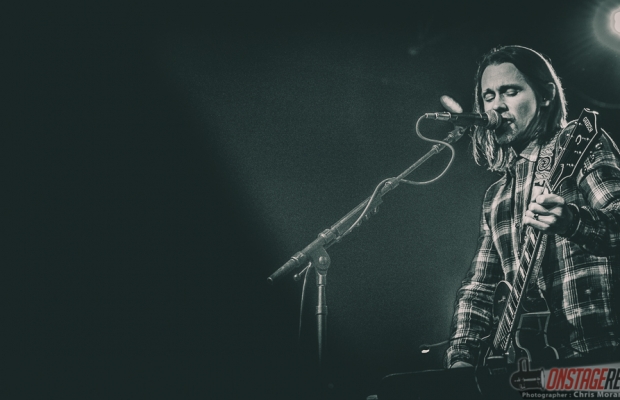 November 13th, 2018
Review by Joleen Kuchenbacker
Photos by Chris Moran
Legendary Alter Bridge and Slash front man Myles Kennedy kicked off the second leg of his U.S. Year of the Tiger tour November 13th at the Concord Music Hall in Chicago. Expanding upon the acoustic leg of the tour earlier this year, Myles has brought along 'Company" in the form of bassist guitarist Tim Tournier and drummer Zia Uddin, forming a 'power trio' this time around.
In support of Myles was Walking Papers, a Seattle based rock/blues group, who took the stage with the sound of a heavy chain and sultry saxophone, mesmerizing the crowd with a unique style that combines rock, blues, jazz into an eclectic sound. The six-piece band, consisting of Jeff Angell on lead vocals, Benjamin Anderson on keyboards, Will Andrews on percussion, Dan Spalding on bass, Tristan Hart Pierce on guitar, and Gregor Lothian on saxophone thoroughly engaged and entertained the crowd with its unique grooves and performance.
The crowd was warmed up and ready for Kennedy to take the stage, and as always, he didn't disappoint, opening with Devil on the Wall from the Year of the Tiger album. The power trio moved flawlessly through Year of the Tiger tracks The Great Beyond, Ghost of Shangri La, and Haunted By Design while Myles showcased his guitar and vocal talents and enjoyed the crowd participation and appreciation of his solo creations.
The show then moved into selections from Myles' other work, with a jamming acoustic versions of Standing in the Sun (Slash) and Addicted to Pain (Alter Bridge) while the crowd clapped and joined in the choruses with Myles' encouragement. After taking time to talk to the crowd about the tour, the band turned back to Year of the Tiger with riveting versions of Turning Stones and Blind Faith before moving to a rousing cover of Iron Maiden's The Trooper.
The set was truly a great showcase of Kennedy's talents and songwriting prowess, including stirring renditions of White Flag from his Mayfield Four days and Watch Over You from Alter Bridge before through to World on Fire (Slash) and closing with Year of the Tiger's Songbird and the haunting Love Can Only Heal. Myles wrapped up his set from the stage with appreciation and best wishes for the fans, and handshakes for those lucky enough to be in the front.
Catch Myles Kennedy and Co. on the final leg of the US Year of the Tiger tour, which continues through December 16. This is truly a performance not to miss while you have the chance to see Myles' solo performance!
Check out our photos from both bands below: