NE OBLIVISCARIS REVIEW @ HOUSE OF BLUES – CHICAGO IL
By Dan Scheiman on March 14, 2016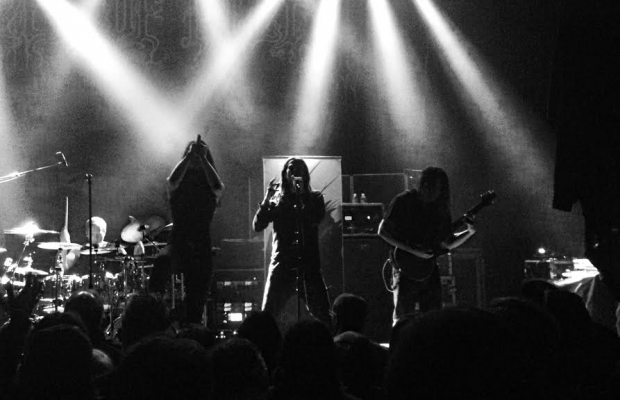 March 4, 2016
Ne Obliviscaris is a progressive melodic death metal band from Melbourne, Australia. Because of their unique approach and extraordinary versatility they managed to get on the radar of music lovers worldwide very quickly. In 2012 they released an absolute masterpiece of an album in Portal of I, and then just recently followed it up with another brilliant work of art in Citadel in 2015. Honestly, I've been digging through metal for nearly 20 years searching for the best stuff I could find, and immediately after finishing Portal of I, this band found their place among the top ten metal projects I have ever come across. Obviously that list has many different genres and styles of metal on it, and there are very specific reasons why certain bands are on said list, but Ne Obliviscaris is a truly unique and incredible band that can do it all. Their styles range from melodic death to hyper aggressive black metal, and its all coupled together with both the wicked and unsettling growls of Xenoyr and the beautifully emotional, yet soothing, clean vocals and violin work from Tim Charles.
I was astounded at how well these gentlemen could pull off the clarity and precision that they did while playing through both old and new tracks. Once you take a listen to either of their albums, you will understand what I mean. The production, layering, and full sound they achieved on the album was very close to what they brought to the live crowd. Being one of my favorite metal drummers to date, Daniel Presland was everything I had hoped he would be live. With a smooth and flowing technique along side blinding speeds and distinct precision, he certainly held up to his legacy. With some of the most articulate and expressive playing I've heard in some time, it was mind blowing to see how effortless these songs seemed for each of the 3 guitarists. I imagine its partly because of the impeccable chemistry between band members, but 3 of the members have another project called Vipassi that's quite good in itself.
Each member of this band is a true virtuoso. It was just awe inspiring to see how flawless their execution was. Possibly an even more impressive aspect of the performance was how genuine and passionate each member so clearly was; they poured their hearts out on stage while still staying razor sharp and having pin point accuracy.
While there are plenty of bands out there that are taking a similar approach, I actually see Ne Obliviscaris leading the pack. These men are bringing a true sense of story telling and raw expression to the picture while being absolutely certain not to let off the gas for any reason. This crew's technical parts rival those of Beyond Creation, Crypstopsy, and Origin, but with the way they piece together their compositions, they will often spend an entire track painting a beautiful scenery with breathtaking subtlety and melodic expression, only to tear it all into to pieces with a climax that suddenly gets too technical and mind bending for most to handle. Seeing this unfold live gave me a much stronger feeling that these men have spent an unparalleled amount of time perfecting their craft.
As any artist knows, the struggle to make a living off of your work alone, is not a simple task. A few members of this band decided to quit their careers in other fields to pursue their dream of making music and spreading it across the globe. In doing so they have gotten a great deal of support from their fans over the years. They launched a kickstarter in 2014 after the launch of their first album asking for 40,000 to help fund a world tour and they ended up receiving double that. While this may seem ridiculous at first, once you sit down and give their music a listen, you will understand why those who have stumbled on it (including myself), are obsessed with every minute of auditory euphoria they have managed to produce.
The music industry is struggling lately, and it is becoming increasingly harder and harder for up and coming bands to make it in such a competitive field where piracy and streaming online sources have made music much easier to acquire at a much lower price or even free. In an attempt to help themselves and many other artists in a similar position, I believe Ne obliviscaris could be bringing an idea to light that could change the industry. Through a very similar concept as kickstarter, they are using a site that allows the fan base to support the artists they love directly, while receiving perks and updates monthly from whoever they support. With the message "Let's empower the people" as their opening message, they are hoping to change the way people are able to support the music they love directly. Check out the link at Patreon.com
I really think that with the talent, heart, and dedication this band has to offer, coupled with the desire to help other musicians and music enthusiasts, they've got what it takes to make Ne Obliviscaris a band that is not only recognized worldwide, but respected on the highest level as a group of true artists working towards a good cause. I am so glad I got to see them live. I will be front and center when they return to the states again.
Dan Scheiman With an entirely open and unbiased obsession with music, Dan decided to take the opportunity given to him to share his thoughts for On Stage Review. Having been to hundreds of concerts of a variety of styles and genres over the years, he's no stranger to live music. He has been playing bass guitar for over twelve years now and has been dabbling in vocal work, drums, and piano for almost as long. Growing up listening to metal and industrial then transitioning into jazz and classical, and now having a particular love for funk or anything that grooves; his perspective comes from a well-rounded musical background and some amateur experience as a musician. He has too many favorite bands to list, but some of his favorite live experiences include: Sigur Ros, Porcupine Tree, Papadosio, Tool, The Ocean, Animals As Leaders, Lettuce, and of course, Victor Wooten.
Features

Nicci Allen | February 26, 2020

LAMB OF GOD @ HOUSE OF VANS– Chicago, IL February 14th, 2020 Review: Dan Scheiman Photos: Nicci Allen What better way to celebrate Valentines Day, than an intimate winter...

Featured Photographer

Joe Hendrickson | February 18, 2020

Machine Head @ The Metro – Joliet, IL February 15, 2020 Review & Photos by Joe Hendrickson Machine Head made a stop at The Metro on their Burn My...
ABOUT ONSTAGE REVIEW

On Stage Review is a collaboration of passionate and enthusiastic music lovers coming together to give you an inside look into some of today's hottest and most intriguing artists.

We'll dive into their lives and careers on and off the stage and give you an up close perspective few get to see.

Facebook

ADMIN
Copyright © 2017 ONSTAGE REVIEW.com. Site by FM Imagery.