NORTH COAST FESTIVAL – CHICAGO, IL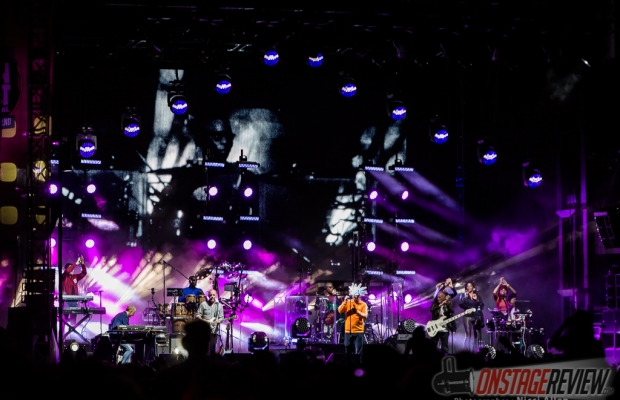 August 31st – September 2nd, 2018
Ever since we made the fourteen hour haul out to New Orleans Jazz fest, only to get rained out minutes before what would have been my first Stevie Wonder concert, I swore I wouldn't risk potential cancellations of outdoor festivals again. That being said, I have since gone to probably twenty or more outdoor shows without concern of inclement weather. The reason for this is simple; outdoor music festivals are one of the most enjoyable, rewarding, and even spiritual avenues you can take to enjoying the music you love. You find yourself surrounded by thousands of people who love the very same music you do, and as you dance, cheer, and drink together you tap into a very primal and almost tribalistic part of our species' instincts. This tradition of bringing together large groups of people in the name of music is a very natural and essential part of our history. North Coast Fest unfortunately did get cancelled both Friday and Saturday, but I do believe in most cases like this, the risk is well worth the reward.
Before we were sent home Saturday, I was lucky enough to see the eminent and highly respected funk band Vulfpeck. Even though the entirety of my Saturday experience consisted of just Vulpeck and the Concord Music Hall after party show #Riffwars with Cory Wong and guests, these two performances made up entirely for the disappointment of missing out on the rest of the day and the headliners. Vulfpeck is an American funk project that emphasizes their rhythmic acuity, subtle precision, finesse, and tasteful creativity. Within just a handful of years this group went from zero to hero on so many minds of musicians and music lovers alike. The reasons for this leap in popularity range from the entire band's excessive musical talent, their comedic brilliance, and masterful versatility. They are truly a unique band and they absolutely smashed the North coast set that ended up being the headliner for Saturday's lineup.
Cory Wong (excessively under rated Vulfpeck guitarist and guru of purposeful minimalist guitar) put together an after party that was basically the saving grace for what many would have considered a disappointing Saturday evening. For what Cory brings to the table in regards to style, chops, and precision on the guitar, I have compared his playing to Prince himself. With all sorts of special guests from band members of Jamiroquai, Ripe, Michal Menert Band, and Vulfpeck, this performance was a hodgepodge of the funkiest and most delicious jams I have heard in many many moons. Riff wars was a perfect name for this competitively funky battle filled to the brim with talent and soul. Sunday nights after show was just as ridiculous, if not more so. The super group The Fearless Flyers comprised of members of Snarky Puppy and Vulfpeck along side phenom drummer Nate Smith played at Concord Music Hall. If you missed this late night show I feel sorry for you. That is the only snippet I will throw in on that one. Not to take anything away from any of the other performances, but it was easily one of the most impressive displays of raw funk and immense talent I have ever seen. I think my jaw was only closed for about five percent of the entire set.
Day three was the only fully dry day. Due to having to work earlier in the day we arrived just in time for the Gramatik set. Even though this was the only full DJ set we got to see, I think it made up for what we missed. Even just the very first drop was accompanied by one of the most luscious and full synth sounds I have ever heard. This DJ produces some really fun and adventurous rhythmic schemes and accompanies them with beautiful melodies and break beats galore. It was just two men standing on top of a giant screen displaying a wickedly psychedelic arrangement of colors and lights for the crowd below. Gramatik was joined by a guitarist which only added more depth and flavor to his tracks. With the stage presence, the light show, and the sheer waves of sound that Gramatik was producing, it seemed to me that this man could (and very well should) be considered for a headliner next year. His set gathered easily the most people I have seen at that side stage since I have been coming to North Coast.
Wrapping up the entire fest was the legendary and bodacious funk powerhouse Jamiroquai. These veterans have been making money makers move since 92 and they haven't lost their step one bit. The combination of electronic style dance beats with strong funk undertones was the perfect mix to end this fest with. The crowd went absolutely crazy since they were well rested from the 2 rained out days beforehand. Of course tracks like "Virtual Insanity" and "Cosmic Girl" got the entire crowd singing along every lyric. Singer Jay Kay mentioned at one point that it had been over 10 years since his band had played in Chicago. This was well worth the wait. Although it was a bit muddy, and disappointing at times, the bands that did get to perform gave it their all, and I honestly think that those who managed to tough it out til Jamiroquai got their money's worth. Don't sleep on North Coast next year; it is a really well put together fest in the heart of Chicago with incredible lineups every year. Let's hope next year Mother Nature gives us a break.