NOTHING BUT THIEVES @ LINCOLN HALL – Chicago, IL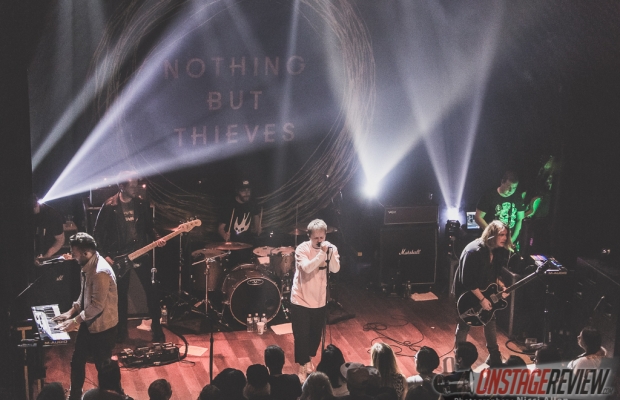 October 25, 2017
Nothing but Thieves, in my opinion, could potentially have as high of a ceiling as some of the best rock bands in the last few decades. Being compared to some of the greats such as Radiohead, Muse, and Portishead, this group is gaining popularity at an alarming rate. Based out of England, they have already had a great deal of success in Europe, and are now gaining momentum in the states as well as the rest of the world. Attempting to fit a band with as much emotive construct, raw powerful expression, and pure rock intensity as Nothing but Thieves into a venue as small as Lincoln Hall was quite the ambitious feat, but it proved to be an unforgettable show.
Lincoln Hall was sold-out and the crowd was eagerly awaiting the headliner. Coming out with a very humble and loving demeanor towards the fans, singer Conor Mason greeted everyone with a smile. Knowing full well that the vocal work in this band is without a doubt some of the strongest, most authentic, and beautiful lyrics I have heard in rock since Live's Throwing Copper, I was still not prepared for what I was given on this night.
Having seen a great deal of masterful singers in my life time, I can still say very genuinely that Conor Mason is now permanently sitting comfortably among my top ten most impressive singers I have ever witnessed live. With Conor being only 24 years old, it is almost impossible for me to understand how one person could possibly have developed so much emotional depth in such a short period of time. The band seems to feed Conor's fire while still displaying a great deal of empathy towards their singer at the same time. While the spotlight is very clearly focused on Conor for obvious reasons, the rest of the band deserves a good amount of attention as well. The chemistry on stage alone makes me believe this group will continue growing and find themselves on top of the rock world in no time. The individual musicianship and talent of each member was something that was extremely obvious after just one track. The incredible grip this group put on their fans during one of their early hits, "Excuse Me" proved to me that this band is not just capable of seriously influencing their listeners, but sincerely meant to put a significant dent in the music loving community.
The intensity and prowess of this band would occasionally compare to that of A Perfect Circle, Agent Fresco, and Haelos at certain points in their set. Overall, I was very impressed by this performance and at times I was quite honestly overwhelmed. When music gets this passionate it begins to drive your emotions with the same reckless abandonment as a sixteen year old that was given a hot rod as their first car. If that is the type of ride you are looking for, look no further than Nothing but Thieves.