Nothing More & The Contortionist @ Irving Plaza – New York, NY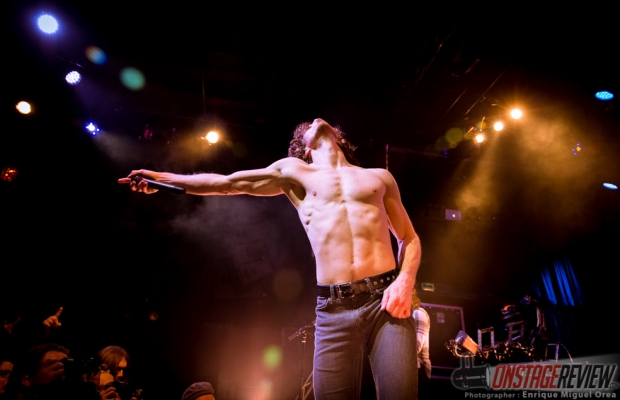 February 6, 2018
The highly anticipated sold-out show at New York City's Irving Plaza was insane, intense, and incredible as Nothing More and the Contortionist delivered a strong performance that left us wanting for more! Although I was not familiar with the rest of the line-up, Big Story and Kirra were great to watch as they delivered a strong set. Kirra introduced their new vocalist, Vincent, on this tour, after the tragic passing of Jesse Williamson in early January 2018.  While Kirra is in the rebuilding process, I highly recommend listening to their 2015 album Run Away,and you will be hooked listening to "Downfall," "Stay" and "Forgive Me."
Big Story, as the expression goes came right out of left field with a wonderful set. To best describe Big Story, we can take an insert from their Facebook page as it states; "Into capturing the impulsive and innovative, while keeping a thoughtful and timeless approach to writing songs," which perfectly reflects on the performance as well. After the show, I wasted no time going through their music and was hooked on "Daydream" and "I Cant be Alone."
The ominous stage lighting for The Contortionist was perfect for the progressive metal band as it blended well with the performance. Vocalist Michael Lessard emulates a despairing presence that ties in with the set-list, which is mainly composed of tracks from the recently released album Clairvoyant. While it felt like a short set, The Contortionist will be back on the road on a headlining tour with Silent Planet, Skyharbor, and Strawberry Girls.
Irving Plaza was packed for The Contortionist and Nothing More that night as the line for the entrance was stretched around the street on that cold Tuesday night. The fan support of Nothing More was incredible; a separate line for the Meet and Greet was as long as the general admission line. There were at least three parents with their 5-year-old children eagerly waiting for the show. The three-time Grammy-nominated Nothing More (Best Rock Performance and Rock Song – "Go To War" and Best Rock album The Stories We Tell Ourselves) lived up to its success as frontman Jonny Hawkins rushed onto the stage to his own drum set, hyping up the crowd with a drum interlude leading into "Christ Copyright." Nothing More's stage presence was intense as the members were able to captivate the audience from the very beginning with every single song creating a memorable night for all of us that night. The set list revolved mainly off their 2017 album The Stories We Tell Ourselves with a few songs from their 2014 self-titled album Nothing More, which helped tie in fans who have supported them since the very beginning to the newer audience. Favorites of the night were definitely "Let'em Burn," "Don't Stop," "Jenny," and "This Is the Time" as the crowd went insane with energy.
Nothing Mores "The Story We Tell Ourselves" headlining tour was a first of many for me as I was introduced to Big Story and Kirra and finally attended a Nothing More and Contortionist concert. Nothing More is a remarkable band that will continue to grow and find success in the upcoming years. This is definitely a tour you cannot miss!
Kirra
Big Story
The Contortionist
Nothing More