OAK RIDGE BOYS @ Weidner Center – Green Bay, WI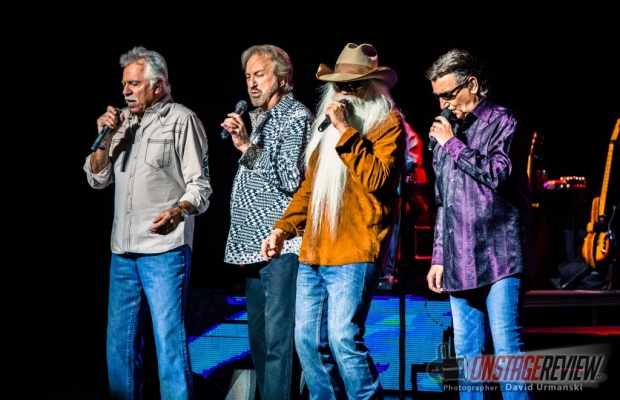 December 19, 2016
With 40-plus years of award winning hits, the Country and Gospel Music Hall of Fame quartet, The Oak Ridge Boys, made a stop in Green Bay, Wisconsin Monday night to spread some holiday cheer. Most renowned for their four-part harmonies, these superstars of the stage performed two flawless sets of fan favorites including "Bobbie Sue" and chart topping "Elvira" with bass vocal hook "oom-pop-a-mow-mow" before taking a short intermission to transform their stage in preparation for their much anticipated Christmas show.
Originating from Oak Ridge, Tennessee as The Oak Ridge Quartet before officially changing their name to The Oak Ridge Boys in the early 1960's, the impressive vocal lineup of Duane Allen (lead), Joe Bonsall (tenor), William Lee Golden (baritone) and Richard Sterban (bass) has been touring and recording since 1973 with the exception of Golden who took a hiatus from the band from 1987 – 1995.
As 2015 inductees into the Country Music Hall of Fame, The Oak Ridge Boys show no sign of slowing down with the recent release of their "Celebrate Christmas" album in October of this year. With seasonal songs such as "Joy To The World", "I'll Be Home for Christmas", "Jingle Bells" and nine other timeless classic covers of beloved holiday tunes, this album is must have stocking stuffer that can be enjoyed by the entire family.