O'BROTHER@BEAT KITCHEN-CHICAGO, IL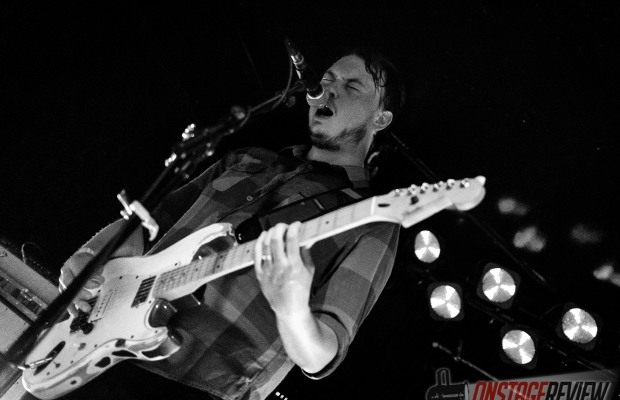 April 9, 2016
Review by Steve Nawrocki
A majority of bands have nothing new to offer in a live setting; they put forth fairly accurate representations of their recorded material, pack up their equipment and do it all over again in the next town the following night. O'Brother is not one of these bands.
O'Brother as a collective is an organic, adaptable being, and these traits were on full display as they rolled into the Beat Kitchen in Chicago to kick off their first headlining tour in support of their recently released new album, 'Endless Light'. Combining styles as disparate as the occasional Radiohead-esque crooning of lead vocalist/guitarist Tanner Merritt and a shoegaze mentality with the feedback drenched, almost doom metal inspired dirges provided by the rest of the band sounds like a revelation.
The band culled songs pretty evenly from their four major releases for their set list, with songs from the new album such as Deconstruct and lead single Bloodlines fitting in snugly alongside older fan favorites such as Ascension and Lay Down. Particularly of note was the performance of the song Poison! from the album 'Garden Window', which is almost unrecognizable compared to its recorded counterpart. The climax has become an epic and visceral experience, with guitarist Jordan McGhin putting aside his usual weapon of choice in order to pound along on percussion with the pummeling beat of drummer Michael Martens. Meanwhile guitarist Johnny Dang sets an unnerving, bordering on uncomfortable tone under the whispers of Tanner Merritt, while bassist Anton Dang invokes Jimmy Page himself as he slashes a violin bow along his bass strings. The separate parts somehow lock together and swell as one, building to the breaking point before it all gently eases off and fades into memory.
In fact, the most impressive quality of the live O'Brother experience is how much the songs have evolved since being cemented as a recorded piece of work. This is just the very beginning of the life of an O'Brother song. The band is such a tight, cohesive unit that they can push and pull at each other within the constraints of any particular song, causing that song to become a unique interpretation that grows along with the band. It is a rare occurrence in the modern music climate that a band will have the confidence in themselves to experiment with their music in front of their audience, but it is this confidence that sets O'Brother apart from their peers, and it is an exhilarating thing to witness in person.
Photos by Nicci Allen