OMD @ HOUSE OF BLUES, Anaheim, CA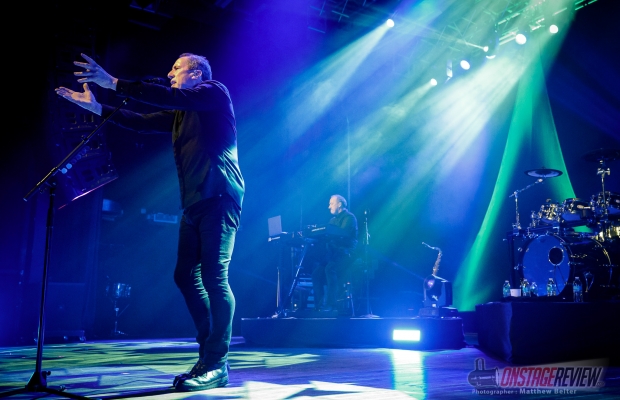 March 30th, 2018
Orchestral Manoeuvres in the Dark (OMD) is probably one of the most influential electronic bands of our time. Founded in 1978, their unique brand of synth-pop helped to fan the flames of a genre pioneered by legendary artists such as Brian Eno and Kraftwerk. Who would have thought that four decades and over 13 studio albums later, this little-know group of from Merseyside, England would still be around, playing the music they love at packed houses all around the world? At the time, probably not too many. However, OMD has withstood the test of time and are still one of the most incredible bands to ever hit the stage. If the massive line to get into the House of Blues in Anaheim was any indicator of how the evening would go, we were on solid ground for what would probably be a show for the ages.
After an energetic set from GGOOLLDD (which by the way was brilliant in their own right), OMD took the stage around 9pm and opened with "Ghost Star" off their 2017 release, The Punishment of Luxury. Only hearing this track once before, I really enjoyed the simplicity of the song and how it allowed Andy McCluskey to immediately connect with a now capacity crowd. As mellow as this song was, the crowd went crazy as McCluskey played to the audience. This excitement elicited huge smiles from keyboardists' Paul Humphreys and Martin Cooper as well as drummer extraordinaire Stuart Kershaw. You could feel an "electricity" in the air, and by all accounts it was shaping up to be a special night in Anaheim.
For the next 2 hours, the nearly 2000+ fans in attendance were captivated by OMD and their amazing setlist featuring 22 tracks including standards such as "Tesla Girls", "If You Leave", and "So in Love". In addition, newer tracks such as "History of Modern (Part 1)" and "The Punishment of Luxury" were crowd favorites that continued to pump energy into an already frenetic crowd. The night ended with a powerful three-song encore including "Dreaming", "Secret", and the 1980 single that started it all, "Electricity".
If you happened to be one of the lucky ones in attendance Friday night, you were witness to an amazing evening electronic mastery from one of the most influential bands of our time. Orchestral Manoeuvres in the Dark let it all hang out with a memorable performance that undoubtedly left the sold-out Orange County crowd wanting more. And gauging the crowds' energy all night long, I think it's safe to say they were dialed from start to finish.
Lastly, to the skeptics out there who believe OMD is merely a novelty act from the 80's, think again. For two full hours on Friday evening, McCluskey, Humphreys, Cooper, and Kershaw were loose, energetic, and musically spot on the entire show. On top of that, McCluskey' s vocals were pitch perfect. And to sound this good 40+ years into an already amazing career, it speaks volumes about the band and the love they have for their music and fans. They put their heart and show into each performance and it pays off in spades. This one was worth the price of admission and will continue to give fans incredible memories long after the final curtain call.
Until Next Time, Stay Frosty and Rock On!!
Setlist
Ghost Star
Isotype
Messages
Tesla Girls
History of Modern (Part 10)
One More Time
(Forever) Live and Die
If You Leave
Souvenir
Joan of Arc
Joan of Arc (Maid of Orleans)
The Right Side?, Please Remain Seated, Frontline, Decimal (Snippeted in Time Zones)
All of the Things We've Made
What Have We Done
So In Love
Locomotion
The Punishment of Luxury
Sailing on the Seven Seas
Enola Gay
Encore
Dreaming
Secret
Electricity