OPETH, GOJIRA, AND DEVIN TOWNSEND PROJECT @ THE VIC THEATRE – CHICAGO, IL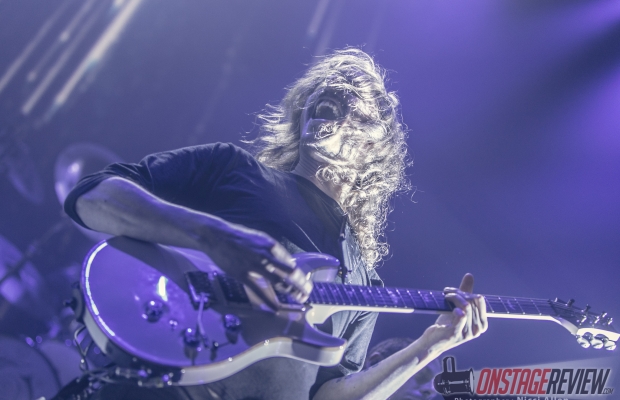 May 9, 2017
As the lights dimmed and the first of three colossal metal bands approached the edge of the stage, the crowd hushed for a split second, and then greeted Devin Townsend Project with a roar fit for a king. Devin lifted his glowing axe to the crowd and mirrored their intensity. After just a few tracks I realized that all three of the bands in this lineup are known to headline venues, and not a single one disappointed.
Devin Townsend has his own group of super fans for good reason. His writing style, vocal capabilities, and live energy are all simply jaw dropping, but the angle of his talent that I believe is extremely underrated to this day is his guitar playing. When this man stands tall and rips into a solo the entire venue is at attention. His technique is spot on and his creative licks are unlike any other. Not enough credit can be given to this man and his entire band for the obvious dedication and hard work that goes into everything they do.

Devin pushed through some pretty serious technical difficulties like a true veteran of his craft and managed to put on a stellar performance even without the help of his keyboardist for more than half the set. It is always painful to witness tech issues at live shows, but to see the professionals recover and put on what can be an even more powerful show through it all is always amazing.
Considering the last time I witnessed Gojira live I was about a quarter mile away and it was still the loudest and heaviest show I had ever seen (Open Air Festival), seeing them at a venue as intimate as The Vic was something I could not miss. Gojira put together one of the most brilliant and stunning performances I have ever been lucky enough to behold. The light show, the visualizer backdrop, the paralyzing wall of sound, and the unparalleled energy from every band member were just a handful of the reasons this show was absolutely stunning. I caught myself shaking my head after every track in disbelief.

Shortly before an absolutely riveting drum solo by the always fantastic Mario Duplantier, his brother as well as lead singer and guitarist Joe Duplantier hushed the crowd to ensure everyone was on the same page. First jokingly checking to make sure no one was sleeping, he then asked everyone to take a deep breath and really be present in the moment. It seemed as though he wanted to gain a unified sensation among the crowd, and as far as I am concerned… he succeeded. The following track was twice as heavy as the last with added lighting and two story high blasts of smoke above the crowd. Gojira may as well been playing atop an active volcano for how mind bending this production was. There is something especially gripping about Gojira's performances. They seem to put you in a trance of some sort. You don't quite know what kind of damage they are doing to your psyche until its over and the silence is such a contrast to the pounding metal that it almost seems maddening.
Some of Opeth's more peaceful tracks and transitions were definitely welcome after that onslaught of pure unrelenting metal. Truth be told, any other order of these three giants in the lineup would have been just as incredible, but I wasn't sure Opeth was going to be able to match up with Gojira's intensity until I was quickly reminded why these veterans were sitting in the headlining position.
Opening with the title track off of their newest album Sorceress, Opeth showed off their versatility and wealth of musical knowledge immediately. Their entire new album is an absolute masterpiece of a production and they treated us with a few tracks from it throughout the set. Following "Ghost of Perdition" with "Demon of the Fall" as their third track proved that they had no intention of taking it easy on an already abused crowd. Amazed that my ears weren't bleeding at this point I released the deepest howl I could gather in between each track.
Growing up an Opeth fan I have seen this band evolve in so many wonderful ways, but even after seeing them close to twenty times now, I am entirely blown away that their production and sound just seems to be getting better every performance. I suppose a shout out to PRS guitars is in order as well; they have been driving so much of Opeth's wonderful sound for so many years now.
The sense of humor and stage presence of Mikael Akerfeldt is always something I look forward to seeing as well. He is one of the greatest metal composers in the history of the craft and in my opinion one of the very best growlers as well. What makes Opeth so unique and enjoyable to watch is their schizophrenic change ups and their seamless switch from light to dark. Nobody does it quite like Opeth.
Overall, this was a spectacular showcase of some of the best in this genre. Some highlights to one of the heaviest lineups I have ever seen were definitely "Kindgom" by Devin Townsend Project, "The Shooting Star" by Gojira, and "Deliverance" by Opeth. If you get a chance to see this titanic trio as they come through your town I would desperately recommend it.
Devin Townsend
Gojira
Opeth