OPETH @ RIVIERA THEATER – CHICAGO, IL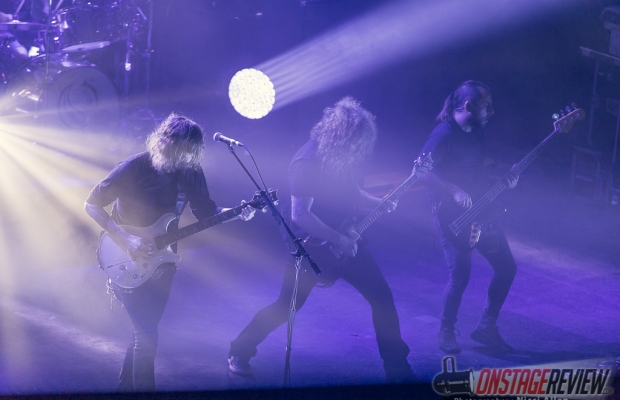 October 9, 2016
A looming fog filled the stage as a full house at the Riviera Theater awaited Opeth, a legendary progressive death metal band known for a sensation they force into the minds of their listeners best described as dark euphoria. This band is highly respected worldwide for their unique method of composing metal, along with an extremely emotional melodic approach to their music. There is something very specific that differentiates them from everyone else in the metal community. These gentlemen are masters at manipulating an extremely wide range of emotion through auditory sensation.
Opening with the self-titled track off their new album Sorceress, Opeth laid down a groove so air tight and luscious that the entire crowd had no choice but to get sucked in. The following riff from this track was so crystal clear and devastatingly heavy that my jaw quite literally fell slack. It had been many years since I last saw Opeth live, I then remembered why I used to see them every chance I got. The sound that these men produce live is unlike any metal band out there. This group has been using high end PRS guitars since I can remember, but beyond that, the tone and expression that they achieve through their guitars along with every other instrument on stage is something to marvel at. This is a band that clearly pays an exorbitant amount of attention to detail when it comes to their production and sound quality.
Before I continue, a shout out is in order for record producer Tom Dalgety for his work with Mikael Åkerfeldt on the newest album. Sorceress is a true masterpiece from start to finish. The fullness, depth, and clarity of every aspect of this album is clearly the work of a group of brilliant minds. The ability of Opeth to reproduce this sensational sound live was a pleasant surprise indeed.
As if the first track wasn't an intense enough start, it led directly into "Ghost of Perdition" and then "Demon of the Fall". The latter number is considered their heaviest track in many circles. It saddens me that Mikael hasn't growled on many of the most recent albums, but to hear one of my all time favorite metal vocalists still rip into his primal side live was a nice surprise. While Opeth has always had extraordinarily talented members, in the second half of their career they acquired a new drummer in Martin "Axe" Axenrot and guitarist in Fredrik Åkesson that put their band on the level with some of the most vicious metal shredders around. During the show, at any moment that either of these two were in the spotlight, the chops they possessed and the expressive talent they demonstrated were absolutely stunning. The already captivating and exhilarating heavy side of this group has only gotten more intense over the years due to some new talent and a new approach.
While Mikael Åkerfeldt has been writing, producing, singing, and playing guitar for this project since the beginning, the only other member that has been in the group since nearly the beginning is the extremely smooth and razor sharp Martin Méndez on bass. This duo began having some fun as they were taking requests from the crowd on old tracks to play. They would look at each other puzzled as Mikael would fumble through chords and laugh as he tried to spontaneously remember old tracks, most of which they were actually very capable of recollecting on the spot. After twelve albums and over twenty years of songwriting, the ability of these musicians to pull up old tracks on the fly was impressive. Mikael's laugh and smile were so genuine throughout the entire show. He clearly loves what he does.
One of my absolute favorite tracks off of Blackwater Park, "Drapery Falls" was sincerely a treat to hear live. It's a number which is very well balanced between the dark and light side of their music. Following that, it was wonderful to hear "In My Time of Need" off of their most peaceful album Damnation as well. Ending with "Deliverance" as their encore was nothing short of mesmerizing. The way that this band can take certain riffs that aren't too complex or flashy and turn them into some of the most excessively powerful build-ups imaginable is a trademark of Opeth's name for sure. This group can transition from the most beautiful acoustic parts straight into the most ridiculously heavy parts without giving the fans even a moment to brace themselves.
Not only was the blend and mix of the production absolutely gorgeous, but the way Mikael's voice harmonized with keyboardist Joakim Svalberg's was something from a dream. As certain tracks would slow down and bring out the drone metal aspects of Opeth's sound, Mikael would produce sounds through his guitar that were just as psychedelic as they were haunting. When he really gets going he can make his guitar sound like some kind of dying beast howling into the night. It is truly amazing what this band has been able to accomplish over the years. I am extremely glad I managed to make it to this tour to experience another part of a legacy that could honestly be at its most grandiose level to date.
Setlist
1. Sorceress
2. Ghost of Perdition
3. Demon of the Fall
4. Wild Flowers
5. Face of Melinda
6. In My Time of Need
7. Will O the Wisp
8. Cusp of Eternity
9. Drapery Falls
10. The Devil's Orchard
11. Hex Omega
12. Deliverance