PERIPHERY @ GUITAR CENTER – Arlington Heights, IL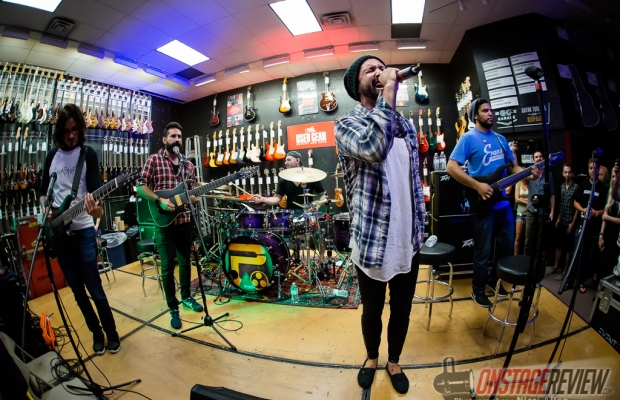 August 23, 2016
Yes, you read that right; the illustrious Periphery performed a private show for roughly 200 lucky people in the middle of the Arlington Heights Guitar Center. It was a first come, first serve appearance that offered a wristband for free access to the first 150 people to show up. I imagine every spot was spoken for within just a few hours of this news hitting social media. This was an intimate and inspiring experience to be a part of. I can honestly say I have never seen such a big name metal band in such a small setting.
Many in the crowd, including myself, seemed to be a bit star-struck, while others were screaming and being very vocal about their excitement. The entire group entered the platform smiling and laughing at the crowds enthusiasm and antics. As Periphery greeted the fans and genuinely thanked everyone for coming out, it became clear that these musicians not only adore their fans, but sincerely love what they do. They seemed just as happy to see the crowd as they were to see them.

I will keep the full set list as a secret between me and the lucky few who made it out, but I will say that "The Price is Wrong" is probably my new favorite Periphery track. They began the show with 6-strings in hand. As the band kicked off the first track, I was astounded at how loud Guitar Center was allowing them to play. Since the sound system was a combination of Periphery's pristine equipment and Guitar Center's plethora of top-of-the-line gear, the quality of the sound production was that of a studio performance.
After a few tracks, we were treated to a Q&A session with the band. Some goofy questions were asked up front, prodding topics such as Pokemon and Netflix, to which the members played along; but it was refreshing to hear the heartfelt responses each bandmate had for the fans as the inquiries became more serious. Guitarist Misha Mansoor discussed the importance of enjoying what you do, following your muse, and not caring what others think. Drummer Matt Halpern spoke seriously about letting go of your chops as a player and just focusing on groove. Mark, Spencer, and Jake spoke very fondly of having 6 members to add to their creative process how much they have enjoyed writing together. As the band discussed life on the road, producing their new album, aspirations they have outside of music, and how they all developed over the years as friends and musical partners, we were given a sincerely personal and profound taste of what life as a member of Periphery is like. There are times when rock stars this acclaimed seem to be a million miles away, but experiences like this remind me that we are all human beings and every one of us is capable of monumental things.
After the conversation tapered off the band brought out their 8-strings, and Mark Holcomb revealed his especially gorgeous PRS. It turns out that he was the first guitarist to convince Paul Reed Smith to create an 8-string guitar, and that thing was just incredible. I thought the first half of the show was heavy, but those 2 extra strings brought it to an entirely new level. After a few more incredibly brutal and flawlessly executed tracks, Periphery wrapped up and came out to the crowd to mingle with their fans, ending the night with some signing and handshakes. Periphery and Guitar Center really put an unforgettable experience together on this night.