PIERCE THE VEIL @ THE NILE THEATER – MESA, AZ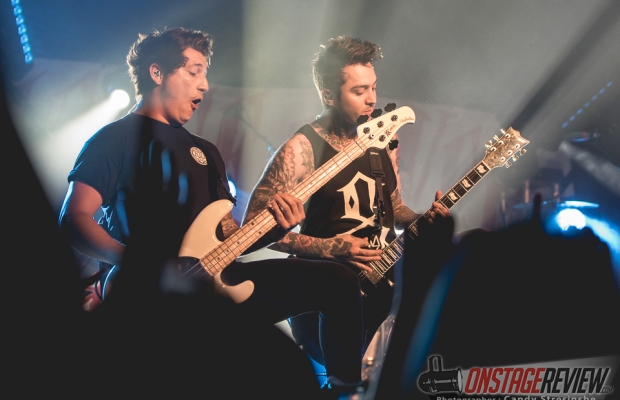 June 24, 2016
Upon arrival, it was apparent that this was not going to be an ordinary show. Despite triple digit temperatures, dedicated fans of all ages arrived en force and, before the doors even opened, formed a line that wound around the Nile Theater in Mesa, Arizona.
The opener, Movements, set the stage with their unique blend of post-hardcore/emo with beautiful post rock-esque melodies. They quickly amped up the crowed by playing a thirty-minute set consisting of songs off their debut EP Outgrown Things. Direct support, I The Mighty, followed them up and proved they have an incredibly bright future ahead of them by performing songs primarily from their albums Satori and Connector. By the end of their set, the crowd was hooked and showed their appreciation by relinquishing an applause normally reserved for headlining acts.
Pierce the Veil took the stage to a thunderous applause from the crowd (who had now packed the Nile Theater wall-to-wall). They immediately launched into their first song "Dive In" with front man Vic Fuentes and the band bathed in bright, colorful stage lights.  Next, frontman Vic Fuentes exclaimed, "We're going to play our fastest song ever!" as band-mates Tony Perry (lead guitar), Jaime Preciado (bass), and Mike Fuentes (drums) hammered down on their instruments as they opened "Texas Is Forever." Confetti showered down on an adoring crowd which responded in kind by singing along to every word. It was clear from then on that tonight would be a celebration of their critically acclaimed new album Misadventures, which peaked at #4 on the Billboard charts. Backed by album-art-inspired stage props, they played the entire album front to back – including an acoustic version of "Today I Saw the Whole World."
The audience, firmly behind the bands choice, screamed, sang, and gave everything they had back to an impressed and appreciative band. Pierce the Veil ended their set by giving the fans a chance to add their own mark on the evening by letting them sing the closing lines of "Song for Isabelle." However, the audience would not be denied, and as soon as they left the stage they raucously chanted "One more song!" Not wanting to disappoint their adoring fans, Pierce the Veil quickly returned to the stage to play a two song encore consisting of their hits "Bulls in the Bronx" and "King for a Day" from the album Collide with the Sky. As the last notes played and additional blasts of confetti and streamers rained down, it was clear that the sky's the limit for this extremely energetic San Diego act. I am absolutely positive that we will be seeing many more great songs and albums from them in the years to come.
Pierce The Veil
I The Mighty
Movements