P!NK Beautiful Trauma World Tour @ Amway Center – Orlando, FL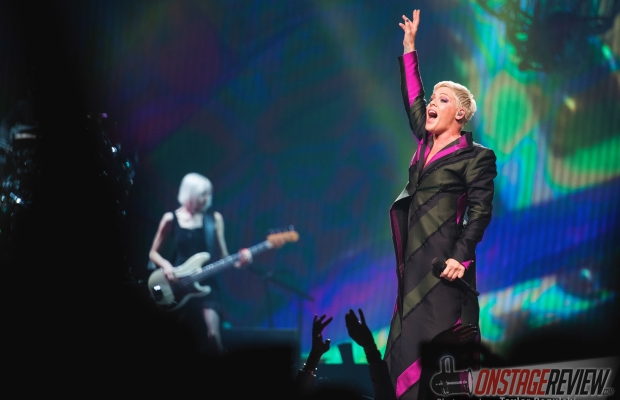 April 24, 2018
18 years ago a 20 year-old Alecia Moore performed for the very first time at Hard Rock Live in Orlando. Flash forward to 2018, and here she was once again. Performing in Orlando, but this time to a sold out Amway Center.
P!NK is no stranger to world tours, and truly knows how to get the party started. Her opener DJ Kid Cut Up, from Milwaukee, WI got the crowd off their feet and dancing. DJ Kid Cut Up mixed classics with new EDM tunes to cater to all attendees. Everyone thought they were already having fun but, had no idea what P!NK had in store.
The Singer opened her show with "Get the Party Started". I mean, when you're P!NK how else would you open your show? She was bold, beautiful, and literally came out swinging on a chandelier. P!NK "flew" in with a bang and continued to wow her audience. She transitioned into her headlining song, "Beautiful Trauma", which included larger than life props and smooth, choreographed dances. Sparks were flying, literally, as the singer wowed the crowd with "Just Like a Pill". P!NK for the remainder of the song walked the stage holding hands with fans and posing for selfies.  If she only performed those three songs, I still would have said that this was the most amazing concert I have ever been to.
Obviously, you can tell I was in absolute awe of P!NK's concept for each song. "Try" featured a dark haunted house with animals dancing about. Her visuals, combined with a moving platform, made it appear as if she was being consumed by the darkness. It may seem like a daunting thought, but it helped to bring the emotion to life and each person in the arena could feel it.
Before appearing in her angelic, white outfit, the rock star showed a montage of old interviews, volunteer work, human rights campaigns, and people fighting for what their beliefs. P!NK  spoke over the video, voicing her appreciation for all the beautiful people she has met and how she intends to change the world by being herself. My emotions got the best of me as the singer continued with "What About Us". Her performance was raw and had everyone screaming the lyrics at the top of their lungs.
P!NK continued to perform both old and new songs. I was blown away by how she continued to dance and sing each song without missing a beat. Being a rock star doesn't seem to phase the singer because she was laying on stage to sign posters and talk with fans. The superstar shared personal stories and laughed at herself, before having the crowd raise their glass for her final performances. It didn't end there though. P!NK did 2 encores including "So What" where she flew over the crowd and an intimate "Glitter in the Air." The crowd continued to roar long after P!NK had left the stage.
I truly have never been in awe of a performance before last night. P!NK's concept for her Beautiful Trauma tour is nothing you will see from any other singer. She has set the bar high for future artists to perform acrobatic and inclusive shows.
If you haven't already, make sure to catch P!NK's Beautiful Trauma World Tour in your local city. Tickets are still available and you definitely do not want to wait until the last minute!