POISON WITH CHEAP TRICK @ FIDDLERS GREEN – ENDGLEWOOD, CO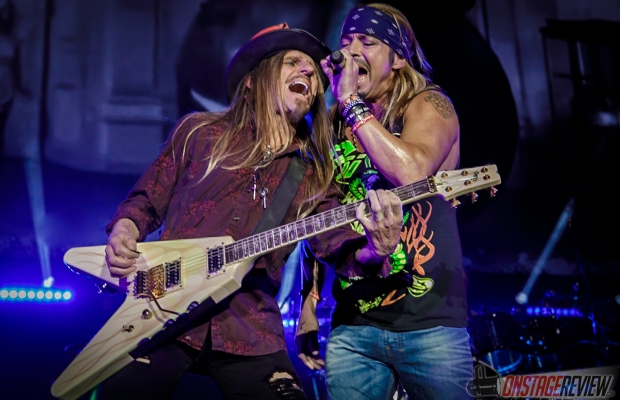 May, 27 2018
It is still springtime in the Mile High City but the Summer of Rock has begun! Last Wednesday, Fiddlers Green Amphitheater was alive with throngs of people lined up to see Poison, Cheap Trick and Pop Evil. The air was electric, and so was the high energy show put on by the tried and true rock-and-rollers. Pop Evil opened the show with booming bass and a great message. The song "Still Believe" was dedicated to our armed forces personnel and was a crowd favorite. They have been playing that song for ten years and expressed their undying gratitude to everyone who still comes out to hear true rock. Between the lively dancing and head banging it was a powerful performance. Their rhythm guitarist, Dave Grahs, even got a chance to play Rick Nielsen's iconic checkerboard Hamer Standard. But their multiple guitar changes paled in comparison to the number of instruments that Cheap Trick brought on stage.
Even after 44 years of live performances Cheap Trick still knows how to capture an audience and get everyone moving. Oh sure, they played the fan favorites like "I Want You To Want Me" and the theme from that 70's show, "In The Street", but what really drove home their set was the attention to detail that they put into their performance as a whole. Everyone onstage was in visual harmony, dancing about the stage and their set flowed seamlessly from introduction, to classic ballad, to hard rocking finish. They pulled some "cheap tricks" like a 12 string bass guitar solo by Tom Petersson and Rick Nielsen playing his 5 necked guitar monstrosity, but the core of their set was a complete, well-orchestrated performance.
The sun set and Poison was ready to bring it all home. Frontman and lead vocalist, Bret Michaels is a charismatic rockstar that had the audience mesmerized. Between the stacks of amplifiers and impressive light show Poison delivered "Nothing But A Good Time"! It was so raucous that women were taking off their tops and singing along with every song. Poison played the hits, and played them perfectly. The lead guitarist, C.C. DeVille, has been with the band since the mid-1980's and still plays with the same ferocious technicality and attitude he did back then. Poison's fans came looking for "Something To Believe In" and found exactly what they expected. It was a thrill to experience this show and all of the years of hard work the members of Poison put into their performance. At the end of the night they brought the lead singer for Pop Evil, Leigh Kakaty, onstage to play a killer encore and left everyone screaming and shouting for more.
Summer, as far as this concert-goer is concerned, is officially here and it is going to be one to remember! If you love music show your support by attending live performances, no matter the venue nor the artist. Your tickets keep music alive and give you experiences that you can't find sitting at home.
POISON
CHEAP TRICK
POP EVIL