POLYPHIA @ HOUSE OF BLUES – Anaheim, CA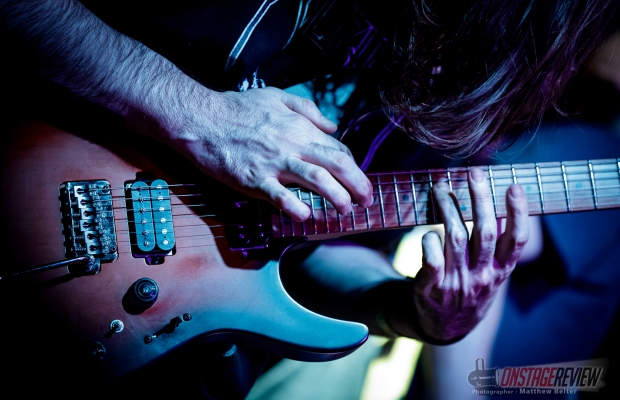 December 17th, 2017
POLYPHIA may be one of the most unique bands touring the states today. This talented quartet from Plano, Texas has taken the world by storm on their current tour in support of their 2017 release, The Most Hated. If you have never listened to POLYPHIA (and unfortunately many have not), they truly are an amazing band. Their distinct sound is like no other on the scene today – fusing progressive rock with jazz, R&B, and a touch hip hop to round things off. POLYPHIA's sound is fresh, powerful, and unmistakable.
On Sunday December 17th, POLYPHIA took over the House of Blues in Anaheim, CA for night of instrumental mayhem that challenged the mind and inspired the soul. Founded in 2010, the band is fronted by dynamic guitar duo Timothy Henson and Scott LePage. Pounding the bass is the incomparable Clay Gober, and rounding out the group on drums is newcomer Clay Aeschliman. Whether you were a long-time follower of the band or had just started listening to their music, POLYPHIA had something for everyone at The Parish on Sunday evening.
Kicking off the evening was Indiana native LIL AARON. His unique brand of rap blended with tinges of pop and punk entertained the near capacity crowd with tracks off his 2016 release, Gloing Pain$. What I liked most about this set was LIL AARON's uncanny ability to freestyle. His witty lyrics flowed effortlessly with many of his fans singing along to killer tracks such as "Drugs" and "Go to Hell". I am excited to hear more from LIL AARON as this guy's star is on the rise.
After a brief intermission and a well-deserved break from the LIL AARON'S killer set, POLYPHIA finally took the stage. They opened the show with their 2016 single "Euphoria". As a relatively new fan, this is one of my favorite tracks and they absolutely nailed it. Next up was "Icronic", off the 2017 release, The Most Hated. This song is killer, and the beautiful guitar work from Hensen and LePage reminded me of early STEVE VAI. Over the next hour, POLYPHIA fans were treated to an incredible set that again encompassed their entire catalog with fan favorites such as "Champagne", "Goose", and "LIT". The small (but powerful 8-song set) came to an end with song appropriately titled "Finale", off the 2015 Muse album. Perfect show ending to what many considered one of their best performances of 2017.
Gathering my thoughts on the way back to the car, I could not help but be taken back by the shear musical talent this band possesses. Each member of POLYPHIA are brilliant musicians in their own right, and hearing them all perform together is nothing short of amazing. Henson, LePage, Gober, and Aeschliman seem to have a chemistry that very few bands possess, and it ignites on-stage into a breathtaking inferno of sound that's second to none. And if you are a fan of music that literally takes your breath away, POLYPHIA is definitely the band for you. And don't take my word for it, give their latest release, Most Hated, a spin. After a few amazing tracks, you'll definitely be hooked as well.
Stay Frosty and Rock On!
Setlist:
Euphoria
Icronic
Champagne
LIT
Goose
40oz
Loud
Finale
POLYPHIA
LIL AARON