PRIMUS & MASTODON @ HUNTINGTON BANK PAVILION – CHICAGO, IL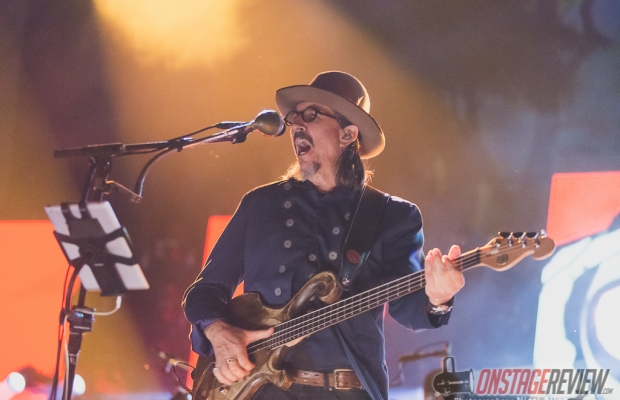 PRIMUS & MASTODON @ HUNTINGTON BANK PAVILION – CHICAGO, IL
June 6th, 2018
While some may have thought this lineup was a bit of an odd couple, the fans response throughout the day proved that music lovers from every walk of life can appreciate a versatile show such as this. Although they are entirely different genres of music, they most certainly share the common ground of treating their listeners psychological state as their personal playground. That being said, both of these bands will go down as pioneers and legends of their crafts.
After hearing Mastodon won their first Grammy this year, I was slightly surprised to find out they weren't headlining. Nonetheless, they scorched the earth beneath them in order to clear the way for the mighty Primus. This was my first time seeing Mastodon live and I was sincerely impressed in every way. The sheer domination of the stage, the crowd, and their respected instruments was that of a group of well trained veteran musicians. This is the type of group that has every ounce of ability to shred and does so in tasteful increments, but would rather show off their skills with incredibly well written songs and riffs than five minute long solos.
As the sun slowly set on Northerly Island, the brilliant array of colors combined with a multi-screen display of psychedelic visualizers began to really come to life. That, combined with Brann Dailor's neon drum set with an eyeball in the center of it staring back at the crowd made for a performance that was just as abrasive as it was pleasing to all the senses. I have always loved Mastodon's work, but after seeing their mastery live I have a new found respect for each and every member. These men have sincerely molded their sound into something of a masterpiece.
Primus has been at it since 1984. This group has been hammering filthy guitar riffs, infamously gnarly bass lines, and ridiculously heavy drum compilations into the ears of their listeners since their very first album. They made absolutely no exceptions to this rule as they pulled out all the stops on this show. They played every single classic that I could think of from "My name is Mudd" to "Tommy the Cat". Les would extend certain parts of tracks and effortlessly dance around his bass with his fingers as he casually chatted with the crowd.
Primus may not be known for the same speed or complexity as their co-headliner Mastodon, but they sure as hell know how to hang with the metalheads in the audience. Les Claypool and the rest of his brilliant trio have been deeply interwoven in the metal community since they first got started. Hell, the last time Primus hit Chicago they were accompanied by the great Danny Carey of Tool on drums. Let us also not forget that Primus was in the company of some serious powerhouses in the early 90s (Rage against the machine, Tool, Deftones, Korn, Incubus, etc.) and stood out in ways that none of them did. The best part is, nearly 30 years later they can still put on the same astounding performance that they have been known for throughout their career.
As a young aspiring bass player myself, I was obsessed with Claypool while still listening to any and all other genres. Primus made absolutely sure that I wouldn't get stuck in just one style as a musician. The creativity that came out of me after freshly discovering Primus years ago is unlike any growth spurt I have had since. I am certainly not the only bass player who's life changed after discovering Primus. It is interesting though that no matter how far you dig into bass players trying to mimic Claypool's style of playing or writing, no one sounds like him.
This was not my first Claypool experience live, but Primus is definitely one I needed to check off my bucket list. Thank you to Mastodon and Primus alike for filling Huntington Bank Pavillion with an overwhelming amount of talent and creative intellect all in one night.
Mastodon
Primus