RIOT FEST AND CARNIVAL DAY 3 @ DOUGLAS PARK, IL
By Nicci Allen on September 22, 2016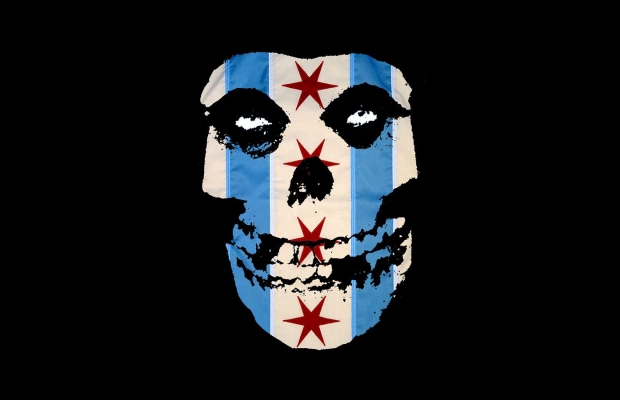 September 18, 2016
Cover Image Credit http://riotfest.org/chicago/
When I first heard the lineup for Riot Fest for Day 3, the 15 year old version of myself practically exploded from my soul. So many names that used to be what my younger ears primarily dined on at the time all in one glorious day… needless to say I had to be there to indulge in this nostalgic auditory feast. Both 15 year old me and my current self are eternally grateful that I did.
I arrived at the fest in the mid-afternoon while several prominent names were gracing different stages all at once, and it was a struggle for the attendees to choose which direction to turn to, some literally running to catch them all. From the fabulous and in-your-face personality of Dee Snider (originally of glam metal act Twisted Sister,) to high-energy take-no-shit ass-kicking rock of Juliet Lewis & the Licks (in which Juliet was decked out in skin-tight Chicago flag stripes), and the experimental transcendental prog of With Our Arms to the Sun (a group that recently shared the same bill with TOOL,) there was something to be enjoyed by everyone. Chevy Metal, a dirt-rock  cover band consisting of members from Foo Fighters also featured surprise guest-appearances by Dee Snider and Juliet Lewis.
As if that wasn't enough to challenge the stamina of the crowd, Riot Fest staple Andrew W.K., along with his full band, pumped the crowd with his good vibes and signature vivacious performance for his 5th year in a row. Amidst all the keyboard jamming, fist pumping, crowd surfing, and flying projectiles across the battalion of his army that was gathered to party hard, W.K. took a moment to address the crowd: "There are those who say the world is too complicated to deserve partying; it is those times that are the most darkest and complex that we must stay calm and close to joy." Catch more of Andrew W.K. discussing this topic with the purest of passion and raw human spirit out on his current Power of Partying Tour.
Tiger Army hit the Riot stage directly after, taking watchers back with a range of songs from their 20 years of punk/psycho billy/rock writing catalog.  Lead singer Nick 13 shared a somewhat similar message to the crowd as Andrew W.K.'s: "In troubling times you have to find that inner strength and say fuck the world! Lemme see those middle fingers and a circle pit!" The sound unexpectedly seemed to fade out during the last song, whether it was a technical issue or Riot Fest cutting them short due to time constraints, the band kept playing with vehement fiery persistence until it ended, with devout fans still screaming along.
Not having to travel far for the next act on the Roots stage, but having come quite the distance from my youth of jamming their records as a dark and distraught teen and never having caught them live, I was eager to see post-hardcore originals Thursday join the fest. Frontman Geoff Rickly  got right to it, mentioning that they had played their slower songs the night before at Double Door in Chicago, and that day were there to kick out the jams. Busting out "Cross Out the Eyes" directly following this statement lit the spark beneath everyone's feet, as a visible wave of thrashing ripped through the crowd like an engulfing forest fire. Rickly  addressed the issue of their sudden breakup and made it clear they were sticking around "5 years ago we stopped playing shows and didn't do a farewell tour. We didn't want to try to cash in on the end of the band, but we are here now, and closer than we have ever been."
Rushing back over to get a good spot for Bad Religion, the crowd was pleased to observe that they wasted no time with frivolities and dove right in with "Fuck You" bulleting right through old and new favorites to the delight of the crowd, ending with "Fuck Armageddon,…This is Hell."  Always somehow missing them along the years of  many Warped Tours and other appearances, it was amazing to hear they still sounded just as great live, directly echoing the tightness of their abundant recordings. This is a band that has been pumping out intelligent, socially controversial, yet catchy  punk rock  for well over 35 years, and shows no signs of backing down.
Florida post-hardcore act Underoath, recently reunited in 2015 and back touring, appeared on the stage next to Bad Religion shortly after. The heavy energy, dramatic interaction, and hyper acrobatics of everyone in the group had the rapidly growing crowd swarmed around and raging. Wanting to check out original riot grrrl Kathleen Hanna, I left their set shortly into it to catch The Julie Ruin. Proudly displaying a symbol of feminine power on her t-shirt and wielding a ferocious authoritarian attitude, Hanna led the dancey-punk group with passion and power. Ending their set with a Bikini Kill classic, I affirmed that stopping to see them could not have been more satisfying.
Another band that has been going full throttle since the late 80's was Deftones. These forefathers of the nu metal era brought their uniquely emotional and profound sound to the eagerly awaiting fans. Lead vocalist and rhythm guitarist Chino Moreno joined his bandmates on stage smiling from ear to ear. Being a lifelong Deftones fan, I was surprised to hear Chino singing the insanely high pitched verse that is originally sung by Rodleen Getsic on the hit "Knife Party." His vocal chops are certainly not in question by any fans, but I'm not sure anyone expected his range was that extreme. With a plethora of well known classics to choose from, they would transition from fan favorites to soul crushing tracks of the new album Gore. The addition of 7 and 8 string guitars to Deftones' already mind numbing sound is just preposterous, in a good way of course. From the looks of it, Deftones still have plenty of great years ahead of them as they continue to evolve as an idol in the metal community.
After snapping out of the Deftones dream, I jetted over to the Rock stage to catch part of another righteous fem/riot grrl act from the 90's, Sleater-Kinney. Janet Weiss was relentless on the drums, hitting both rigorously and meticulously along to the flawless guitar intertwining of Corin Tucker and Carrie Brownstein. Corin paused to make a statement supporting the zero-tolerance policy of Riot Fest, and how important it was for everyone to look out for each other. Representing the voice of the few female groups at the entire fest, this was a pertinent message to be addressed. Having personally waited two decades to witness these badass ladies on stage, it was an extreme treat to see them still rockin just as hard and continuously standing up for what they exemplify.
In passing between the two stages I was greeted with an earth rumbling amount of sonic distribution that I could not ignore. No doubt, I had to stop and see what was causing so much noise. Death Grips, a California-born experimental hip hop group was hammering away just as hard as if they were the headliners. Their production of brain melting beats, heavy as hell distortion, and lyrics that were surely more in depth and darker than any main stream hip hop today, I had to give them a significant listen. This group reminded me of Hella, The Mars Volta, One Day as a Lion, and the Melvins all at once. This was a group that forced others to pay attention to them and definitely will be on peoples's radars if they aren't already. If you are looking for something passionate, but aggressive beyond your imagination, check these guys out. 
Rob Zombie gathered all of the attention next, understandably so, as rumor had promised they would be playing the entirety of the classic and final White Zombie album Astro Creep 2000 (which Rob later interestingly stated during performance had not been rehearsed once.) With the signature  horror-themed costumes and theatrics of Rob, Piggy D, Ginger Fish and John 5, coupled with the intense light show stretching over the now packed park, Zombie fans were not disappointed, to say the least. They even ended the set on "Dragula" for those too young to remember the 20 year old album (if you have not heard it, go listen now.)
The Original Misfits were the final act of the fest, and the entire park gathered at what now appeared far too tiny of a stage to hold such an awaited gathering of such magnitude, not to mention a couple of larger than life inflatable jack o' lanterns. Some fans had dreamt for 33 years of seeing the original lineup reunited, and the anticipation could be clearly felt across the park. That buzzing building energy was hungrily absorbed by Jerry Only, Glenn Danzig, and Doyle Wolfgang Von Frankenstein, like vampires feeding on blood, as you could practically see the electricity between the trio growing stronger. Acey Slade and Dave Lombardo were a well-decided fit on guitar on drums. I can't imagine how far the echoes ranged from the record horde of devoted fans in Chicago that night bellowing along with every lyric, but I guarantee there were a lot of hoarse fans the next day. While the sound from the PA's could have been more efficient, (which a winded Danzig himself was heard cursing about,) overall the reunion was a historical event to be experienced and never forgotten. 
Riot Fest 2016 was clearly the best choice to have been made this summer, and I most certainly will be there eagerly waiting in the pit for the next one.
Misfits Set List:
Death Comes Ripping
20 Eyes
I Turned Into a Martian
Where Eagles Dare
Mommy, Can I Go Out and Kill Tonight?
Vampira
All Hell Breaks Loose
Hybrid Moments
Teenagers From Mars
London Dungeon
Earth A.D.
Green Hell
Devilock
Horror Business
We Are 138
Hollywood Babylon
Who Killed Marilyn?
Halloween
Die, Die My Darling
Astro Zombies
Skulls
Last Caress
Encore:
Bullet
Night of the Living Dead
She
Attitude
Nicci Allen is a photography/graphic design major who has been an active and involved member of the music scene since she was old enough to be let in local shows. Whether it was bartending concerts at The Pearl Room, being an involved member of the Girls of Metal, booking and promoting local shows and benefits, attending festivals and supporting artists of every genre, or DJing and writing her own music, Nicci has always made music a necessity in her daily life.
Features

Joe Hendrickson | January 17, 2020

Danny Worsnop & Starbenders @ The Forge – Joliet, IL January 15, 2020 Review & Photos by Joe Hendrickson Danny Worsnop, of Asking Alexandria and We Are Harlot, set...

Featured Photographer

Joe Hendrickson | January 17, 2020

Danny Worsnop & Starbenders @ The Forge – Joliet, IL January 15, 2020 Review & Photos by Joe Hendrickson Danny Worsnop, of Asking Alexandria and We Are Harlot, set...
ABOUT ONSTAGE REVIEW

On Stage Review is a collaboration of passionate and enthusiastic music lovers coming together to give you an inside look into some of today's hottest and most intriguing artists.

We'll dive into their lives and careers on and off the stage and give you an up close perspective few get to see.

Facebook

ADMIN
Copyright © 2017 ONSTAGE REVIEW.com. Site by FM Imagery.