RIOT FEST @ DOUGLAS PARK – CHICAGO, IL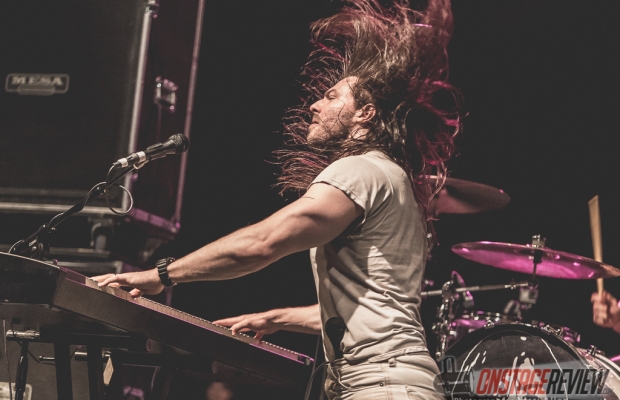 RIOT FEST @ DOUGLAS PARK – Chicago, IL
September 14-16 2018
Riot fest has been an ongoing tradition in the Chicagoland area since 2005 along with a handful of other cities across the country. This year we were treated with an extremely wide spectrum of musical styles. I was disappointed that I could only make it out to days two and three this year, but the majority of who I wanted to see landed on these days anyway.
We arrived on Saturday just in time to see the ridiculousness that is Gwar and the mosh pit that inevitably ensued as soon as the heavy metal and green slime cannons were simultaneously fed to the crowd. Seeing the security guards doing everything they could to ensure that the slippery and slime covered crowd surfers came over the rails safely, all while laughing at how crazy the entire situation was was absolutely a fantastic sight.

We made a B-line towards the Rise Stage to make sure we caught the renowned Jesus Lizard. These rugged and battered veterans of the rock community brought a hell of a performance to the fest. David Yow hurled himself into the crowd just as we got to the stage. His smile was almost sinister as he laughed in between every lyric. The crowd carried him almost 30 feet from the stage and then returned the king to solid ground to finish his set. This mans recklessness and the bands wild performance gave the fans a surge of energy that was welcomed with open arms.

One name on the lineup list that blew my mind was the legendary Jerry Lee Lewis. I am still in awe that I got to see this innovator of Rock n Roll. This man grew up playing with all of the greats. At 82 years old I am shocked that he even agreed to play Riot Fest, but I am extremely grateful that he did. Jerry was offering infinite wisdom and experience to the crowd with every word.
Beck headlined night two. This performance offered ten fold the energy level that I had expected. I would have imagined that Beck would have been a pretty chill ending to the night, but no; this group of musicians absolutely crushed the final set of the night. We were probably a good 200 feet from the stage and the bass was still vibrating my knees through the ground. From this distance I noticed the shekere necklace hanging off the drummer's neck. That necklace, along with the very specific kick drum tone and particularly aggressive snare snap made me nearly convinced that I was being graced by one of, if not my all time favorite drummer, Chris Coleman. Sure enough, about half way through the set Beck introduced the band and gave Chris a very genuinely grateful greeting saying how much of an honor it was to be working with him. For those who are unaware, please look this man up ASAP. He is without a doubt one of the most finely tuned, ridiculously skilled, and good-hearted musicians in the industry today. His presence alone, along with his unbelievable drum solo, offered a layer of magic to Beck's set that I am convinced no one else could have come close to. This surprise appearance was a gift from the Riot Fest gods that I will not forget.
We weren't able to get there early enough Sunday for the kickoff but we were able to catch the entire set of the veteran Punk Rock group The Bouncing Souls. This was another first for me even though I grew up obsessed with these guys. It absolutely blew my mind when Greg Attonito mentioned that they had 30 years under their belts as a band. He told a few stories in between songs and joked about wearing all black from head to toe as the Sun was beating down on him and his band mates. "Gotta stay true" were the words that got a heartfelt eruption of cheers out of the crowd as he and the rest of the band were sweating as much as any athlete or construction worker would in order to fulfill what they were their to do. This band in particular kicked all kinds of ass and brought what has been known for so long as the heart of Riot Fest to the stage.
Clutch and Suicidal Tendencies unfortunately shared a time slot so we had to split our time between the two. Clutch brought their original badass touch to Rock and Roll while Suicidal Tendencies delivered a fury and unrelenting assault to what is one of the best examples of Hardcore Punk in the game. Even watching from somewhat of a distance, the speed and aggression spewing from the stage of Suicidal Tendencies could be felt from anywhere in the park.
Blondie stormed her respective stage with neon green hair and a cloak that read "Stop fucking the planet" on the back. Her entrance was grandiose, to say the least, and her performance continued with the same fire and spirit. The response from the crowd was enormous as it should have been. Playing one classic after another, Blondie kept the fans eating out of the palm of her hand. At times it seemed like the audience was actually louder than Blondie and her band and they sang every lyric along with her.
Underoath added an additional touch of metal to the fest that was clearly in high demand. The turn out at the Rise stage for these guys was impressive. This is a band that goes full throttle from the first step they take on stage to the last drum stick they throw into the crowd. Anyone that may have needed to find a second wind, this was the performance that did it for them.
Unfortunately I had to miss a few bands including Father John Misty, Bad Religion, and Alkaline Trio to ensure that I had a good vantage point for one of my all time favorites, Incubus. I am glad I got over there when I did because the entire lawn was full to the fences. After a few tracks in the photo pit we backed up and found a spot with a great view and perfect sound. Incubus either had their own sound crew or they are just serious veterans of their craft. This is one of the few bands in the game that sounds as good live as they do on their studio recordings. Brandon Boyd still pours his heart out with every single breath and the rest of his band is just as razor sharp as they've always been. In terms of bands with air-tight pockets, Incubus sits comfortably in the top ten I have seen live. It's incredible too how easy this band makes this craft seem. They carry themselves professionally, are extremely humble, and execute each and every track flawlessly no matter how complex or unorthodox they are.

Closing out the last night was the mighty Run the Jewels. Despite the tremendous amount of talent shared between El-P and Killer Mike, the live delivery of each word, verse, and hook has an assassin's precision and a merciless hostility to match it. The beats that were being pumped from the last active stage of the fest made me wonder if the sound guys were willing to blow the last remaining speakers. The ground was shaking all the way through the fest grounds as two of the best wordsmiths in hip hop were doing what they do best. Run the Jewels gave as impressive of a set as The Prophets of Rage did the year before. The crowd seemed to get more and more wild as each track dropped. Riot Fest always seems to know how to close out their last night. Even with plans changing before the fest was scheduled and Blink 182 having to back out last minute, whoever is in charge of Riot Fest managed to pull together an extraordinary weekend nonetheless.

The tradition of Riot Fest brings together so many different musical genres and so many people of different cultures, musical tastes, and walks of life. These types of fest are growing in popularity worldwide and with good reason, but Riot Fest has always had its own specific attitude and style that you just can't find anywhere else. I am nearly certain that there will be nothing more worth your time going on around this time next year. I suggest you clear your calendar for 2019 and come join the rest of the Riot Fest goers.