RIOT FEST AND CARNIVAL DAY 1 @ DOUGLAS PARK – CHICAGO, IL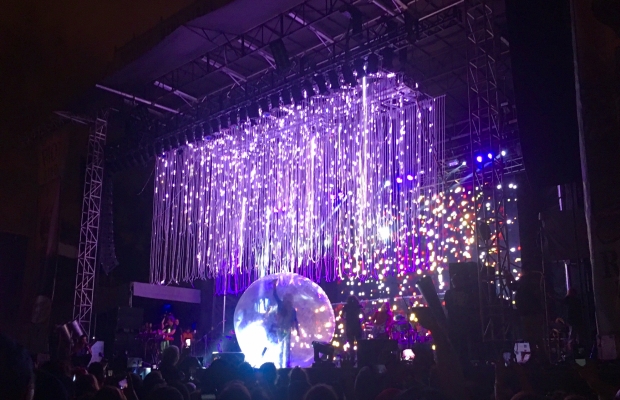 September 16, 2016
It's Friday night in Douglas Park Chicago. The weather is flawless. Summer is still in bloom and the festival season is not over. I'm at Riot Fest and Carnival, and shit is real.
Riot Fest is a show for freaks like me: freaks that enjoy a little bit of everything. Rarely will you find as eclectic a line up on planet earth. The main course is punk and alternative, but there are side dishes or hip hop, emo, ska, metalcore, and hardcore.

This Friday September 16th, I'm told there is a new taste: psychedelic rock.

Your ear holes are dysfunctional if you can't find something to like here. Trade them in or stop being old. Just quit it.

Riot Fest's origins are in the Chicago scene dating back a decade. What began as an indoor event in 2005 spanning venues such as the Metro, Subterranean, and Congress Theater has since outgrown it's diapers. It's a big kid now: a raging 200 lb man child with a mohawk.
The festival moved outdoors to Humboldt Park in 2012 and now resides in beautiful Douglas Park. I can think of no better way to celebrate the end of the summer.
The Specials are here for a ska get down. Gwar is here to get gross and very weird very quickly. Glassjaw is here to force feed you very intense emotions. The Dillinger Escape Plan is here to shred your eardrums and melt your face. Julian Marley is here to chill your vibes mon.

All of these artists are very dear to my teenage self, and are killing it today as they all still kill it each and every night. Tonight though, while singing every word of "Sweetness" by Jimmy Eat World, I'm especially salivating for the main and co-main event.

Ween are legends. Gener and Deaner Ween have been making interesting sounds and blowing gourds for three decades. They have played nearly every genre and covered every topic conceivable lyrically. They have a dear and devoted following for good reason. Few have consistently written songs with half as much freedom, diversity, and humor for so long a time in the history of man.

Boognish overlooks the proceedings as always. I have a feeling things will surely get brown. Downtown brown.

I'm not wrong. Each and every song played from their enormous catalog drives their fans into a frenzy. Crunching distorted riffage, souring guitar solos, the mellowest of acoustic jams, and disturbingly funny commentaries have made my night not shitty thus far.
I need more though. I must feed my head. The Flaming Lips are setting up next door and I will be front and center for perhaps the most psychedelic show on earth.
They are the reason I am here. It's been five long years since my mind was first imploded and exploded simultaneously and paradoxically by the euphoric psychedelic trip that is the Flaming Lips.

Fifteen feet tall caterpillars, an inflatable sun of questionable intoxication, and Wayne Coyne himself in a ballsweatingly warm fur parka are standing prime to rearrange our cerebrums.
Volcanoes of confetti erupt as "The Race For the Prize" begins. I can tell who in the crowd has not witnessed the Flaming Lips before: each and everyone of them. Their jaws are dropped in a drooling stupor and this makes me uncontrollably happy. I have a shit-eating perma-grin that will not leave my face if I try my damndest as "Yoshimi Battles the Pink Robots" ensues.
The eargasm of the evening however, goes to the Bowie cover "Space Oddity". As the crowd sings each and every lyric, Wayne is walking on our faces in a giant inflatable ball as confetti rains from the sky. Psychedelic lights, synth, and guitar part the red sea of our souls.

"That shit just happened," says a girl next to me. Yes, that shit happens sometimes I guess. Does that shit happen every night in the cosmic existence that the Flaming Lips live?
I have to let you all know that although I had forgotten, I once again realize. I realize life goes fast. I realize that it's hard to make the good times last. For now, I'm enjoying the shit out of these good times. May there be many more to come.