RODRIGO Y GABRIELA 10 YEAR ANNIVERSARY @ VIC THEATRE- CHICAGO, IL
By Nicci Allen on June 7, 2017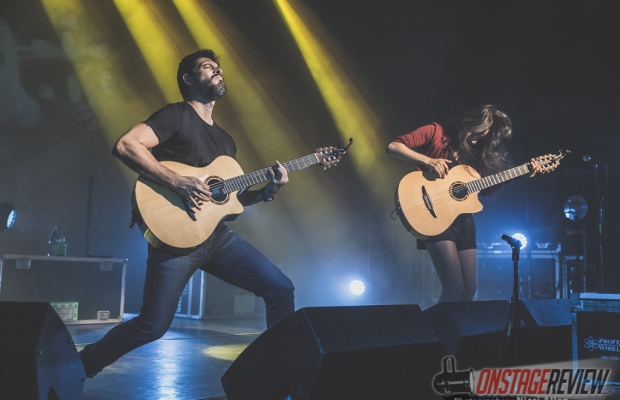 June 4th, 2017
Bringing forth an unbelievably powerful stage presence and completely unfazed aura of confidence from the moment they entered the stage, Rodrigo Sanchez and Gabriela Quintero put on a soul-shaking performance celebrating the tenth year anniversary of their self titled album Rodrigo Y Gabriela.
Although Rodrigo and Gabriela are nowhere near the first classical guitar duo to attempt to find success in traditional Spanish or flamenco style guitar, they are however, the first I have managed to find that also incorporate metal influences and intensely heavy riffs. Their aggressive approach to such a traditional style of music is what makes them so unique and ultimately could be what made them so successful all over the world.
Opening with "Hanuman" they began to tease the crowd with one of their more tame tracks while still giving a taste of the heavy percussion and nylon string shredding to come. This track, along with so many others they have written, keeps a heartbeat-like pulse underneath masterful acoustic metal riffs and wonderfully articulate melodic runs.
Gabriela often holds the duo together by playing the role of drummer, bassist, and rhythm guitarist all at once. She is clearly a master of flamenco style guitar and is not afraid to wail on her instrument in the least. Nonetheless, her technique is extremely subtle and well-executed.
While it isn't exclusively him, Rodrigo tends to take the lead role musically as he produces absolutely brilliant melodic parts as well as ripping solos and portrayals of the utmost technical ability. The speed and precision that Rodrigo shows his fans is something I was unaware could even be done on a classical guitar until running into this fantastic duo.
Shortly after offering their loyal fans a stunning cover of Metallica's "Orion" and their well known rendition of "Stairway to Heaven" they proceeded to let about 20 fans on stage for no other reason than to dance. While some bands would pull such a stunt for half a song or so, Rodrigo Y Gabriela let these intensely grateful fans smile, dance, and celebrate with them for 5 songs.
Beyond their incomprehensible musical talents, what I honestly believe jumpstarted these two from struggling to success is their gigantic smiles, obvious gratitude, and genuine love for their fans. As they closed out the night Gabriela kept her hands in the shape of a heart and pointed sincerely towards the fans showing her undying adoration for them. Rodrigo walked across the entire stage over 5 times in the last few minutes seemingly making eye contact with every fan in the room and smiling at each and every one.
It has been 10 years since this team of fantastic artists put together their first album (now newly remastered) and the most impressive part isn't that they still play through each and every track with great ease, it's that they still smile from ear to ear while they do it and that they so honestly are in love with what they do and those that come to support them. It is incredible to see what two determined people can accomplish starting out with basically nothing but a few guitars between them. Thank you Rodrigo y Gabriela for all the wonderful music and fantastic energy you have given all of us over the years.
Nicci Allen is a photography/graphic design major who has been an active and involved member of the music scene since she was old enough to be let in local shows. Whether it was bartending concerts at The Pearl Room, being an involved member of the Girls of Metal, booking and promoting local shows and benefits, attending festivals and supporting artists of every genre, or DJing and writing her own music, Nicci has always made music a necessity in her daily life.
Features

Joe Hendrickson | September 16, 2019

BABYMETAL & Avatar @ Aragon Ballroom – Chicago, IL September 20, 2019 Preview by Joe Hendrickson BABYMETAL is currently on tour with support from Avatar and On Stage Review...

Featured Photographer

Nicci Allen | September 11, 2019

LINGUA IGNOTA @ THE EMPTY BOTTLE, CHICAGO, IL September 9th, 2019 Photos/Review: Nicci Allen When I first heard of Lingua Ignota, the headlines alone sparked my interest. I kept...
ABOUT ONSTAGE REVIEW

On Stage Review is a collaboration of passionate and enthusiastic music lovers coming together to give you an inside look into some of today's hottest and most intriguing artists.

We'll dive into their lives and careers on and off the stage and give you an up close perspective few get to see.

Facebook

ADMIN
Copyright © 2017 ONSTAGE REVIEW.com. Site by FM Imagery.