ROYAL THUNDER @ BEAT KITCHEN – Chicago, IL
By Dan Scheiman on April 21, 2017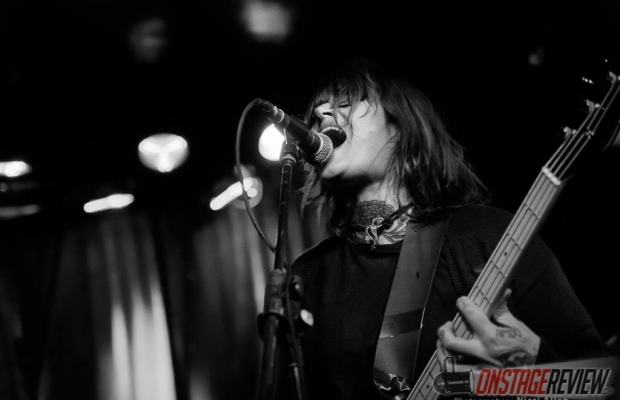 April 18, 2017
Beat Kitchen offered a much more intimate setting than the last venue I witnessed Royal Thunder. While I was lucky enough to be front and center, as soon as the sound test began my gut was telling me this was going to be a lot to handle. Sure enough, the very first downbeat of the first track rattled my insides and shook me to the core.
For those who are unaware of who Royal Thunder is, they are an insanely heavy progressive rock band from Atlanta, Georgia with enough emotional depth and passion to make even the toughest metalheads collapse under the weight of their heart-wrenching music.
Mlny Parsonz is the frontwoman of the band behind the mic with bass in hand. The vocal strength and pure emotive expression that this woman portrays is absolutely awe-inspiring. Artists like her are the reason people need to be getting off their couch and venturing out into the world to experience live music. No matter how big of a music lover you are, if you don't regularly go out to concerts I feel like you are missing out on so much of what the music community has to offer. Royal Thunder is definitely best served live, raw, and unfiltered.
Within the progression of each track there is a story to be told. Every member of the band has a specific pocket that they fit into within the ridiculously huge wall of sound they produce. The guitar work is a brilliant mix of doom metal riffs, bluesy guitar howls, and pain ridden ripping solos. The drummer locks in with an air tight connection to the filthy, almost raunchy bass licks. All of this insanity is topped off with the wonderfully talented and unique voice of Mlny Parsonz at full throttle. Her vocal range goes beyond pitch; this woman shows a full spectrum of sentimental presentation. This was my second run-through seeing Royal Thunder live, and from here on out I will not be missing them when they come to town. Be sure to check out their newest album Wick if you haven't already.
Dan Scheiman With an entirely open and unbiased obsession with music, Dan decided to take the opportunity given to him to share his thoughts for On Stage Review. Having been to hundreds of concerts of a variety of styles and genres over the years, he's no stranger to live music. He has been playing bass guitar for over twelve years now and has been dabbling in vocal work, drums, and piano for almost as long. Growing up listening to metal and industrial then transitioning into jazz and classical, and now having a particular love for funk or anything that grooves; his perspective comes from a well-rounded musical background and some amateur experience as a musician. He has too many favorite bands to list, but some of his favorite live experiences include: Sigur Ros, Porcupine Tree, Papadosio, Tool, The Ocean, Animals As Leaders, Lettuce, and of course, Victor Wooten.
Advertisement

Features

David Urmanski | June 27, 2017

2017 COUNTRY LAKESHAKE @ HUNTINGTON BANK PAVILION – Chicago, IL June 25, 2017 Review by David Urmanski Photos by David Urmanski The greatly anticipated three-day Country Lakeshake music festival...

Featured Photographer

fmonstage | May 3, 2017

I've been a fan of music for as long as I can remember. I was introduced to hard rock and metal when I was in high school, but eventually...
ABOUT ONSTAGE REVIEW

On Stage Review is a collaboration of passionate and enthusiastic music lovers coming together to give you an inside look into some of today's hottest and most intriguing artists.

We'll dive into their lives and careers on and off the stage and give you an up close perspective few get to see.

Facebook

ADMIN
Copyright © 2014 ONSTAGE REVIEW.com. Site by FM Imagery