SAVE FERRIS @ THE HOUSE OF BLUES – Anaheim, CA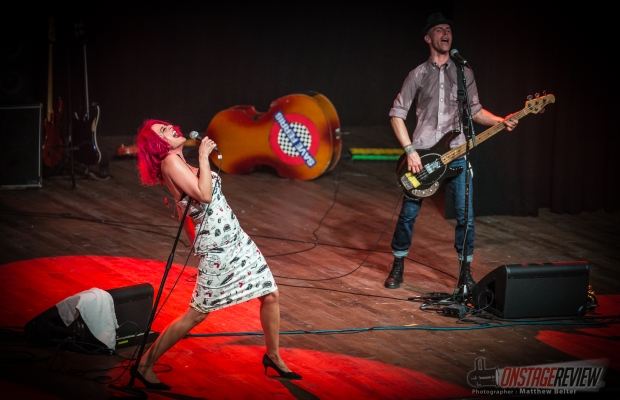 March 26, 2017
"And as for Monique Powell, she put on a clinic Sunday evening. Her vocals were crisp, her energy levels high, and she captivated the capacity crowd all night long. It was a brilliant performance!"
SAVE FERRIS is considered by many to be one of the most talented ska bands of all-time. Founded in 1995, their unique brand of "ska-punk" helped to revive a fading genre that originated in Jamaica back in the late 1950's. SAVE FERRIS, fronted by the uber-talented Monique Powell, fused together traditional ska music with an edgy punk rock attitude that ultimately took the world by storm. Who would have thought that after their final break-up back in 2003, this little-know group of from Garden Grove, CA would still be around and killing it in 2017? At the time, probably not too many. However, SAVE FERRIS withstood the test of time and are still one of the most incredible bands to perform on stage. Their sold-out show at the new House of Blues in Anaheim, CA on March 26th was no exception and failed to disappoint their legions of loyal fans in attendance.
After an energetic set from openers WETWOOD SMOKES and VISTA KICKS (which BTW were both solid, but personally seemed a bit out of place on this bill), SAVE FERRIS took the stage and opened with the 1997 classic "The World is New". It was just want what the doctor ordered to get the anxious crowd off their feet and skanking to the beat for what would be a show like no other in Anaheim's newly revitalized Garden Walk district. For the next 2 hours, the nearly 2000 thousand fans in attendance were captivated by SAVE FERRIS and their amazing set-list featuring 21 standards including hits such as "Goodbye", "Mistaken", and "I Know" off of 1999's 10 Things I Hate About You soundtrack. The night ended with a four-song encore including "Spam", "Artificial Life" (An OPERATION IVY cover), "New Sound" (off their new EP Checkered Past), and their biggest hit, a 1997 cover of the DEXY'S MIDNIGHT RUNNERS standard, "Come on Eileen". What an incredible song to cap off the evening's amazing set-list.
If you happened to be one of the lucky ones in attendance Sunday night at the House of Blues, you were most certainly treated to an amazing evening music from one of the most influential ska bands to ever come out of Orange County. SAVE FERRIS let it all hang out with a truly memorable performance that undoubtedly left the sold-out Anaheim crowd wanting more. Wire to wire, this band was loose, energetic, and musically spot on the entire show. And as for Monique Powell, she put on a clinic Sunday evening. Her vocals were crisp, her energy levels high, and she captivated the capacity crowd all night long. It was a brilliant performance! Aside from a few technical difficulties throughout the evening (most unnoticeable I might add), I thought this reincarnation of SAVE FERRIS bordered spectacular. And gauging the crowds' energy all night long (including standard mosh pits and obligatory crowd surfing), I think it's safe to say they were dialed in as well. As the show ended and the houselights flickered on, I noticed that most in attendance were smiling from ear to ear with a good portion of the GA floor drenched in sweat from a night of non-stop dancing. That being said, who wouldn't want to spend a Sunday evening with SAVE FERRIS and a couple thousand of their closest friends? Until next time…
Stay Frosty and Rock On!