SLIGHTLY STOOPID @ FIRSTMERIT BANK PAVILION – Chicago, IL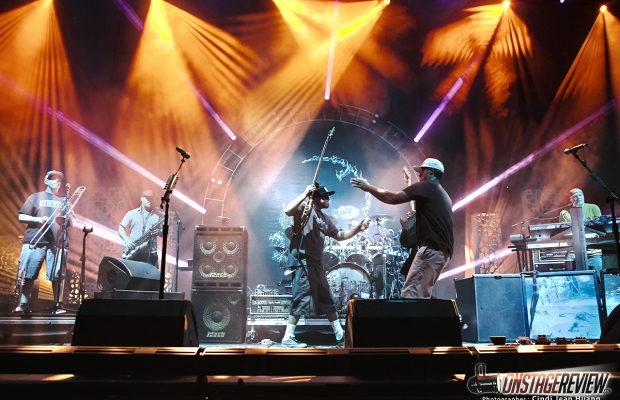 August 26th, 2016
It was a flawless 74 degrees as the sun set on the lake front in Chi City this past Friday, August 26th.
Our summers here are short, and this one's almost over. We had to make this count. We had to go all out.
A long time ago, In a galaxy far far away….A distinct medicinal aroma, a perpetual cloud if you will, was in the air as Darth Vader's theme blasted out in the night.
This was the Return of the Redeye tour and The Force was strong with these men.
Slightly Stoopid are legends: true Jedi of the Jam scene. Since their inception decades ago, they've been cooking up tasty jams of all flavors to soothe our munchies. Punk, rock, folk, reggae, hip hop and a heaping scoop of psychedelia are their spices of choice.
After touring relentlessly for nearly a decade, I honestly thought I might be in for a lower energy show. I thought the road may have worn them down.
These cats are getting older. I wouldn't blame them if they started to cool off and just cruise through some chill sets, collect a check and call it a day.
I was wrong.
Baked Darth Vader would have choked me unconscious and fed me to a flock of stoned Ewoks if he heard me suggest that Stoopid would do anything less than kill it.
This was one of the best if not THE best show I've been to all year. It was church on Friday night for me: A spiritual bath of positive party energy.
They played classics: "Collie Man", "2am", "Closer to the Sun" and "No Cocaine" being particularly righteous for me.
The played some new tunes concocted scientifically and hydroponically…. Back at the lab: "The Prophet" and "Come Around" were raw.
They also absolutely SLAYED a horn fueled "Franklin's Tower". This was a high point, pun intended, for me and the many Dead fans in attendance.
The First Merit Bank Pavilion was magic. The vibe was just right on the lakefront as the sun set. It really couldn't get any better.
After all was said and done: I survived an assault from blazed stormtroopers, danced with Princess Leia, and a Wookie helped treat my glaucoma and chronic lower back pain simultaneously. Not a bad night.
I will not miss Slightly Stoopid next time they come through, nor any other time for that matter.
Slightly Stoopid
SOJA