SONATA ARCTICA @ CITY NATIONAL GROVE – Anaheim, CA
By Matthew Belter on December 7, 2016
December 4th, 2016
"If you have not seen Sonata Arctica live, you are missing out on one of the most talented bands on the metal scene today.  Kakko's voice sounded remarkable from start to finish, and the musicianship of Portimo, Klingenberg, Viljanen, and Kauppinen were second to none."
Sonata Arctica may be one of the most kick-ass (and possibly underappreciated) bands touring the states this year.  Inspired by power metal and fused with progressive undertones, this talented quintet from Kemi, Finland have taken the states by storm on their current tour in support of their 2016 release, The Ninth Hour.  If you have never listened to Sonata Arctica, they truly are an amazing band. Their distinct sound is like no other on the scene today – fusing traditional rock and melodic metal within a symphonic framework that is fresh, powerful, and unmistakable.
On December 4th, Sonata Arctica took over The City National Grove in Anaheim, CA for night of musical mayhem that challenged the mind and inspired the soul. Whether you were a long-time follower of the band or just started listening to their music, there was something for everyone who attended the show on Sunday evening.  Kicking off the evening was Finnish death metal band, Omnium Gatherum.  Jukka Pelkonen's energy was infectious and easily fired up the Orange County crowd with a hard-core sound that kicked some serious ass.  These guys brought their "A-Game" to Anaheim and were super impressive.  Next up was Leaves' Eyes.  These German-Norwegian symphonic metallers took it up a notch with a sound so fierce (and yet so beautiful) it left little to be desired during their 11-song set.  I am glad the Vikings made a return trip to Southern California and look forward to seeing them in 2017.  Amazing set.
After a short break, Sonata Arctica took the stage and immediately spun the near-capacity crowd into hyper-drive with their first tracks of the night, "Closer to an Animal" and "Life".  These were in my opinion the perfect songs to kick off the show and set the stage for an amazing night of metal in the OC.  Next up was "The Wolves Die Young" off their 2014 album, Pariah's Child.  Probably one of my favorite Sonata Arctica songs and took energy levels to a whole new level down in the pit.  For the next hour and a half, frontman Tony Kakko and company absolutely killed it with eleven more tracks that spanned their entire discography.   Throughout the show, Sonata Arctica's amazing chemistry was showcased by an unbelievable group of musicians including the ever-talented Tommy Portimo on Drums, Henrik Klingenberg on Keyboards, Elias Viljanen on Guitar, and Pasi Kauppinen on Bass.  I am sure it's not easy to pull off a show like this with so much talent on stage at any given time, but this band does it in fine fashion.  Sonata Arctica wrapped up their powerful set with two classics, "I Have a Right" and "Don't Say a Word", which put the perfect metal bow on an incredible night of music at The Grove.
If you have not seen Sonata Arctica live, you are missing out on one of the most talented bands on the metal scene today.  Kakko's voice sounded remarkable from start to finish, and the musicianship of Portimo, Klingenberg, Viljanen, and Kauppinen were second to none.  Sonata Arctica's brand of "no-frills" melodic metal may not be for everybody, but walking away from Sunday night's performance I was convinced otherwise.  Their music was powerful, their lyrics were meaningful, and their performance was heartfelt.  Sonata Arctica, thank you for an amazing show on Sunday night.  I look forward to catching another one of your inspiring performances down the road.  Until next time…
For more information on Sonata Arctica and their 2016/2017 World Tour, please click HERE.
Stay Frosty and Rock On!
Setlist
"Everything Fades to Grey" (Intro)
"Closer to an Animal"
"Life"
"The Wolves Die Young"
"In Black and White"
"Shamandalie / Tallulah / The Misery"
"Ain't Your Fairytale"
"Full Moon"
"Among the Shooting Stars"
"No More Silence"
"We Are What We Are"
"The Power of One"
"Keeping Live Music Alive" (Speech)
"I Have a Right"
"Don't Say a Word"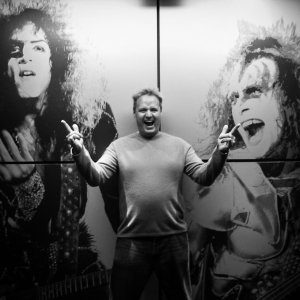 Matthew Belter started viewing life through the lens in high school and continued that practice during his more than 20 years in retail. Executive roles for a variety of companies provided him with the opportunity to travel the country. His camera gave him the means to appreciate and remember every stop on the journey. A year after leaving the corporate world to join and expand his brother's ice-delivery company, Matthew found himself buried in the day-to-day of a booming business, with no creative outlets to feed his soul. Out of frustration, he picked up a camera and started recording what he saw. It wasn't long before his reawakened passion for photography became the thread that pulled his life back into balance. Now he specializes in live concert photography, as well as portraiture, landscapes, and sports. Live music has long been a hobby, and he appreciates the challenge of representing the raw joy, focus, determination, and effort he sees on stage. He continually seeks to tell the story of the people around him and strives to capture moments and expressions of artistry and emotion.
Features

Joe Hendrickson | January 17, 2020

Danny Worsnop & Starbenders @ The Forge – Joliet, IL January 15, 2020 Review & Photos by Joe Hendrickson Danny Worsnop, of Asking Alexandria and We Are Harlot, set...

Featured Photographer

Joe Hendrickson | January 17, 2020

Danny Worsnop & Starbenders @ The Forge – Joliet, IL January 15, 2020 Review & Photos by Joe Hendrickson Danny Worsnop, of Asking Alexandria and We Are Harlot, set...
ABOUT ONSTAGE REVIEW

On Stage Review is a collaboration of passionate and enthusiastic music lovers coming together to give you an inside look into some of today's hottest and most intriguing artists.

We'll dive into their lives and careers on and off the stage and give you an up close perspective few get to see.

Facebook

ADMIN
Copyright © 2017 ONSTAGE REVIEW.com. Site by FM Imagery.