STEEL PANTHER @ House of Blues Chicago – Chicago, IL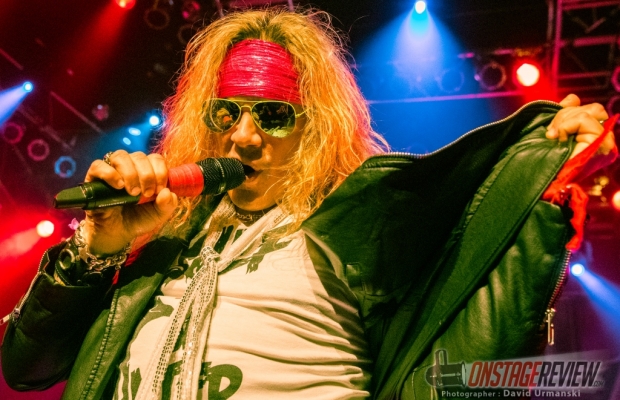 December 4, 2016
The Fanthers (Fans of Steel Panther) were out in force in lead vocalist, Michael Starr's, hometown of Chicago, Illinois  as the glam metal band,  hailing from Los Angeles since its origin nearly 20 years ago under former band names Metal Shop and Metal Skool before becoming Steel Panther in 2008, performed to a sold-out crowd at the House of Blues Chicago Sunday night.  The quartet consisting of lead vocalist, Ralph Saenz AKA "Michael Starr", guitarist and backing vocalist, Russ Parrish AKA "Satchel", bassist and backing vocalist, Travis Haley AKA "Lexxi Foxx", and drummer and backing vocalist, Darren Leader AKA "Stix Zadinia", played one profane, yet humerous, song after another with the crowd singing every crude word right along with them and enjoying every minute of it.
Steel Panther, recently depicted as a "joke band" by fellow rocker, Nikki Sixx of Motley Crue and Sixx A.M. fame,  certainly lived up to their expectations as  the band got right to their own unique brand of over-the-top rock, pelvic-thrusting included, as they opened their 14 song set with "Eyes of a Panther" followed by other fan favorites including "Just Like Tiger Woods", "Party Like Tomorrow Is the End of the World", "Asian Hooker" and encores "Community Property" and "Party All Day (F**k All Night)".  Regardless of whether or not you agree with Nikki Sixx as it pertains to Steel Panther's hair metal hits, this band certainly knows how to create a party-type atmosphere and keep the attention of a crowd during their live performance.
Having their 2014 chart topper "All You Can Eat" debut at #1 on Billboard's Top Current Comedy chart and #24 on their Top 200 Album chart doesn't diminish Steel Panther's ability to create catchy tunes either.   In fact, the band just released the music video for their first single and Cheap Trick remake "She's Tight" from their new studio album, Lower the Bar, being released on February 24th, 2017 so expect more of the same brash style of rock n' roll melodies from this band in coming months.   Whether you care to join the party or run the other way, the party will still go on with or without you as Steel Panther does not appear to be slowing down anytime soon.  So what are you waiting for?  If you aren't a Fanther now, jump on the bandwagon and enjoy the ride…you know you want to!