STEEL PANTHER W/ JACOB CADE @ THE FILLMORE – DENVER, CO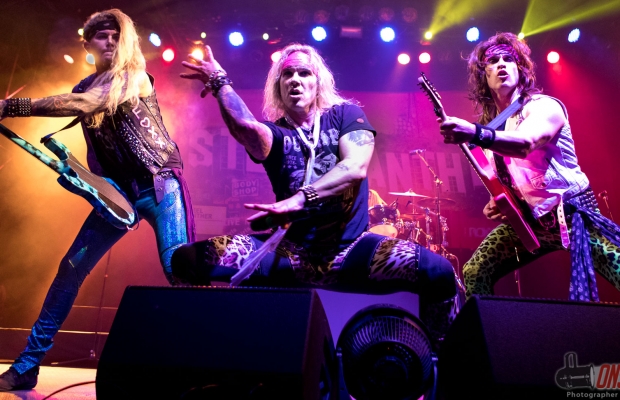 March 9, 2018
Review and Photos by Susie Wolcott
Jacob Cade Breaks Down the Doors Opening for Steel Panther.
From the very first note, Cade brought down the house.  First timers in the crowd were shocked at the raw talent and originality oozing from his young pores.  His genuine mix of high-energy riffs, amp jumping antics and on-stage presence are tempered by the humility and graciousness of a Parker, CO native.
Cade's songwriting and lyrics connect the crowd, who grew rowdier and rowdier with each song.  He covered the stage like an electric blanket, tearing guitar solos mid-sprint from side to side.  A massive Marshall stack provided the launchpad for his biggest jump of the night.  With an actors skill, Cade transitioned to a slow melodic tune pulling the spotlights and crowd focus into a corner where he had crumpled into a heap.  Without warning, he erupted back to his feet and rocketed across the stage leaking fire from his fingers as the notes poured into the crowd.  What set's Cade apart, however, is his humility.  From high school gymnasiums to live radio interviews, Cade wants to introduce you to his music, no matter who you are.  He welcomes all fans and genuinely connects with their stories and personalities. Like Jacob said, "If you want to meet me, I want to meet you!"
Staring into the Eyes of a Panther!
By the end of Cade's set, the crowd was whipped into such a frenzy, only Stix, Satchel, Lexxi and Mr. Starr could top it.  As with all Denver shows, Steel Panther brought their very best. Starting off with crowd favorites "Everybody Wants Some" and "Eyes of a Panther", Sexy Michael Starr dragged everyone through a setlist straight from Lexxi's Mom's Garage.
On-stage collaborations and XXX-rated stage banter keep fans coming back for more and more Panther.  Lexxi, Satchel & Mr. Starr's on-stage antics came out hard and fast with phallic balloons to emphasize "Going in the Backdoor".  Surprising the crowd and flexing the Panther Rolodex, Rock'n'Roll Legend Frank Hannon of Tesla joined to cover Eruption and Running with the Devil.  Watching Satchel's mouth agape as Hannon crushed a solo was a highlight of the evening.
By the middle of the show, it was time to "Party like Its the End of the World" and the audience took it to heart.  Crowd surfing started and the volume knobs were at 11. Stix was slinging stick after stick into the rabid crowd.  Then, a cover of "Crazy Train" starts and the crowd never recovered.  "Living on a Prayer" always gets the girls on stage and the best ones stayed for "Pour Some Sugar On Me".  None compare to Lexxi Foxx's raw sex appeal, continuously boosted with hairspray, mirror checks and lipstick dabs.
After "Poontang Boomerang", Satchel got his revenge with a wicked guitar solo. Soon, he was buried in all the bras and XXL lingerie thrown on stage. To close out regulation time, Panther played favorites like "Community Property" and "Death to All but Metal".  Before anyone realized it, Sexy Michael Starr was closing out with "Party All Day", which left everyone covered in sweat and reeling with post-coital bliss.