STEVE AOKI @ STUBB'S – AUSTIN, TX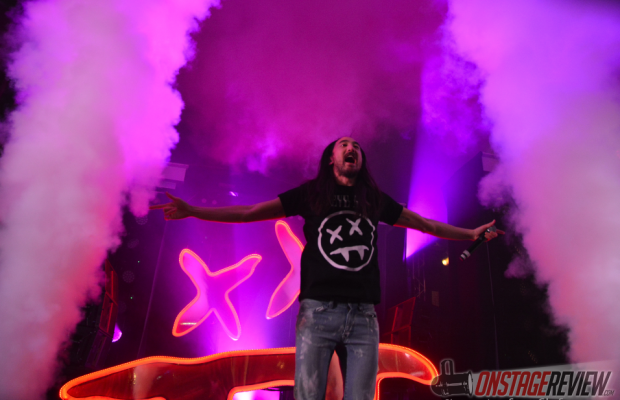 February 28, 2018
Steve Aoki is a worldwide staple in the EDM/music industry to say the least. The American born California native has over 12 million monthly listeners on Spotify, with some of his most famous tracks like "Just Hold On" reaching 321,000,000 streams. Aoki is known for his ability to collaborate with artists from all genres of music such as Desiigner, Lil Uzi Vert, Snoop Lion, and even Linkin Park just to name a few. The American producer has DJ'd some of the world largest EDM festivals such as Tomorrowland and Ultra along with countless shows year round. His, 2018 pre festival season, US tour "Kolony" includes Aoki as the headliner along with his friends Desiigner, Deorro, Grandtheft, and Party Pupils.
The 1st leg of the Texas 4-step for the "Kolony" tour was hosted at the famous Stubb's Amphitheater in Austin Texas. While Stubb's is more known to hosting country and alternative artists, the open air venue under the Austin Skyline proved to be the perfect setting for over 4 hours of energy from Aoki and company.
After Party Pupils warmed up the crowd, the Toronto native, Grandtheft, took the stage and got the crowd moving with some of his hits "Keep it 100", "Easy Go", and his new song "Square One" (ft. MAX). He also paid tribute to the king of "the 6" and played "God's Plan" which had the whole crowd singing.
California native DJ/producer "Deorro" kept the energy going after Grandtheft. I had never heard of Deorro prior to the show, but his latin fusion and bouncy drops quickly made me a fan (and pretty much dancing in the photo pit). The edm producer has over 6 million monthly listeners on Spotify with songs like "Five More Hours" (with Chris Brown) reaching 374 million streams. The latin fusion in Deorro's music along with traditional edm drops was like nothing I had ever heard before. The sun had set by this point and Deorro's music along with beach balls flying all over the place, a pumped up crowd, and of course a run of "Despacito" was the perfect lead into the two headliners.
Desiigner is one of the most unique and energetic rappers in the modern game. The Brooklyn native really blew up in 2016 after his hit song "Panda" completely took over the rap game reaching number 1 on the Billboard charts. The song has over 690 million streams on Spotify and even was featured on "Father Stretch My Hands pt.2" on Kanye West's "The Life of Pablo". But make no mistake, Desiigner is not a one hit wonder. He continued to release tracks such as "Timmy Turner" and "Champions" all of which have over 100 million streams on Spotify.
I was really looking forward to seeing Desiigner live, as he is known to engage the crowd in his energetic shows. He took the stage and the crowd erupted as he hopped around the stage playing songs like "Outlet","Liife", and "Timmy Turner". The atmosphere was electric and you could tell how much he loved his fans as he got up on the barricades, took his shirt off, and hopped into the crowd. It was almost like watching a vintage rock concert. The bass in his songs is really heavy and it was funny to see even some of the older audience members vibing with some new wave rap. Desiigner really seemed to connect with the Austin crowd yelling "this is where it all started", referring to some of his earlier SXSW performances. Desiigner is a natural born performer, and his opening for Steve Aoki almost represents the new direction of music in which rap and edm are combining to create and unforgettable experience for everyone.
Just as I thought this experience couldn't get any better, the legend of Dance music himself Steve Aoki took the stage behind his custom LCD stand waving to the sold out crowd. Steve Aoki's audience engagement is on a whole other level compared to traditional edm sets. The combination of non stop dance music, constant hooks, drops, cryo cannons, champagne sprays, and his famous "caking" really provides an experience that everyone can enjoy and let loose too. Aoki played some of his best songs like "Azukita", "Just Hold on" (ft. Louis tomlinson), and "Mic Drop" (which he brought Desiigner out for). Aoki fused American pop hits into dance tracks that got everyone moving and singing at the same time. Aoki does this thing called "caking" where he essentially tosses a bunch of cakes into the crowd, and the fans absolutely live for it. Towards the end of the set he brought out Austin native Lance Armstrong and took a crowd photo that I'm sure will probably be up on instagram soon. He finished the night by bringing out all his friends/opening acts out and they all took a bow under the austin sky and in front of a truly satisfied Stubbs crowd.
I truly believe that Aoki has created an EDM experience unlike anything I've ever witnessed. I highly recommend checking out Steve Aoki on his Kolony tour before it ends on 3/17, you won't be disappointed.
STEVE AOKI
DESIIGNER
DEORRO
GRANDTHEFT