STITCHED UP HEART & KALEIDO @ THE FORGE – JOLIET, IL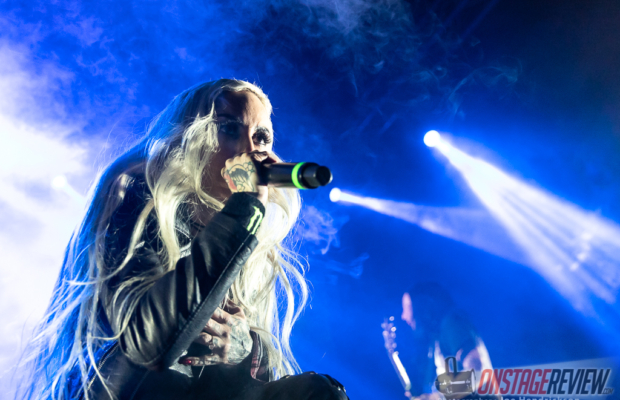 May 20, 2019
Fresh off of their tour with Godsmack and Volbeat, Stitched Up Heart took off on their own tour with Kaleido where they hit The Forge on May 20, 2019. A friend of mine turned me onto Stitched Up Heart when they saw them on their previous tour and said that they were fantastic so I had to check them out. The night consisted of skilled female front rock bands surrounded by talented musicians. I'd recommend all of the bands, especially live!
Darling started off the night with a low key, acoustic set with a mix of covers and originals. She has a great voice and I look forward to hearing the music that she puts out.
Next up was Bullet to the Heart, a local Chicago band with singer Audrey Behun leading the way. Audrey gave a heartfelt message about supporting people who have mental illness and dedicated "Breathe" to a family member. The energy of this young, up-and-coming band is fantastic and I hope that they end up going far! They have a great mixture of screaming and singing. You can tell in the pictures that the band has great chemistry together.
Another Chicago band, Ignescent, was next on the bill; fronted by singer, Jennifer Benson. The music is filled with powerful lyrics, clean vocal, with a little bit of screaming thrown into some of the songs by Joey Sepulveda. The shredding guitar solos by Deven Elion were fantastic and as a guitarist, I can really appreciate the work put in here. Check out their single, "Into The Night," which was produced by Cameron Pierce Mizell (Memphis May Fire, Sleeping With Sirens, Spoken).
This was Detroit, MI's Kaleido's last night on the tour with Stitched Up Heart and they sure brought a ton of energy! Christina Chriss really impressed me with how she demanded the attention of the crowd. She was jumping around, headbanging, dancing and having a blast the entire time which made her a real joy to watch. It made it very easy to get some great pictures! With this being the bands last show on the tour, Stitched Up Heart came out dressed up in outfits like a whoopie cushion, unicorn, and a t-rex. It was a lot of fun and made for a very unique experience for the band and the crowd.
Before Stitched Up Heart took the stage, they opened with some Game of Thrones music and the staged filled up with smoke, which made the lights really pop. GOT fans, see the resemblance of Daenerys Targaryen? Anyways. Stitched Up Heart came out and the venue lit up with cheering. Mixi's voice is fantastic, she can hit those high notes, and has a killer scream while reminding me of a mix between In This Moment and Halestorm. Decker, Merritt and Randy were also flawless and the entire band was having a great time smiling and headbanging with each other. What else could you want?! I'm sure that's a relatively common comparison but I think that it's fair. The music sounded great throughout all of the bands sets but was especially heavy and deep during SUH.
Some of my favorite songs from their set was City of Angels and Lost (Sully Erna's spot filled in by Darling), as well as being able to check out some new unreleased material that they'll be releasing. One thing that stood out to me was when Mixi sat down and talked about how they've been through the area a few times and their first time as at the Penny Road Pub in 2011. It's great to hear how they worked their way up and a place that many local bands have played at, including myself. They ended the night with a new song that they wanted feedback on that everyone loved so maybe we'll see that as their next single!
I would definitely see all of these bands again and if you didn't attend the show, give these artists a shot!
Darling
Bullet to the Heart
Ignescent
Kaleido
Stitched Up Heart