SWITCHFOOT @ STUBBS BBQ – AUSTIN TX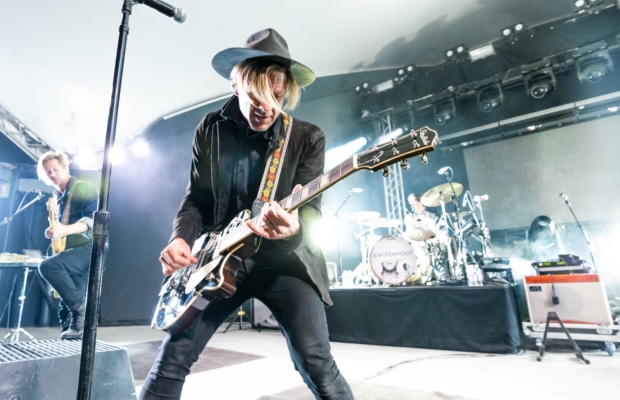 March 18th, 2019
Photos and review by John Feinberg
Happy is NOT just a Yuppie word; it's a state of feeling when you've had the night rocked by Switchfoot on a warm night in Austin, Texas.
On a quick-and-dirty recap for those unfamiliar; Switchfoot started in 1996 and only managed to play a few shows before they were signed with a label. Jon and Tim Foreman, along with Chad Butler, finished three albums before Jerome Fontamillas was added to the band for The Beautiful Letdown. Later, Drew Shirley became the fifth member during Nothing is Sound. All of this happened in a span of ten years, with several platinum hits in between.
One of the issues the band has faced over the 20+ years is their hardened association as a Christian rock band, to which Jon has said could alienate some fanbase; he would rather they focus on music opening someone's mind. As the band has grown in style of music, so has their live performance. They've always been a very audience-inclusive band, often jumping into the crowd to have fans lend some vocals or share experiences up close.
With this performance during their Native Tongue album tour, it has moved to 11 on a scale of 1-10. Jon especially has led the charge for audience interaction, with climbing on trees, speakers, crowd-surfing and an unplugged performance at the BACK of the crowd during the set.
This sort of inclusion almost makes it feel like Jon is happier to be in the crowd with you than you are with him; it's genuine, it's raw and it's real. There's no phoning-in emotions with the Foreman brothers.The band also deserves kudos to their jaw-dropping stage setup, ranging from the lights to the plethora of bubbles that get released into the crowd as a disco ball twinkles brightly into the night. It truly is one example where photos cannot do the experience justice.
As for the music itself, it's Switchfoot. Do I need to say more? If you've managed to catch them in concert before, or are looking to for this tour, expect the same intense, sincere and crisp Jon Foreman voice we've been listening to for the last 20+ years. It has not changed. At all. Nor should it.
Jon took to the guitar a few times, as did Jerome when he wasn't on the keys. Both, along with Drew full-time on the guitar, can really pump out such a harmony with one another that makes it hard to decide if they're better off with three guitar players all the time. Lastly, don't worry about not arriving early if it's standing-only. Jon traversed the packed outdoor crowd like it was no one's business.
And with the crowd as friendly as the band themselves, you'll have a chance to get up close to him if he's out-and-about. It's all about sharing the love with these guys and it shows in their fans too.
The only negative I can managed to muster up is the timing of the show, which is not on the band but on the venue. A Monday night concert unfortunately ends too early for a band of this caliper. Towards the end, it felt rushed compared to other Switchfoot concerts that either start earlier in the day or end later in the evening. The set lasted for about one hour and change, which definitely felt too short especially compared to the two acts before. Still, it was worth the wait and the $9 beer. Wait for Switchfoot, even if you've been waiting 20+ years, or 24.
The NextGEN gallery with ID/slug: 871 does not exist or is empty.