Talib Kweli & K'Valentine @ City Winery – Chicago, IL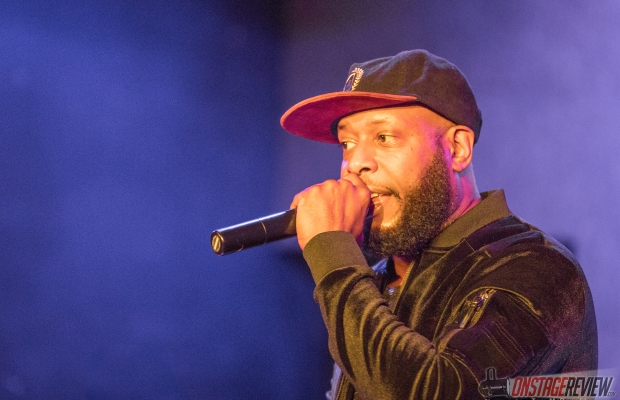 January 6, 2018
Legendary Brooklyn MC, Talib Kweli, performed two sold out shows at City Winery on Saturday night, January 6, 2018.   Kweli is recognized by hip hop fans as one of the top lyricists in the game which was confirmed by Jay-Z's verse on 2003's "Moment of Clarity" where Hov spits, "If skills sold, truth be told / I'd probably be, lyrically, Talib Kweli."  Touring on the back of his recent November release, "Radio Silence," and supported by his Javotti Media label mate, Chicago's own K'Valentine, Kweli delivered the heat to a packed and chanting crowd.  For those who have not been, City Winery has emerged into one of Chicago's best listening rooms for music and attracts some of the country's top touring talent.  One of five City Winery venues across the country, Michael Dorf's artful concept combines music with great food and wine.  A great way to experience live music.
K'Valentine, a stunner clad in orange hot pants and black knee high boots, kicked off her set with selections off of her 2017 album, "Here For a Reason" released on Talib Kweli's independent label, Javotti Media.  The title of the album is a reference to a tragic auto accident in 2015 that nearly cost her life when she was hit by a drunk driver at full speed.  That type of experience and trauma served as a catalyst to chase her dream.  Performing with her DJ, the beats were first rate, and her flow was even and melodic.  Arguably her album has been slept on, but with her poetry background, her lyrics are smart, and she has the hustle to press forward in the game under Talib's mentorship.  The diverse City Winery audience, including many of her friends from growing up on the South Side, responded enthusiastically to K'Valentine's set.  As a high school student, K'Valentine received the following simple but impactful advice from the revered Maya Angelou with whom she had a chance meeting: "Keep Going."  With increasing momentum and recognition, including a recent profile in the Chicago Sun Times, K'Valentine is going to do just that: keep going.
After intermission, Talib Kweli took the stage decked out in an all black ensemble and his trademark baseball hat, and blazed through tracks from his impressive body of work dating back twenty years, most recently of which was his eighth studio album, "Radio Silence."  His birth name, "Talib" means "student" or "seeker" and he has used that pursuit of knowledge to carve out his real estate in the hip hop community.  A self-labeled "Social Justice Warrior," Kweli is often categorized along with Chicago's own Common, as a "socially conscious rapper."  But that label should not detract from his formidable talent including his partnership with some of the best producers in the game to create an impressive catalog of auditory gems that play equally well in the car or the club.  Kweli is among the loudest social activist voices in the hip hop community, often mixing it up in interviews and with fans and trolls on his prolific Twitter feed speaking out against police brutality, for the Black Lives Matter movement, and of course, against the Trump administration.  Playing to the theme of his new album, "Radio Silence," Kweli challenged his City Winery audience to speak up and to break through the status quo and the complacency regardless of the walls of social containment, demonstrating that hip hop is not just about rapping about bitches, hoes, cars, wings, weed, and stacks.  Kweli wrapped up the show up with a few classics including the Kanye West produced "Get By" off his 2002 classic debut album, "Quality," one of my all time favorite hip hop joints.  "We sell crack to our own out the back of our homes / We smell the musk at the dusk in the crack of the dawn / We go through "Episodes II" like "Attack of the Clones" / Work 'til we break our back and you hear the crack of the bone / Just to get by, just to get by." The packed City Winery crowd was on its feet, fueled by the superb house wines, and sang every word of the burner.  My only grievance of the night was the lack of a live band to back up Kweli as I love to hear great studio beats reproduced by live musicians.  Nonetheless, his DJ was smooth as silk on the drops and the set was a joy to his attentive, loyal and appreciative fans.
 Talib Kweli
K'Valentine