THE DEAD DEADS @ BEAT KITCHEN – Chicago, IL
By Dan Scheiman on February 25, 2018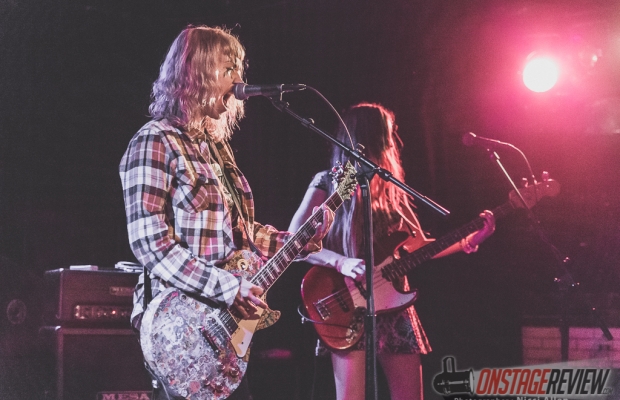 February 19, 2018
Dan Scheiman
The Dead Deads are an incredibly interesting band born in Nashville that are just finishing up their US tour with Stone Sour and Halestorm. Because of how versatile this band's sound is, there really isn't one genre that could be attached to them. The first thought that came to mind (which I'm pretty sure isn't a thing) would be rock fusion. This group combines classic rock vibes, a southern soulful touch, a pinch of laid back surf rock, ridiculously heavy metal riffs, playful psychedelic undertones, and a clearly rooted punk rock spirit to create a powerhouse of a band that keeps you guessing just as much as they keep you enthralled.
I was introduced to this group for the first time from just a few feet away, and I am absolutely ecstatic that I got to experience them up close and personal at the Beat Kitchen. This was an up close and personal introduction. From doing a little digging, it appears that this group has altered their lineup since they started. I am not sure who they may be missing, but I can assure you the new lineup has enough vitality, talent, and gravitation to keep the original Dead Deads' fire alive and burning.
I couldn't quite put my finger on what it was in particular that I loved so much about this group live, but their playfulness and contentment on stage was certainly something that stood out. The common musician nowadays is often stuck in their head when they play live, but not this crew. This group had enough fun vibes and intensity radiating from them to fuel their entire crowd.
Meta Dead, the lead singer/guitarist, reminded me of a combination of Mlny Parsonz from Royal Thunder and Amanda Palmer from The Dresden Dolls. She had enough power coursing through her to crush her audience like a steamroller, but her playful antics kept you believing that she would never possibly hurt her adoring fans. The chemistry between Meta and the other guitarists was such a heartwarming connection to witness. This group really did seem to genuinely love playing together.
The backbone of the band, Johnnie Dead, was an absolutely animal of a drummer. Seeing her in the venue before the performance stretching her wrists and warming up I assumed she was a professional grade percussionist, and sure as hell she did not disappoint. The creativity, confidence, and aggressive precision that she brought to the stage was a huge portion of why this show rocked so damn hard. Regardless of an obviously polished set of skills, Johnnie was sure to have just as much fun as all the other members of the band. Everyone was smiling and goofing around the entire set, but that did not take away from their professionalism or execution one bit.
Overall, I was impressed by every member of this group, inspired by their creativity, and I am so glad I was able to see these guys at such an intimate venue. I had a ton of fun transitioning between dancing, headbanging, and cheering the entire set. If you're unfamiliar with the Dead Deads please check them out, but if you really want to get to know them, you've got to see them live. Chicago locals Hot Dang were the perfect energy boosted fuel to rev up this performance; don't miss them if you are in town as well. Thanks guys and gals for a unique and amazing show!
The Dead Deads
Hot Dang
Dan Scheiman With an entirely open and unbiased obsession with music, Dan decided to take the opportunity given to him to share his thoughts for On Stage Review. Having been to hundreds of concerts of a variety of styles and genres over the years, he's no stranger to live music. He has been playing bass guitar for over twelve years now and has been dabbling in vocal work, drums, and piano for almost as long. Growing up listening to metal and industrial then transitioning into jazz and classical, and now having a particular love for funk or anything that grooves; his perspective comes from a well-rounded musical background and some amateur experience as a musician. He has too many favorite bands to list, but some of his favorite live experiences include: Sigur Ros, Porcupine Tree, Papadosio, Tool, The Ocean, Animals As Leaders, Lettuce, and of course, Victor Wooten.
Features

Nicci Allen | February 26, 2020

LAMB OF GOD @ HOUSE OF VANS– Chicago, IL February 14th, 2020 Review: Dan Scheiman Photos: Nicci Allen What better way to celebrate Valentines Day, than an intimate winter...

Featured Photographer

Joe Hendrickson | February 18, 2020

Machine Head @ The Metro – Joliet, IL February 15, 2020 Review & Photos by Joe Hendrickson Machine Head made a stop at The Metro on their Burn My...
ABOUT ONSTAGE REVIEW

On Stage Review is a collaboration of passionate and enthusiastic music lovers coming together to give you an inside look into some of today's hottest and most intriguing artists.

We'll dive into their lives and careers on and off the stage and give you an up close perspective few get to see.

Facebook

ADMIN
Copyright © 2017 ONSTAGE REVIEW.com. Site by FM Imagery.