The Glitch Mob with Elohim @ The Plaza Live – Orlando, FL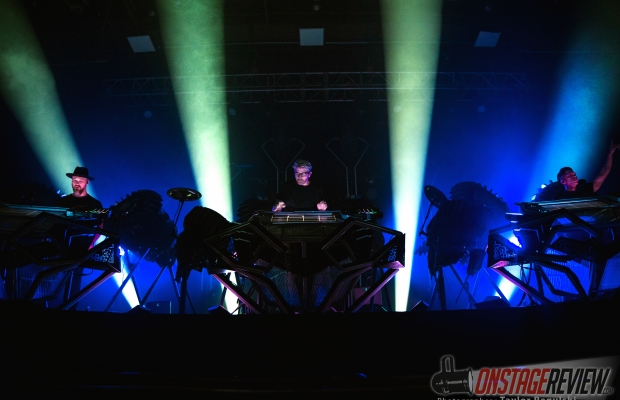 June 10, 2018
Glitch by definition is a sudden, usually temporary malfunction or irregularity of equipment. The Glitch Mob is anything but, a temporary malfunction. The group composed of edIT, Ooah, and Boreta has found their own niche within the EDM world which separates them your typical dj. Since their formation in 2006 The Glitch Mob has won over fans with their beat focused music and technology advance solos. My advice is to expect the unexpected if you plan on seeing the live drumming, midi mixing trio.
Their show on Sunday night definitely beat any expectations I had and it all began with opener Elohim. The synth-pop artist took the stage in a mysterious way. With hair in front of her face and a hood over her head she began to mix and sing. I was definitely caught off guard with her powerful voice and mystique aura. It wasn't long before she had the crowd all vibing and jamming along to all of her songs. Regardless if you intended to be a fan of Elohim, everyone became an instant fan of her sound, visuals, and stage presence but, this was only the beginning.
Elohim continue to carry the crowds energy through her set until the end. As she performed she peeled away the layers which mirrored her music. Her set became more intimate and gave fans a peak into her inner thoughts. Elohim performed a variety of songs including her hits "Fuck Your Money" and "Sleepy Eyes". While it was sad to see her set come to an end the night was going to go off with a bang in a few minutes.
The Glitch Mob, fresh off their Bonnaroo performance, stepped on stage and everything went silent for a brief moment. The lights came up and the crowd roared as drum sticks were raised in the air. You could feel the floor vibrate as the music began to play.
The Glitch Mob focus on creating an innovative and exciting live music performance for their fans. Tonight was no exception. The venue added to the element of oneness between the fans, music, and artists. The Glitch Mob have loyal fans who want everyone to be included and simply enjoy the music. This concert was not about trying to get the best video or drinking as much as possible but, about getting lost in the music. People today forget what concerts are supposed to be about but, The Glitch Mob did everything in their power to make sure their fans did not lose sight of what is important to them.
Half way through he set we were in for a surprise when Elohim appeared to sing "I Could Be Anything" off of their new album "See Without Eyes." This was one of my favorite moments of the night because of the emotion every artist put into this performance. Some may think I am heavily focusing on the element of music but, it is only because that is what truly mattered Sunday night. You could have taken out the fog, lights, and other elements and still have a killer show.
I will be honest I didn't focus on what song they were playing or getting videos for me to look back on. I wanted to enjoy being in the moment with music and the crowd. The Glitch Mob's music truly proves that you do not need excess alcohol, drugs, light up toys, or other nonsense to give yourself the ultimate concert experience. For one night, Orlando residents, enjoyed music for music in a small space with people who cared about the same thing.
This review is unlike others I have written because it was simplistic. I wanted to focus on the music and performance by all artists because that was the true element of magic brought to life that night. The Glitch Mob & Elohim did not just do a routine performance but invited all into their musical world. We as fans were invited into a special space which shared a connection through live music. I could continue to try and explain the concert but, I still cannot put into words the exhilarating performances we all witnessed that night.
If you want to experience their tour there is still time left. The Glitch Mob will continue to tour all summer with Elohim even making a few festival stops at Electric Forest (Rothbury, MI) and Imagine Festival (Atlanta, GA). If you can't catch them during summer, the trio will continue to tour through fall.