THE HIP ABDUCTION @ THE HOUSE OF BLUES – CHICAGO, IL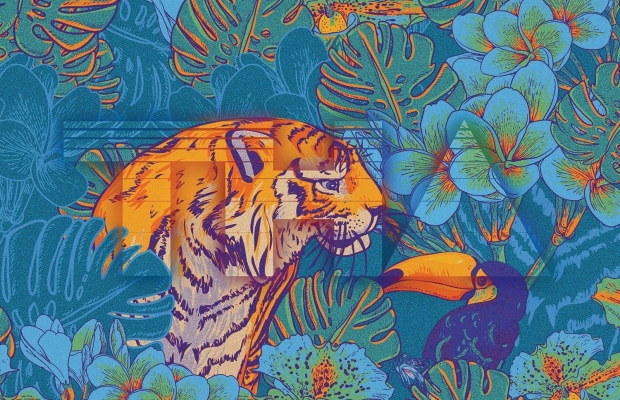 March 25, 2017
The smell of gumbo was in the air this past Saturday, March 25th at the legendary House of Blues Chicago. The mighty Galactic was in town, and we were ready for some of the finest New Orleans has to offer.
I've seen Galactic burn stages to the ground on several occasions, and Saturday night was no different, but what really caught my attention was The Hip Abduction: a band I was not familiar with but have since developed an unhealthy obsession.

Being unfamiliar with The Hip Abduction, I was honestly expecting a breed of New Orleans funk, as Galactic is known to tour with their own kind. When I spotted a Ngoni (African Harp) in the corner of the stage, I knew I was in for something altogether different.
Immediately off the bat my ears were gifted something special. Synthpop vocals amidst a lush tropical sound permeated the air of the House of Blues, driven by an infectious tribal dance beat. Immediately the crowd started vibing, as if we were rain dancing in the Amazon at sunset.

Hailing from St. Petersburg Florida, The Hip Abduction are David New (lead vocals, guitar), Pat Klemawesch (kamale ngoni, guitar, vocals), Chris Powers (bass), Dave Johnson (baritone and tenor sax), Sean Fote (keyboards), Matt Poynter (drums, vocals), and John Holt III (kamale ngoni, guitar, vocals).

To call these men skilled musicians would be an understatement. Nearly every one of the band played AT LEAST two instruments. Nearly everyone also sang and played an assortment of world percussion instruments.
They were on point throughout the entire set, tastefully blending reggae, funk, and dance music with an exotic tropical flare.
Despite being noticeably ill, probably from the shitty rainy Chicago weather, David New was squeaky clean on vocals. He had an indie pop sound that would absolutely slay on the radio. I can only hope they catch the break they deserve and we hear them on Q101 in the near future.
To top off a killer set, they absolutely nailed a cover of Wild Cub's smash hit "Thunder Clatter", before leaving the stage nice and warm for Galactic.
Their latest record Gold Under The Glow (Photo credit from new album) is a gem of feel-good tropical vibes from start to finish. The album and an assortment of dope merch can be found at http://stores.portmerch.com/thehipabduction/.
I look forward to their next stop through Chi city, hopefully as a headliner.