The Revivalists @ Stubb's – Austin, TX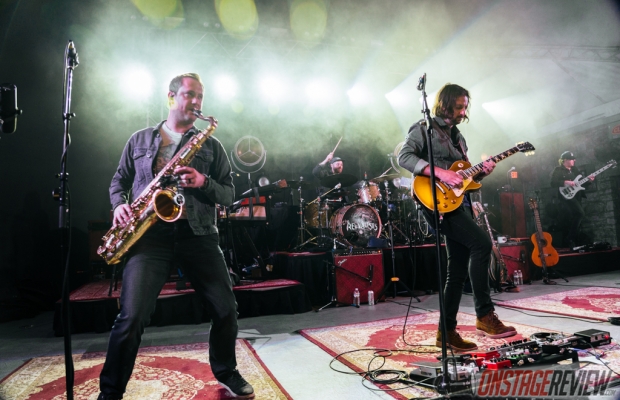 April 20th, 2018
The Revivalists aren't a relatively "new" band in that they only formed about 10 years ago in New Orleans, LA. However, their southern roots rock style has kept them in the limelight and in the ears of a few million listeners. Today and in recent years, nearly every headliner show performed has been sold out. The band's name comes from the feeling the members had when they were writing music during a time of recovery after Hurricane Katrina in their city. That same soul, same power, same revitalizing breath can be found in every song recorded today.
With every band member —  David Shaw (lead vocals/guitar), Zack Feinberg (guitar), Andrew Campanelli (drums), George Gekas (bass), Ed Williams (pedal steel guitar), Rob Ingraham (saxophone), Michael Girardot (keyboard & trumpet) — writing the music they play, the group's chemistry is displayed very well throughout each show.
With Samantha Fish opening for the group in Austin, TX, the crowd was pumped and also intrigued; there was a large catwalk dividing the stage into two, something very rarely done at Stubb's due to the large crowds. But it was worth it.
Shaw lept from pillar to pillar, which housed the front subwoofers, and back onto the catwalk. The crowd was ecstatic and filled with energy as Shaw grabbed hands of a lucky few in front while Feinberg kept his fingers glued to his guitar for songs like Criminal, Wish I Knew You and Soulfight.
Something interesting was also happening at the show, especially with Ingraham and Shaw interacting with the crowd: there were very little cell phones obscuring the view for the crowds. The fans seemed…different. They all seemed more connected to one another, connected to the moment, connected to the band. Only a select few were really capturing the moment on their phones; the rest were living in the moment. That's what the power of The Revivalists' music can do to a sold-out show under the stars.
You might think with all of the band members and all of the instruments that there might be an overabundance of sounds and melodies that are competing with one another in a reverb-heavy atmosphere in a downtown outdoor venue. You'd be wrong. While not every instrument was played at the exact same moment, when the group played their souls out, it couldn't have sounded better. The emotions, tones and vibes of New Orleans flow from the saxophones, drums, guitars and vocal chords unlike any streaming service could attempt to replicate through your Airpods.
See The Revivalists play in person. You'll leave feeling happier, lighter, refreshed and of course…wanting more.