The Smashing Pumpkins @ Frank Erwin Center, Austin, TX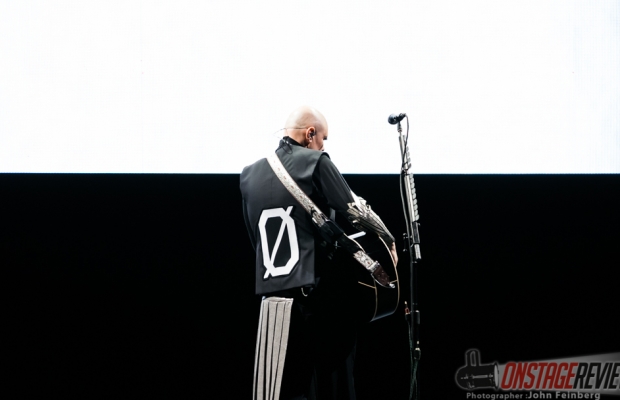 July 16, 2018
Yes, the Pumpkins are still going strong after their first release back in 1991; perhaps too strong for the time-oriented folks on a Monday night with a 31-song setlist. The Shiny and Oh So Bright tour brought some of the original members, Billy Corgan (guitar), Jimmy Chamberlin (drums), James Iha (guitar) to the stage for a great throwback for the mid 20s-and-above crowd. Songs like their opener, Disarm, bring back the 90s vibes and the good times that came with it; simpler technology with no phones blocking your view of the concert, windows rolled down during the drive to and from the concert venues, and no fear of Russian bots. The 90s were good, and the Pumpkins reminded you of that during this lengthy setlist.
The opener band, Metric, was like the appetizer to a five course meal; they were received by the crowd, but only to an enthusiastic acknowledgement rather than a full-fledged Austin, Texas welcome you will find from other venues. While they are great on their own, the pairing of the two bands is somewhat interesting as the energy and overall vibe of Metric compared to the Pumpkins was slightly mellowing, which matches perfectly with Pumpkins' songs like Beautiful or Whir.
After Metric's warming 45-minute performance, the air-condition-blasted crowd was ready for Corgan and the gang. His entrance on stage was met prior with a large digital display splitting in two, and with ominous spotlights backlighting his appearance, gave him almost a god-like appearance. Throughout the show, the same display would split and shift, and although not entirely every time did it make sense or seem to have a purpose, it certainly looked cool. But music is always above visuals at a concert; there was no disappointment on that front by any means.
Pull an album from your collection – I recommend Pisces Iscariot – and press play. That's basically what you heard at the concert; it sounded original, it sounded true to their old selves, it sounded as the Pumpkins should. The warm acoustic guitar, sizzling cymbals (great job, Chamberlin!) and Corgan vocals sounded as if they traveled to the venue from a time machine and needed to play enough songs to appease the gods to get them back to the 90s (see the full setlist below if you don't believe me).
The only question that remains: who was this concert for? If it was for the audience. even some diehards may have forgotten one or two songs played throughout the three hours. That leaves the more novel listeners, and they certainly were not privy of all songs played as many have never made it to mainstream radio or streaming services if you weren't intentionally trying to listen to them. While the true intended audience remains to be seen, it's clear and transparent that every fan could find something out of this tour. With 31 songs, who couldn't?
The full setlist was as follows:
"Disarm"
"Rocket"
"Siva"
"Rhinoceros"
"Space Oddity"
"Drown"
"Zero"
"The Everlasting Gaze"
"Stand Inside Your Love"
"Thirty-Three"
"Eye"
"Soma"
"Blew Away"
"For Martha"
"To Sheila"
"Mayonnaise"
"Porcelina of the Vast Oceans"
"Landslide"
"Tonight Tonight"
"Stairway to Heaven"
"Cherub Rock"
"1979"
"Ava Adore"
"Try, Try, Try"
"The Beginning is the End is the Beginning"
"Hummer"
"Today"
"Bullet With Butterfly Wings"
"Muzzle"
"Solara"
"Dumbo Song (Baby Mine)"