THRICE @ HOUSE OF BLUES – Chicago, IL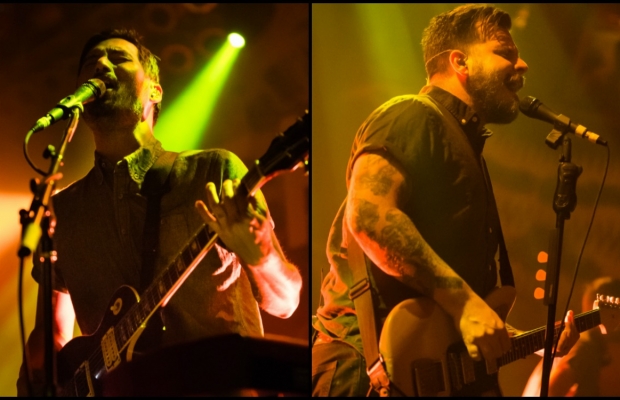 June 23, 2016
Thrice, a band that has captivated millions of fans on a global scale since 2000, is back. They took a 5 year hiatus, but have returned in full force with their new album To Be Everywhere Is To Be Nowhere. In my experience, I have never found a casual Thrice fan; everyone I know that listens to this group is completely infatuated with them. Beyond their unbelievably talented band and production that seems to bend space and time, the lyrical content is profound, heartfelt, and about as deep as the well goes.
With 10 albums to choose from, Thrice explored their options throughout the night. To see the evolution of a band that has drastically changed their sound as well as the entire music industry over the course of 16 years, as they bounced back and forth from old tracks to new, was nothing short of astonishing. I think what hit me hardest was seeing how passionate and drawn into the music each band member was after all these years. Seeing each member with their eyes closed, singing every lyric with nothing but raw emotion and crushing sincerity fueling them, was inspirational beyond words.
Dustin Kensrue stood front and center as he wailed on his guitar and poured his soul out into the crowd. Occasionally he would rest his head on the mic in between verses that were clearly tearing at the very fiber of his soul. Teppei Teranishi's unreal guitar playing has rightfully been admired from the guitar community for years, and since the drummer and bassist just happen to be siblings, Eddie and Riley Breckenridge produce a pocket and a foundation that realistically may only be possible by 2 musicians that share the same blood.
Just glancing back at the sold out venue, it looked like the entire crowd not only knew every word to every song, but was singing with just as much veracity as Dustin himself. There is something very particular about Thrice fans that reflects just how one-of-a-kind this band really is. Its not very often that you find a band that can play acoustic tracks that warm your heart, heavy ones that melt your face, psychedelic sections that twist your mind, and all with a poetic constitution that is parallel with some of the greats throughout the history of rock and roll. Hopefully these guys will continue on to produce plenty more masterpieces for their eager and loyal fans. If you haven't dug through their entire discography, I would start with the oldest and move forward from there. If you can manage to get your hands on a ticket for the show in your town, I suggest you do so.