TURKUAZ Review @ Chop Shop – Chicago, IL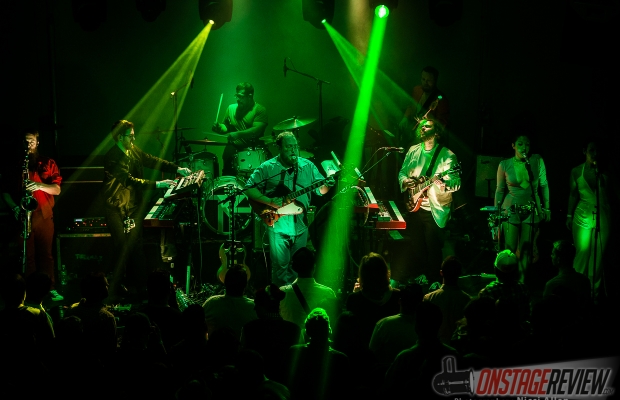 January 29, 2016
While this was my fourth time seeing Turkuaz, I have been increasingly more excited to see them each and every time. One of the incredible perks to this particular show was the opening act. Ghost-Note, a percussion driven hybrid jazz/funk band, just launched its debut album Fortified, and for their first tour they decided to team up with Turkuaz. Ghost-Note was put together by Snarky Puppy percussionists Robert "Sput" Searight and Nate Werth.
Not only was it extremely obvious that these drummers have been playing together for an extended period of time, but the chemistry of the entire band was that of old friends jamming together as if they had been doing so their entire lives. Accompanied by other band members such as Nick Werth on the Xylosynth, Sylvester Onyejiaka on the flute and sax, and A.J. Brown on bass, this crew lit the fuse on an eagerly awaiting, sold out crowd. Bouncing back and forth from complex rhythmic conversations to righteously heavy funk grooves, cutting right into an old school hip hop beat, and even knocking out a killer Snarky Puppy cover, Ghost-Note put on one hell of a debut show for their Chicago fans.
Turkuaz is a unique 9 piece power funk band that makes it crystal clear that they have no problem stepping outside of the box a bit and getting in their crowds face. Since the first time I saw them play a morning set of a music festival, til now, I can say that this band has gone from holding a keen sense of what it takes to get a crowd dancing, to becoming a juggernaut of merciless groove enforcement. After a polite hello from lead singer Dave Brandwein, they relentlessly kicked off the show with "20 Dollar Bill." Although a good portion of what makes Turkuaz shows so much fun is how they force-feed you song after song with hardly any time to catch your breath, you can tell that the band is just as exhausted as you are halfway through the set. These guys and gals quite literally give their all every night they play, and the smiles that radiate from each member shows that it really is a labor of love for everyone involved.
They are referred to as power funk by some circles, but this band has basically mastered an entire decade's worth of different types of dance music. They really do bring so much to the table. Within just one song you can get a taste of some old soul, some classic disco, and even hints of swing and jazz in the mix. I think the most overlooked aspect of this bands brilliance is how unbelievably psychedelic they can get in the midst of their continuously building and driving 4 on the floor dance beats.
This band is obviously put together and balanced with the utmost care and dedication. Their large group allows any given member to show off exquisite articulation and dynamic precision at any point in a song because none of the members ever need to over play, though don't be fooled; once given the chance to let her rip under the spotlight, every member of this group has extremely finely tuned skills and will not hesitate to show you what they've got.
I consider Turkuaz to be on the same level as (if not surpassing) some of the greatest funk bands in the game right now. This is most certainly a band that you need to see live, though their studio recordings are excellent as well.
I'm not exactly sure why funk ever tapered off over the years if it did, but a band like Turkuaz could very well be paving the path towards a legitimately new era of funk. If you get a chance to see them as they trample through your town, do so, or you may very well miss a band that could change the way live music is done for years to come. Thank you Turkuaz, for a night I won't forget.