Twista / Do or Die / Crucial Conflict @ The Forge – Joliet, IL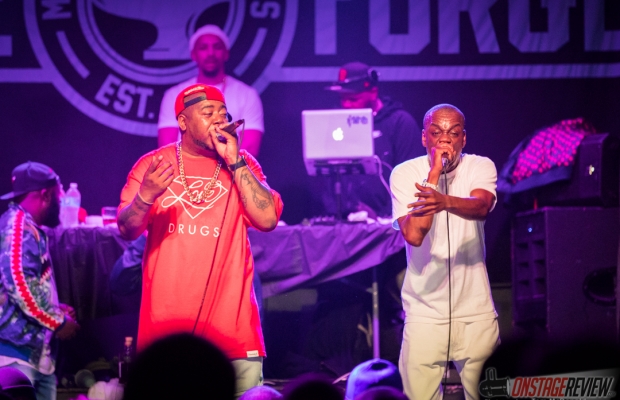 January 26, 2018
Make no mistake – live music venue, The Forge in Joliet is not just for metalheads.  The suburban venue staged a high energy sold out show on Friday night featuring the best of Chicago hip hop royalty, including headliner Twista, and the groups Do or Die and Crucial Conflict.
After an overly lengthy parade of local talent and upstarts, first up on the heavyweight card was Crucial Conflict, a Chicago collective comprised of members Coldhard, Wildstyle, Kilo and Never.  The group emerged on the national stage with the release of their top-20 smash single, weed tribute, "Hay" in 1996 off of their second album, "The Final Tic" which ultimately went gold.  Drawing vibe from East Coast, West Coast and Dirty South beats, Crucial Conflict innovated their own sound based on the Old West (so called "rodeo rap") but yet also uniquely Chicago.  Despite not releasing any new material in nearly ten years since "Planet Crucon," in 2008, the sold out crowd was whipped into a frenzy with the energetic onstage performance of the quartet and rapid fire mic swapping.  Twenty years deep and Wildstyle's beats still sound relevant and fresh.  Much of the audience knew all the lyrics to the material of a group that peaked nearly twenty years ago.  Impressive.
Next up was legendary rap group, Do or Die, also from Chicago made up of AK and Belo.  Do or Die, an original trio that also included N.A.R.D., broke onto the scene in 1996 with the release of the smash, "Po Pimp" from their debut album release, "Picture This."  The song "Po Pimp" also included a guest verse by Twista (then known as Tung Twista) and peaked at #22 on the Billboard Hot 100.  The group built a wide audience off of an impressive catalog of material steadily released throughout the mid 2000's.  More recently, in 2015, Do or Die released two projects: their eighth studio album, "Picture This II" and a collaborative EP, "Withdrawal" in partnership with Twista.  With rapid fire but silky flow, AK and Belo proved on stage on Friday night that they have not missed a step after over twenty years in the rap game.  The appealing, singsong quality of their voices, spitting over melodic beats in a proven formula has endured the group to hip hop fans across the nation, and certainly to the sold out crowd at The Forge.  The duo delivered the goods during a solid set of old school hits and selections from the newer material including the bangers, "Do You?," and "Playa Like Me and You."
Twista hit the stage at close to midnight, clad in a not so politically correct red T-Shirt emblazoned with a "Love Drugs" logo and a side slung red baseball hat.  An outsized personality, Twista famously appeared in the Guinness Book of World Records in 1992 being able to pronounce 598 syllables in 55 seconds, and earning the title, "Faster Rapper in the World."  After a couple of local album releases in the early 90's, Twista broke out with his feature on Do or Die's hit track, "Po Pimp" leading to a new record deal with Atlantic Records which put out "Adrenaline Rush" in 1997, producing the hit, "Get it Wet."  But it was the release of "Kamikaze" in 2004 that took Twista all the way to the top with a #1 Billboard 200 album, selling over two million copies and producing the #1 international smash, "Slow Jamz" featuring hooks and verse by Jamie Foxx and Kanye West which was also featured on Kanye's debut joint, "The College Dropout."  Following this massive success, Twista became the face of hip hop in Chicago, collaborating with local producers, NO I.D. and The Legendary Traxster and featuring some of the top artists in the game including Ludacris, R. Kelly, Chris Brown, Pharrell and Mariah Carey in a steady series of releases.  Twista was in top form, coming close to his world record syllabic enunciation and blazing through selections from his ten album deep catalog including his hits, "Overnight Celebrity," "Wetter" and "Hope."  Twista brought his friends AK and Belo from Do or Die back on the stage for an animated version of the smash "Po Pimp" which launched both of their respective careers.  For the last twenty years, Chicago has had a vibrant hip hop community.  While names like Chance the Rapper, Vic Mensa and Kanye West take up a lot of the current oxygen, it is important to note that the path to success was laid by the hustle of the three pioneering acts from the bill tonight: Crucial Conflict, Do or Die and Twista.  It was truly a fun experience for any fan of Chicago hip hop to see these legendary acts together in one lineup at the Forge.  The only missing elements from an otherwise homerun evening would have been surprise guest appearances by Common and Kanye.
TWISTA
DO OR DIE
CRUCIAL CONFLICT