VIVA LA POLE SHOW WITH VICARIOUS & NOW I'M NOTHING REVIEW @ REGGIE'S – CHICAGO, IL
By Dan Scheiman on March 13, 2016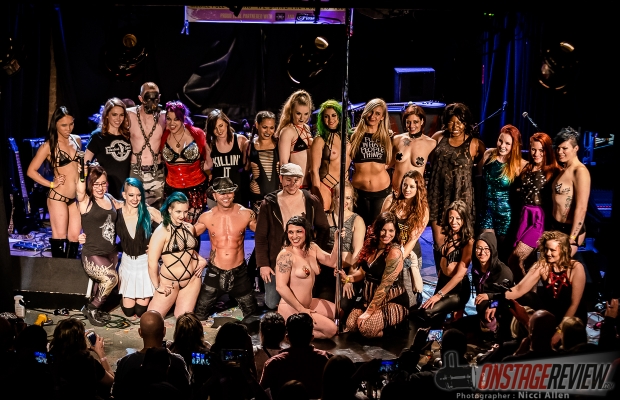 February 27, 2016
   This was my second time experiencing a production by the brilliant, and always naughty, Viva la Muerte. I had an idea what I was in store for, but once I heard that Reggie's Rock Club was sold out, I knew it was going to be an even more rowdy evening than expected. With 25 beautiful pole dancers being accompanied by Vicarious, a Tool Tribute Band, as well as Now I'm Nothing, a Nine Inch Nails tribute band, I knew missing this one would be a mistake.
   The first performance of the evening was by Nicole Picou lining up with Tool's track "The Pot" which the fans loved. She came out dressed as a kinky police officer. By the end of her rather aggressive yet graceful dance, she was hardly clothed and handcuffed to the pole in the middle of the stage. The entire venue was wide awake by this point. Needless to say the crowd was eagerly awaiting the next performers after an eruption of applause. It will be hard to address every single dancer in detail because of the sheer amount of wonderful performers. You will just have to make it out to the next show!
   One particular girl that I think needs to be mentioned did her performance to the track "Stinkfist". Now I'm no athlete, and its hard for me to imagine the strength and presence of mind to do what these girls and guys do, but other than certain MMA fighters, and maybe some Olympic gymnasts, I'm not sure I have seen a more impressive showing of physical strength, balance, and grace all at one time than miss Sally Sachs. This girl came out wearing a get up that had a bit of a steam punk vibe, and put on an incredible performance riddled with what the pole dancing community would call "Power moves". Mixed in with her dark and rather twisted performance she would raise her entire body from a lax position on the pole to a rigid horizontal pose with nothing but her ankles and core muscles to hold her in the air. Its hard to explain the details of what some of these dancers can do with their bodies, but I can assure you, that the veterans of this sport work just as hard, if not harder, and are in just as good of shape as any athlete in the world.
   I will be honest, coming into this I was a little skeptical of both bands and their ability to pull off covering either of these legendary bands, but shortly into the first set I realized I was in for a pleasant surprise. As Vicarious entered the stage the "guitarist" picked up a 6 string violin off the ground and propped it on his shoulder. At first I thought that this would just be for some creative intro or a weird effect, but it was not. This astounding musician proceeded to seamlessly mimic Adam Jones' guitar parts with extraordinary accuracy and mind blowing execution. For the tremolo picking and faster stuff the bow was used as more of a percussive tool, but for the more drawn out open string work he would simply lay his bow down on the strings and slowly pull the notes out of the violin. It was mesmerizing to say the least. With both the violinist and bassist using pretty lengthy pedal boards it was obvious that this crew had spent a good amount of time and energy trying to find the closest sounds they could to their idols. Having seen Tool many times but always from a distance, it was pretty amazing to see some of Danny Carry's drum parts played up close and personal. Both members of the rhythm section were air tight and smiling throughout the whole show. Another portion of this project that may have thrown some people for a loop was the singer, she was wonderful. She added something a little different to the mix while still bringing Maynard's passion and anger out with every breath. Over all I was extremely impressed by Vicarious's performance.
   Ending Vicarious's set with the likes of Miss Pussykat doing "The Patient" and Michelle Mynx doing "Aenima" was something that can only be described as mind bending. Michelle was showing poise and dedication to the dance like few others while still Miss Pussykat has a few more tricks up her sleeve than most; She has the know how and skills to rock a suspended hoop above the crowd (which she did) as well as the ability to perform with nothing but a long cloth hanging from a hook in the ceiling (which she did at the last show). She not only executed a brilliant performance above the crowd, but she did so with a baby on the way! Now that is dedication! A shout out to Miss Pussykat for being a pretty bad ass performer and mom all at the same time.
If the first band didn't blow us away enough, Now I'm Nothing came out with just as much energy and finely tuned anger. Opening up with the NIN track "Terrible Lie" and the lovely Elizabeth Martin Handler kicking it off with a viscous showing of talent and sincere artistic expression, this was something you truly had to see to believe. The often misconceived notion that pole dancers aren't artists is something that I think needs to be sincerely reconsidered by everyone involved as well as new to the sport. Every subtle motion and every facial expression hits me just the same as if I am watching an actor, a dancer, or a musician. Shows like this really allow these artists to lay it all out there emotionally, aesthetically, and otherwise.
Now I'm Nothing came out with a hostility and distinction that was definitely channeling early Nine Inch Nails angst and intent. Beyond the fantastic delivery of some of the heaviest industrial music ever written, this band took it a little further and really gave you a taste of old school NIN. As the crowd got more and more into each song, the singer continued to push for more response and reverberation. Over the course of just a few songs, the venue was splitting at the seams. This place just seemed to get louder and louder as the smile on each members face got bigger and bigger. With some of NIN's electronic sounds, some people think that a lot of their performance is automated but all that noise if crafted by a full band, and Now I'm Nothing was no different. Similar to my earlier skepticism, I wasn't sure this crew was going to be able to really fill the venue with the overwhelming brilliance and sound of Trent Reznor, but again I was surprised and glad to see such dedication to paying the proper homage to such a legendary group.
   For one of NIN's heaviest tracks of the last decade, "You Know What You Are", a Grinder duo came out to shower sparks all over the crowd, themselves, and (as promised) Viva La Muerte's ass. The roar that followed this madness was unparalleled. Of course this show wouldn't be complete without a few treats for the ladies. Steele Starling and Bobby Spear both had songs of their own, during which they showcased the more masculine side of the art form while still showing a delicate touch and effortless transitions like every other performer of the night. After handing out a handful of bad ass raffle prizes and sincerely thanking the crowd for being a part of an unforgettable evening, we were given two more wonderful performances by both Miss Pussycat and Michelle Mynx. Both of these girls are weathered veterans, teachers, and in my eyes, masters of the art. Miss Pussycat decided to up the ante once again and add fire to her last performance. With two flaming fans in her hands she showed a more refined and intimate approach to fire spinning than I have seen before; it was still tribal and very powerful, but beautiful all at the same time.
   This was an epic tale of a review but I think it had to be. I could honestly go on for hours but your best bet is to make sure you get yourself tickets to the next show. Rumor has is it that the next event is going to be a David Bowie Tribute on May 6th at 27 Live in Evanston. After changing their name to "Viva La Pole Show", make sure not to lose track of these guys and gals. I have a feeling every show from here on out is only going to get better. The sky is the limit… Because they were all so wonderful and they all deserve recognition, here is a list of performers (
Nicole Picou, Jordan Mazur, Hilary Jade, Horchata, Lorna Moone, Michelle Heller, Olivia Stephano, Sally Sachs, Serena Valenti, Lin Tutu, Miss Pussycat, Elizabeth Martin Handler, Melody Kira, Lisa Michelle, Anna May, Rode Leigh Okoye, Rachel LaVoire, Jezzibel & Will as the Grinder Duo, Steele Starling, Bobby Spear, Molly Menu, Leah Franklin, Cassie Truskowski, Michelle Mynx, and Of course Viva La Muerte) Thank you all for an amazing evening. I look forward to the next.
Dan Scheiman With an entirely open and unbiased obsession with music, Dan decided to take the opportunity given to him to share his thoughts for On Stage Review. Having been to hundreds of concerts of a variety of styles and genres over the years, he's no stranger to live music. He has been playing bass guitar for over twelve years now and has been dabbling in vocal work, drums, and piano for almost as long. Growing up listening to metal and industrial then transitioning into jazz and classical, and now having a particular love for funk or anything that grooves; his perspective comes from a well-rounded musical background and some amateur experience as a musician. He has too many favorite bands to list, but some of his favorite live experiences include: Sigur Ros, Porcupine Tree, Papadosio, Tool, The Ocean, Animals As Leaders, Lettuce, and of course, Victor Wooten.
Features

Nicci Allen | February 26, 2020

LAMB OF GOD @ HOUSE OF VANS– Chicago, IL February 14th, 2020 Review: Dan Scheiman Photos: Nicci Allen What better way to celebrate Valentines Day, than an intimate winter...

Featured Photographer

Joe Hendrickson | February 18, 2020

Machine Head @ The Metro – Joliet, IL February 15, 2020 Review & Photos by Joe Hendrickson Machine Head made a stop at The Metro on their Burn My...
ABOUT ONSTAGE REVIEW

On Stage Review is a collaboration of passionate and enthusiastic music lovers coming together to give you an inside look into some of today's hottest and most intriguing artists.

We'll dive into their lives and careers on and off the stage and give you an up close perspective few get to see.

Facebook

ADMIN
Copyright © 2017 ONSTAGE REVIEW.com. Site by FM Imagery.