VULFPECK & TAUKING MCGEE @ CONCORD MUSIC HALL – CHICAGO, IL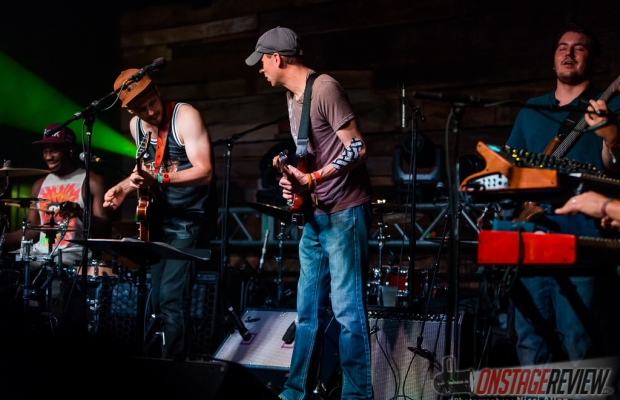 September 4, 2016
I was exhausted and running on empty, along with the rest of the North Coast fest crew, but this was an event that couldn't be missed. After witnessing Vulfpeck at North Coast Fest, when I heard that they were having an after party show with Tauk and members of Umphrey's Mcgee, it was a no-brainer of a decision for me to attend. Tauk is one of the most talent-rich and funky jam bands on the scene today. Adding members Joel Cummins, Jake Cinninger, and Ryan Stasik from the progressive jam band that is Umphrey's Mcgee made for a one night beast of a supergroup that could not possibly be tamed. This group went by the name Tauking Mcgee.

Tauking Mcgee greeted the sold out crowd with a few Pink Floyd tracks to begin with, then mixed in covers from Led Zeppelin, Bob Marley, and the Beatles as well. The fans were completely engulfed by the wonderful production and sound this group was putting out. Tossing in a few originals from UM and Tauk as well was a nice addition to a setlist consisting almost entirely of well executed and devout covers.
Before moving on to Vulfpeck, I need to toss up a few shout outs in particular. While every musician on the stage this night was impressive beyond belief, two members stood out. Drummer Isaac Teel, and Guitarist Jake Cinninger. These two gentlemen took the entire show up three notches, broke the knob clean off, and threw it on the ground. Isaac's pocket presence was air tight. It was clear that he had gospel chops for days pent up inside of him but he was rarely flashy or too aggressive. He just sat back, radiated good vibes, smiled from ear to ear, and laid down some of the phattest grooves I have been lucky enough to see live. Jake on the other hand, was not afraid to show off his guitar talent to the crowd. His ripping solos and build-ups combined for some of the strongest and most eloquent guitar work I have seen in years. I genuinely believe that Jake is one of, if not the top guitarists in the jam band community right now. I did not think this until I got to see him work up close. It's not just his technical skill that was impressive, but his ability to play absolutely any style or genre at the drop of a hat, as well as being able to create onstage chemistry with new musicians as if they had been playing together for years. This man is a true artist and a virtuoso.

At this point it was roughly two in the morning and I was prepping myself for the funk goliath that is Vulfpeck. I cannot say enough positive things about Vulfpeck. They bring funky dance music together with razor sharp, articulate grooves, then they top it all off with a humorous touch reminiscent of the T.V. show Tim and Eric. The dance moves alone from this bunch are enough to make you lose your damn mind or laugh yourself stupid. Upon first listen, some may consider Vulpeck to be a joke band, but after seeing these nerdy looking gentlemen manhandle a crowd like they did, it was clear that they are absolutely serious about what they do and professionals at that. As if this band wasn't riddled with multi-instrumentalist prodigy musicians already, they often bring on outside talent to add some spice to the mix. Antwaun Stanley joined the crew on stage and gave the fans a soulful vocal performance that was like something out of the late 60s. Each of these members switched between instruments except for Joe Dart. At no point should anyone ever remove a bass from this man's hands. The precision, execution, and pure groove that come from the hands of Joe Dart are part of what makes him one of the most underrated bass players in the funk world today. I don't think Vulfpeck is getting enough credit for just how talented, fun, and outgoing they are, but they are definitely gaining fans quickly with the way they are crushing such heavy funk sets at fests like North Coast. This was an excessively fun show and I am glad I pushed through til the wee hours of the morning to feed my soul the little bit of extra funk that it needed.