WINTERSUN & NE OBLIVISCARIS @ BOTTOM LOUNGE – CHICAGO, IL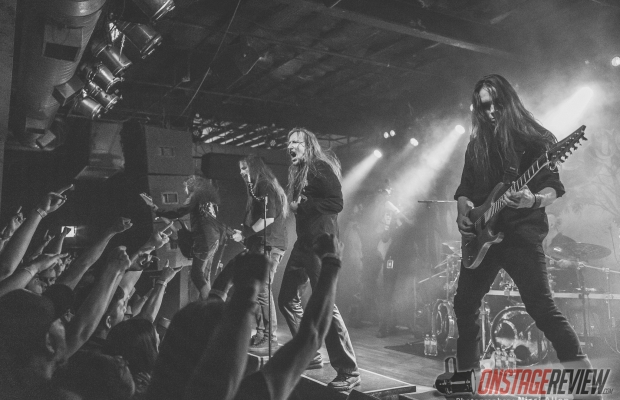 October 6th 2018
A lineup for the ages found itself in what appeared to be a sold-out Bottom Lounge. The young guitar wiz, Sarah Longfield, opened up for a group of metalheads that are no stranger to masterful guitar playing. Unfortunately we only managed to catch a few tracks of her performance, but judging by the crowds reaction and the smile on her face after each one, I think she managed to wow the crowd pretty substantially. She got to show off some of her custom-made Standberg guitar, as well. Her wicked speed and razor-sharp chops are impressive on their own but what makes Sarah so wonderful in my opinion is her melodic approach to the instrument. Her technique appears to stem from a classical upbringing, but its hard to tell. She could just be a very well-rounded and disciplined player that loves to shred. Many of her compositions are physical feats, but the beauty and emotional context that she surrounds them with is what gives her music such a unique and angelic touch.
Next up was Ne Obliviscaris. I had spent the time in between sets explaining to some Wintersun fans in the crowd what they should expect. They had only heard of them briefly as a melodic death metal band from Australia. I surprised them a bit by telling them that I had been an avid metal connoisseur for about 20 years and that they were comfortably sitting at the very top of my favorite metal band list. This may seem like an overstatement but I do sincerely believe that this group embodies everything you could ever be looking for in a metal project. Their melodic approach to each song is emotive and exhilarating, their speed and articulation rivals any of the greats in metal music, and their compositional techniques create a layered and unbelievably deep musical phenomenon that very few bands can compare to. They combine growls with clean vocals as well as occasional violin with a full metal band in such a way that becomes both harmonious and perfectly clashing when needed. Their endurance and relentlessness that they exhibit live is impressive as hell, especially because they pull off such ridiculously complex tracks with absolutely minimal flaws.
Ne Obliviscaris brought an epic masterpiece of a performance this night. I have now seen them 5 times since they began their career in 2003 and each and every time they have blown me away even more. At the peaks of a few of their tracks I found myself clenching both fists as tears of euphoria rolled off my face. The precision and passion that this band portrays in a live setting is that of a proficient theater performance. On a technical level, the entire band is of the same caliber as the mighty Wintersun. It was fantastic as well to see the new bassist Martino Garattoni at work on stage. This beast of a human not only pulled off each track without so much as a hiccup, but his tone and articulation added a new personality to the music. This was such a powerful and well thought-out tour combination to put together. If you have not listened to Ne Obliviscaris in-depth you have done yourself a disservice.
Wintersun closed out the evening. This was my first time seeing Wintersun, and they were one of my very first obsessions with speed metal. It is definitely a possibility that I have listened to their self-titled album over 100 times. I was absolutely blown away by the amount of energy and prowess they brought to the stage that evening. Lead singer Jari Mäenpää entered the stage with a confidence and determination in his eyes that could have convinced me to go to war under his lead. The shredding that ensued was absolutely out of this world. Each guitarist just glared at the crowd with an almost comedic lack of interest in the ridiculous acrobatics that their hands were doing without them so much as glancing at their fret boards. The drummer was laughing in between drum fills with an evil grin painted across his face. This band approached the crowd like a collective of evil wizards that had plans to play with our sense of reality and destroy all hope we had to stay sane, and they did just that. They didn't let off the throttle for more than a few seconds, and when they did it was only to scream at their beloved fans to yell louder and head bang harder. I believe this band is underrated in the metal community for both its creativity and its incomprehensible talents, but that being said, the fans that I know would be quick to express their obsessive love for Wintersun. For anyone curious just how brilliant Wintersun truly is, I challenge you to go experience their live performance for yourself. This was a concert I will not soon forget.
The NextGEN gallery with ID/slug: 865 does not exist or is empty.