WJJO SONIC BOOM – SUNDAY – SOUTHERN WISCONSIN REGIONAL AIRPORT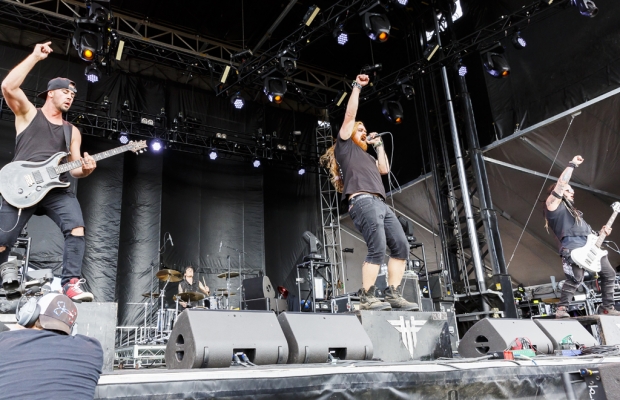 July 29, 2017
Photos and Review by Greg Hamil
Day 2 and the folks coming through the gates that were at the Southern Wisconsin Regional Airport look a little tired and worn out. But that doesn't last long as local Janesville, WI band Versus Me takes the stage. Surprisingly, there are a lot of people there for this opening band, but after hearing them play, it is totally understandable why so many were there!
Through Fire, out of Omaha, NE is up next really revving the crowd with their energy! Playing songs such as Stronger, Damage, Where You Lie, and their smash hit, Breathe! What great band to keep the day rocking!
Other band performing on Day 2 included, DED (Anti-Everything), Wayland (Bloody Sunrise), Fozzy (Judas), Sleeping With Sirens (If You Can't Hang), Starset (Vessels), Of Mice And Men (My Understandings), Steel Panther (Gloryhole), Theory Of A Deadman (Bad Girlfriend), and Gojira (Stranded).
Starting out the headliners for the night was Halestorm from Red Lion, PA! Lzzy's powerful vocals and the energy of Arejay and the rest of the band were the perfect lead in to the headlining rotation. Opening with It's Not You and following up with hits like Mz. Hyde, Apocalyptic, It's Not You, and so many more this could easily have left everyone satisfied if the day ended there, but there were still two bands to go!
Second of the three headliners was Mastodon!  If hard and heavy is what these wanted, then hard and heavy is what they got! Crushing the crowd with Sultan's Curse, they just kept hitting harder with songs like Divinations, Crystal Skull, Black Tongue, Andromeda and many more. Mastodon closed their set with Steambreather. As if that wasn't hard and heavy enough, there was one more band set to perform and it would not be for the faint of heart!
Five Finger Death Punch blasts onto the with Lift Me Up, Never Enough, and Wash It All Away showing the crowd they were not going to be "out-metaled"! Pounding out hits like Bad Company, The Bleeding, and more, then throwing in acoustic versions of Wrong Side Of Heaven and Remember Everything, these guys drained all the energy the fans had left to give before ending their set with House Of The Rising Sun!
Perfect ending to a perfect weekend! Perfect weather and perfect fans who rocked hard, but took care of each other. From the first responders to barricade security to all of the folks who worked together to make the event nothing short of amazing. The biggest thank you of all would have to go to Randy Hawke of WJJO (94.1 FM – Madison)! Randy has put this show together in many forms for many years. A person would think that he can't do any better than the previous year, but every year he does just that.
As are many others, we are already looking forward to next year's show!