ZAKK WYLDE @ CONCORD MUSIC HALL – Chicago, IL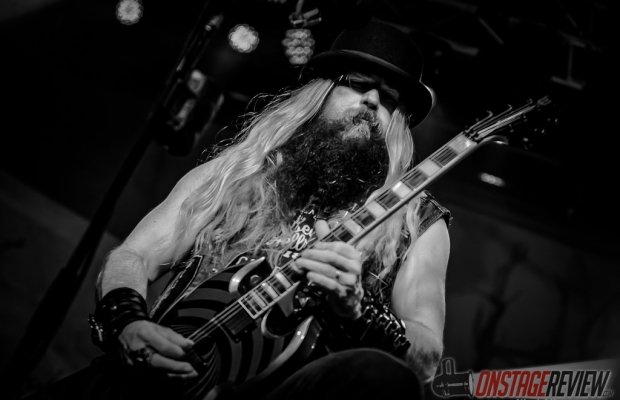 July 24, 2016
Zakk Wylde is one of the most well known shredders of all time, but what differentiates him from the rest of the prodigies is his excellent song writing capabilities that he couples so well with his vicious technical skills . Concord Music Hall seemed to get smaller and smaller as the fans poured in the door in anticipation of the legend that is Zakk Wylde. The last time I got a chance to see Zakk was realistically some time around the Ozzfest of 2000. I was young, and I was impressed then, but seeing him up close and personal at a venue like this would prove to be a much more intimate experience.
Just in case Zakk's monstrous presence wasn't enough, he was also joined on stage by fellow members of Black Label Society. This would prove to be a group that knows each other well. I wasn't sure if I was going to get acoustic tracks, piano, and quiet melodies, or if Zakk was going shred my face off right from the start. As the first track got rolling I realized that I was being given a very solid blend of the two. With an authentic and original rock sound as his foundation, Zakk planted one foot on the stage monitor in front of him, tilted his guitar towards the crowd, and ripped into one of the most insane guitar solos I have ever heard. This shredding display wasn't just the fastest guitar playing I have ever seen in person, but the way this man plays is similar to some of the great blues guitarists. Every quiver of his hand, bend of a string, and pluck of his pick was so articulate and purposeful. He would often have his eyes closed and you could see every drop of emotion and sincerity that was inside him twist and contort his face as he played like a man possessed.
I have made it a point over the years to go see many of the greatest guitarists that manage to come through Chicago. None of these however, have impressed me as much as this man, as far as sheer speed is concerned. Some guitarists will pull out flashy tricks here and there that sound crazy but are relatively easy to play, but Zakk's chops are raw and completely free of any smoke and mirrors. Occasionally we all come across musicians that make the hardest and most complicated tasks look easy. Zakk is one of these artists. It is clear that this man has chalked up thousands and thousands of practice hours.
As I mentioned earlier, Zakk Wylde's song writing ability is uncanny. He has multiple solo albums out, and deserves the utmost recognition for his heart-wrenching lyrics and well designed melodic progressions. He managed to keep a rock undertone attached to his songs while never letting go of his blues and metal roots at any point. This may have been the first show I have ever been to where you could have a heavy weight held over your heart, be given a sincere taste of the blues, and have your face melted off all in one track. Zakk sat down at the piano for a few tracks near the end. This transition really sucked me and the rest of the fans into a trance. His gentle and expressive touch coupled with his rugged and weathered voice was a captivating combination. Overall I was pleasantly surprised and sincerely impressed by this performance. I have always known that Zakk Wylde was an excellent guitarist, but I was unaware that he is one of the greatest of all time.