ZEAL & ARDOR @ SUBTERRANEAN – CHICAGO,IL
By Nicci Allen on October 12, 2018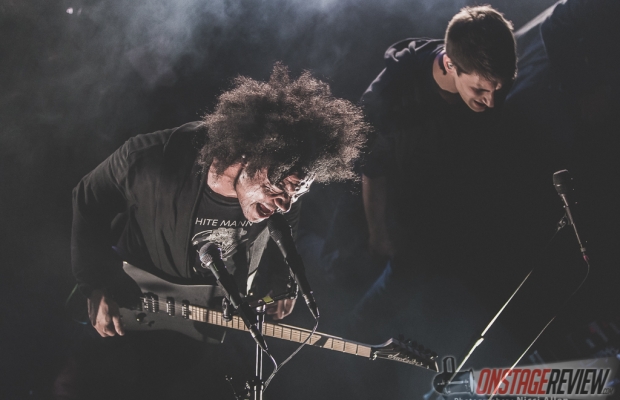 September 29, 2018
A band name has never been more fitting as "Zeal & Ardor" is for the group that was formed by the mastermind Manuel Gagneux. Two words meaning "passion, energy, and enthusiasm" perfectly describe the concentrated force that erupts from this man's soul on stage. The 4 men chosen to accompany him (a full backing band being a recent addition in 2017) perfectly compliment this vision. In the midst of pouring sweat and rage, Manuel convincingly "preached" his words with his "apostles" supporting on drums, guitars, and vocals.
The band is described in definition as "Blues, Gospel and Soul meet harsher music," which also could not be more accurate. Just as the lights turned down and the band quietly emerged in hooded capes about to begin, someone in the entirely packed sold-out crowd shouted "church is now is session!" The show that followed was accurately nothing short of faith-inducing. The entire crowd was swaying, chanting lyrics, and vehemently waving hands to the sky as if witnessing metal gospel. I was genuinely worried that the front row was going to be crushed by the pulsating mob, but the moving momentum just fueled their energy as they fist pumped Zeal & Ardor on.
With a solid 24 song set that never wavered short of full steam, it is clear that this band does not skimp on providing substance. This performance combined with Manuel's ability to create something so fiercely powerful while basically inventing a new genre has made me a devout Zeal & Ardor believer.
Nicci Allen is a photography/graphic design major who has been an active and involved member of the music scene since she was old enough to be let in local shows. Whether it was bartending concerts at The Pearl Room, being an involved member of the Girls of Metal, booking and promoting local shows and benefits, attending festivals and supporting artists of every genre, or DJing and writing her own music, Nicci has always made music a necessity in her daily life.
Features

Nicci Allen | February 26, 2020

LAMB OF GOD @ HOUSE OF VANS– Chicago, IL February 14th, 2020 Review: Dan Scheiman Photos: Nicci Allen What better way to celebrate Valentines Day, than an intimate winter...

Featured Photographer

Joe Hendrickson | February 18, 2020

Machine Head @ The Metro – Joliet, IL February 15, 2020 Review & Photos by Joe Hendrickson Machine Head made a stop at The Metro on their Burn My...
ABOUT ONSTAGE REVIEW

On Stage Review is a collaboration of passionate and enthusiastic music lovers coming together to give you an inside look into some of today's hottest and most intriguing artists.

We'll dive into their lives and careers on and off the stage and give you an up close perspective few get to see.

Facebook

ADMIN
Copyright © 2017 ONSTAGE REVIEW.com. Site by FM Imagery.