A.D.D. @ Bada Brew – Crest Hill, IL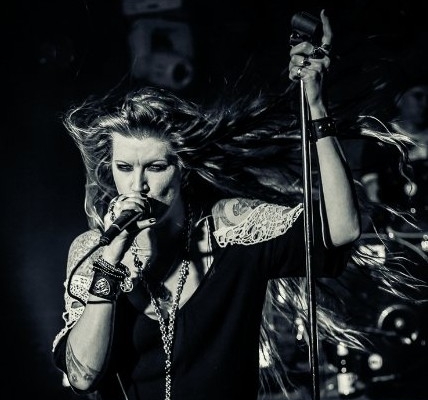 April 8, 2016
This Chicago-born hard rock group with a sharp metal edge goes by the name A.D.D. which stands for "Analog Digital Disorder." Although these badasses have been torching crowds since 2007, this was my first live A.D.D. experience. Growing up listening to a lot of bands that I know influenced their approach to music such as Sevendust, Korn, and Nonpoint, I can honestly say I was pleasantly surprised at how unique and expressive these musicians were live. This type of in-your-face rock is something that is extremely hit or miss for me, and A.D.D. was definitely a hit right on the chin.
Gripping the attention of the crowd as well as the mic at center stage was the angelic, yet terrifying, Matilda Moon. Portraying an extremely powerful and fearless stage presence, but still showing a playful smirk periodically, Matilda could not hide the fact she was ecstatic to be playing for her Chicago fans again. It was crystal clear that Matilda loves what she does and after hearing the versatility and passion in her voice, it was just as clear that this is what she was meant to do.
Another member that appeared to be having the time of his life, with an incredibly genuine and radiant smile on his face, was returning original drummer Ron Bailey. While driving every song at full throttle and hammering away inside the pocket, he was also tossing in very slick and creative fills. Occasionally in between tracks, Ron would stand up spinning his sticks screaming at the crowd to rile them up and the entire venue would do their best to match his energy.
Even just from glancing around the stage, it was obvious that both guitarists Dave Adams and Jeremy Sparta along with bassist Chuck B were veterans of their craft. Beyond the intense and razor sharp playing, these gentlemen had top of the line gear as each rig was set up with a different mismatched head and cabinet. The tone being produced, coupled with the expressive playing and insanely aggressive riffage was quite the treat.
This group was effortlessly transitioning throughout the entire show between thick and nasty Black Sabbath style riffs, to chugging percussive parts similar to old Deftones, and even more schizophrenic styles reminiscent of the somewhat obscure band Snot. If you haven't given these guys and gal a listen, check out there newest album "Core", it'll give you chills.
A surprise appearance by former drummer Jason Delismon got a roar out of the crowd as he shared the mic with Matilda on stage. The venue was riddled with smiles and great energy throughout the whole night. This entire band has a very distinct loyalty and love for its hometown fans and for those who weren't there, you missed out on a killer show- but they are coming back through at a handful of venues; so check out their facebook page ASAP!