Home
/
Uncategorized
/
ALL THAT REMAINS, UNEARTH, BIG STORY, & THE 9TH PLANET OUT @ THE FORGE – JOLIET, IL
ALL THAT REMAINS, UNEARTH, BIG STORY, & THE 9TH PLANET OUT @ THE FORGE – JOLIET, IL
By Joe Hendrickson on June 13, 2019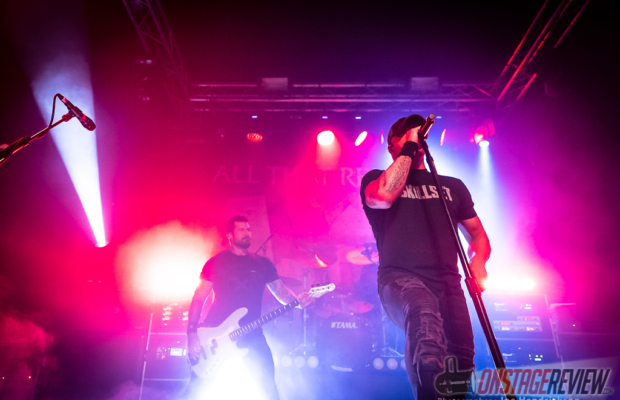 June 11, 2019
New England metal bands, All That Remains and Unearth, have been tearing up the metal scene for years with over 20 albums between them and made a stop at The Forge in Joliet, IL. The two bands took off on tour with newer rock bands, Big Story and The 9th Planet Out, while All That Remains tours on their newest album, Victim of the New Disease.
The 9th Planet Out, a hard rock band from Minnesota, started off the night a little early from the listed show time so I'm glad that I arrived a little early. The band is dressed in all white, which seems to be consistent with their brand, and had some extra lighting columns around the stage, which made for some great pictures. I was really hoping that they'd be used for all of the bands for the added lighting and effect but this was special to them. The band is a good mix of rock with some added metal and could easily be seen touring with rock and metal bands alike. James Robinson's vocals are clean with a little bit of grit and took charge. Check out their song, "Scream" to hear more.
Big Story comes out of Dallas, TX and touring to promote their full length album, Beazt, after signing with Razor & Tie. This band had a ton of energy and were all over the stage. The overall highlight for myself was trying to capture pictures of Pat Seals jumping off of the riser and speakers. As you can see, in the pictures below, I was able to capture a few and this became a fun challenge for all of the photographers in the front. In my opinion, the band sounded a lot heavier live than the music that's on the record but that's not a bad thing either way. It's a very well rounded band with talented musicians. It wouldn't surprise me to see this band on an upcoming Warped Tour or similar tour.
I was really excited to see Unearth for my fifth time on this night because I haven't seen them in years and they never disappoint. If I recall correctly, my first time seeing the band was in 2005 with Slipknot and As I Lay Dying and it's still held as one of the best concerts that I've attended. The band performed a solid mix of older and newer songs that appealed to everyone. Ken Susi told the photographers that we could stay for the entirety of their set, which made for even better pictures to choose from! At most of the Unearth concerts that I've been to, if not all of them, Ken jumps off his amp onto the stage so I had a feeling that it was coming and I was able to capture it through the smoke filled stage. The music, sound and lighting was absolutely perfect. The complexity and perfection that these musicians bring to the stage is much appreciated when bands struggle to bring the same quality live. They ended the night with a large mosh pit on the crowd favorite, "Endless," from The Oncoming Storm album. Check out their most recent album, Extinctions, and watch for the next time that they're coming through. If I heard correctly, they'll be back for a show in the fall.
All That Remains came out with tons of smoke, strobes, and action packed energy with the song, "Fuck Love." This was also my fifth time seeing All That Remains and they seem to be more and more polished every time that I see them. The band has really evolved over the years and albums that they've put out. They don't have just one sound and that's one thing that I love about the band because it's not cookie cutter from one song to the next. Phil Labonte knows how to keep the crowd engaged and his voice is phenomenal. The range that he can deliver from a high pitch to a low scream and throwing in some clean vocals in between is very impressive.
The sound in the venue was one of the best that I've heard with a solid balance for all musicians, especially for guitar solos. The solos from Jason Richardson and Mike Martin were silky smooth and the perfect volume levels compared to the rest of the music, which I don't hear very often. Usually the solo won't be loud enough or it'll completely overpower the rest of the band but this was on point. One thing that I noticed, and also made it difficult as a photographer, was that there was such an intense amount of smoke and lack of lighting in the back of the stage that drummer, Jason Costa, couldn't really be seen for most of the concert. I like to try to get a shot of the drummer in action and he wasn't visible. That was the only negative that I had because the smoke made the light show fantastic with the beams shooting through and made the scene more intense.
Towards the end of their set, the band had the lights turned off for "What If I Was Nothing," had everyone light the stage with their cell phone flashlights, and everyone in the crowd sung along. It was an intimate experience and brought something special to the night that should stand out to everyone that attended. To end the night, the band performed, "Two Weeks" where everyone sang along and had fun bouncing around in the mosh pit. It was a fantastic night and one that I will certainly remember.
The 9th Planet Out
Big Story
Unearth
All That Remains
Features

Nicci Allen | February 26, 2020

LAMB OF GOD @ HOUSE OF VANS– Chicago, IL February 14th, 2020 Review: Dan Scheiman Photos: Nicci Allen What better way to celebrate Valentines Day, than an intimate winter...

Featured Photographer

Joe Hendrickson | February 18, 2020

Machine Head @ The Metro – Joliet, IL February 15, 2020 Review & Photos by Joe Hendrickson Machine Head made a stop at The Metro on their Burn My...
ABOUT ONSTAGE REVIEW

On Stage Review is a collaboration of passionate and enthusiastic music lovers coming together to give you an inside look into some of today's hottest and most intriguing artists.

We'll dive into their lives and careers on and off the stage and give you an up close perspective few get to see.

Facebook

ADMIN
Copyright © 2017 ONSTAGE REVIEW.com. Site by FM Imagery.