ANTHRAX @ HOUSE OF BLUES – Anaheim, CA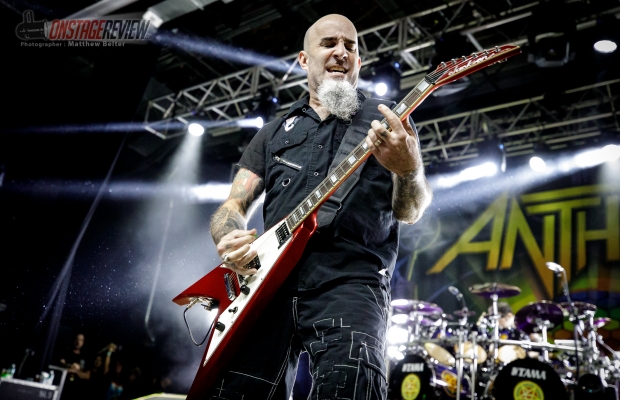 February 14, 2018
On February 14th, Anthrax once again joined forces with Killswitch Engage on their Killthrax II Tour. It would be a Valentine's Day to remember at the House of Blues in Anaheim, CA, brought to you by our good friends at Sirius XM and Ch 40 – Liquid Metal. On top of that, the MC for Wednesday's event was non-other than Sirius XM Host and Heavy Metal Legend, Jose Magnin.
Kicking off the evening was Denver, CO's very own, Havok. I'd never seen this band live but had heard wonderful things about their shows and was excited to see them live on stage. Overall, their six-song set was thoroughly entertaining, and immediately fired up the near-capacity crowd with songs such as "Hang Em' High" and "Intention to Deceive" (off their 2017 release Conformicide). What impressed me the most about Havok's set was this bands chemistry. You could tell that lead vocalist (and rhythm guitarist) David Sanchez, drummer Pete Webber, lead guitarist Reese Scruggs, and bassist Nick Schendzielos's loved playing with one another and this translated into a charred HOB stage.
Next up on the Valentine's Day docket was Grammy nominated metal legends, Killswitch Engage. Originating in Westfield, MA in 1999, this metalcore band featured vocalist Jesse Leach, rhythm and lead guitarists Joel Stroetzel and Adam Dutkiewicz, bassist Mike D'Antonio, and drummer Justin Foley. Together, they absolutely slayed their epic 17-song set featuring songs throughout their catalog. What stood out to me aside from their incredible stage presence was the true connection they had with their fans. From their opening salvo during the "Rose of Sharyn" to their final encore, "Holy Diver" (a Ronnie James Dio cover), this band played with the explicit intention of entertaining its legions of followers – and did so in fine fashion. I've honestly never seen a band tuned in to the crowd, and this made the show even more special (in my opinion). From direct eye contact to high-fives, (and even a pause in the show where a super-fan was called on to tell a joke), there was something for everyone at Wednesday's show.
After a thirty-minute break to switch out the stage, Sirius XM's very own took the stage and introduced the evenings headliner, Anthrax. As lights dimmed, vocalist Joey Belladonna walked out with his hand high in the air followed by rhythm guitarist Scott Ian, lead guitarist Jonathan Donais, bassist Frank Bello, and drummer Charlie Benante. As lights dimmed and smoke began to fill the stage, they launched into their first track of the night, "Among the Living". This immediately spun the capacity crowd into hyper-drive (with requisite crowd surfing and circle pits forming almost immediately). Next up was as "Caught in a Mosh" off 1987's Among the Living. It seemed to take the show to a whole new level (if that was even possible) and had fans reaching for protective ear-plugs to guard against the now grinding sound that filled the House of Blues. Over the next hour and twenty minutes, fans were treated to an amazing setlist featuring 11 classic Anthrax jams spanning their 30+ year catalog. From "Medusa" to "Breathing Lightning" and everything in between, there was enough variety in this set-list to captivate even the most diehard fan. Anthrax wrapped up the evening with the 1987 classic "Indians", and literally scorched the Earth one last time before their final curtain call Wednesday evening. A truly fitting song to end an incredible night of live music in Anaheim, CA.
If you have not yet seen the Killthrax II tour live, you are missing out on one of the most incredible metal tours of 2018. Both Anthrax and Killswitch Engage were super-impressive live and provided all the needed ingredients for an unbelievable evening of metal mayhem that won't be soon forgotten. As both bands are considered co-headliners, they will be rotating their closing spot during each stop on this incredible tour. I personally thought this approach was solid and gives fans of both bands a unique perspective throughout the tour. Regardless of what poison you pick, you cannot go wrong with these two powerhouse bands. Anthrax and Killswitch Engage are at the top of their game and a "must-see" concert this year!
For more information on the 2018 Killthrax II Tour, click HERE
Stay Frosty and Rock On!
Anthrax Setlist:
Among The Living | Caught in a Mosh | Got The Time | Madhouse | Fight 'Em | Breathing Lightening | Medusa | I am the Law | Be All | Anti-Social | Indians
Killswitch Engage Setlist:
Rose of Sharyn | Strength of the Mind | Self-Revolution | My Curse | New Awakening | A Bid Farewell | As Daylight Dies | Fixation | Hate by Design | Vide Infra | Always | Serenade | Unpraised | Beyond the Flames | Heartache | In Due Time | Holy Diver
Havok Setlist:
Fatal Intervention | Hang Em' High | Out of my Way | F.P.C. | From the Cradle to the Grave | Fatal Intervention